If I had to choose to have only one beauty treatment for the rest of my life, the facial wins hands down every time!
I'm a firm believer in looking after your skin – it's exposed to the elements and it needs to be nourished.
I have tried a few different kinds of facial treatments in the past, with my firm favourite being the derma pen (derma needling, but with a mechanical pen) – as it causes the skin to heal and resurface itself, which makes total sense, but I had never heard of LED phototherapy until a couple of weeks ago when I was invited to review the Dermalux treatment at Reds Salon in Sunderland.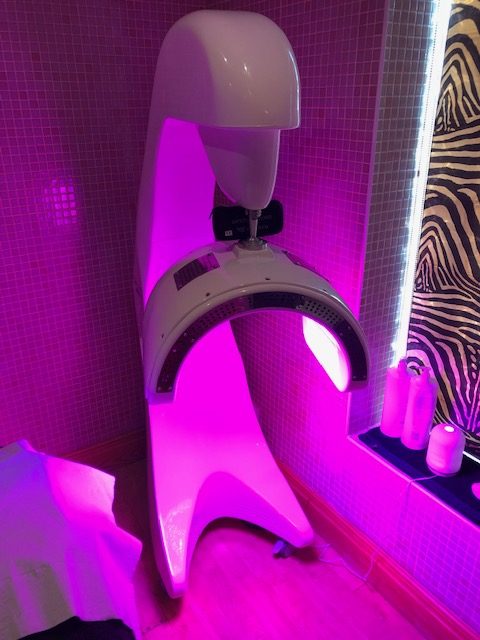 I'm not one for gimmicks and will only try something that sounds logical – and when I was invited to try the Dermalux LED facial at Reds Salon, I was excited and intrigued, bbecause I couldn't get my head around how it worked. I did some reading…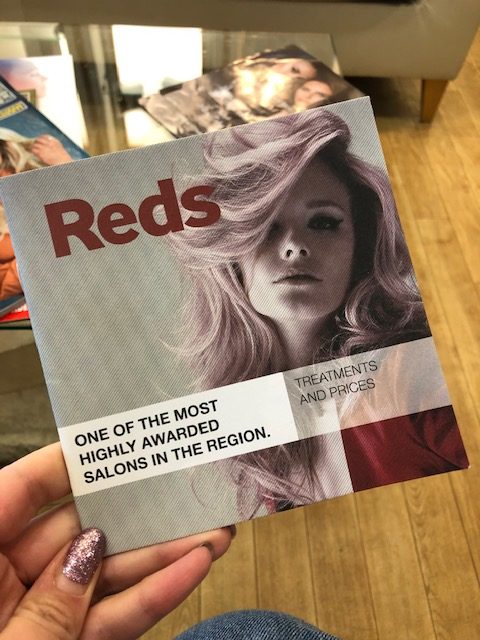 The science bit …
I had initial questions, which were answered in the information from Dermalux that I was provided by the lovely team at Reds:
So what is Dermalux LED Phototherapy?
'Dermalux™ Tri-wave LED Phototherapy is a non-invasive treatment that uses narrow band, non-thermal LED light energy to trigger your body's natural cell processes to accelerate rejuvenation and repair of the skin.'
How does it help the skin?
'It can improve a poor complexion, signs of ageing (including lines and wrinkles on the face, hands or body) sunburn skin damage, pigmentation and overall skin health.
How does it work?
The Phototherapy combines red, blue and near infra-red light emitting diode or LED light sources and uses clinically proven wavelengths to recharge these cells, energising them to heal quicker and rejuvenate faster, promoting healing from the inside out'.
Technical stuff!
The way I see it is that LED lights are a more protective version of a traditional light bulb – and while we try to avoid the sun, we take vitamin D tablets and we feel better mentally when we're in the sun, which also makes sense – and when you feel good inside, it shows on the outside!
What I couldn't work out, though, was how it would improve the surface of my skin if it's not hands on (or peeling off).
There was only one way to find out!
My visit to the salon
I was welcomed to Reds by a lovely team and was shown to the treatment room by my therapist Nicola, who was an incredible fountain of knowledge!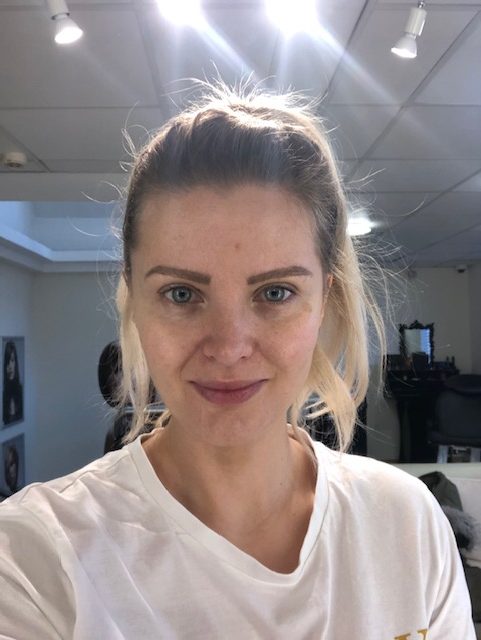 Nicola explained that I would be having the 20 minute tri-wave treatment, which combines all three wavelengths, which are LED Red, LED Blue and Near Infa-Red, which can be delivered as separate wavelength treatments depending on each individuals' skin's requirements.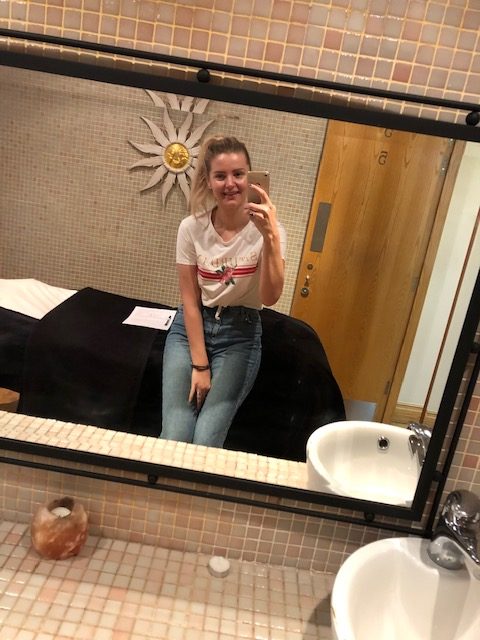 The treatment is usually booked as a course, but it's also possible to book in a quick session or combine a treatment with other facial packages at the salon.
I had a look at the machine in its glory and then got myself comfortable on the bed.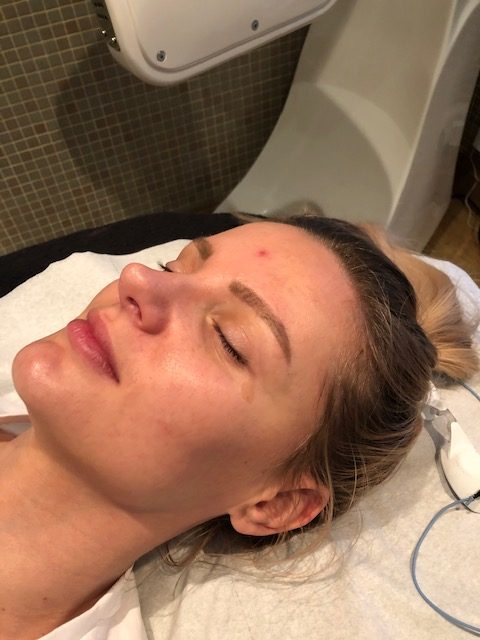 Nicola then gave me a quick cleanse (sparing my eyebrows obvs) and special goggles to wear before placing the Dermalux machine over my head.
Here goes!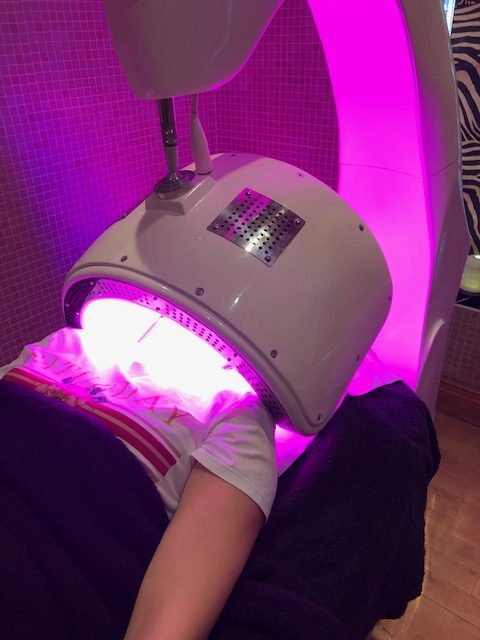 Once the machine was on, I admit that at first I was a little apprehensive because even with the goggles, I was really feeling the brightness of the LEDs, but after chatting to Nicola for a short while I soon settled.
Aside from the noticeable light at the beginning, I couldn't feel a thing during the treatment and I was very relaxed. It was also quiet and calm, which is naturally what you want out of a beauty salon treatment.
Twenty minutes were done and the machine was slowly taken away from my face and my eyes adjusted. I lay there for 30 seconds and then sat up to check out my skin.
The results
I looked in the mirror and I didn't get it…. I didn't get it!!
After one treatment my skin was bright and glowing and so smooth to the touch. You'd think i'd had a peel or a derma pen treatment.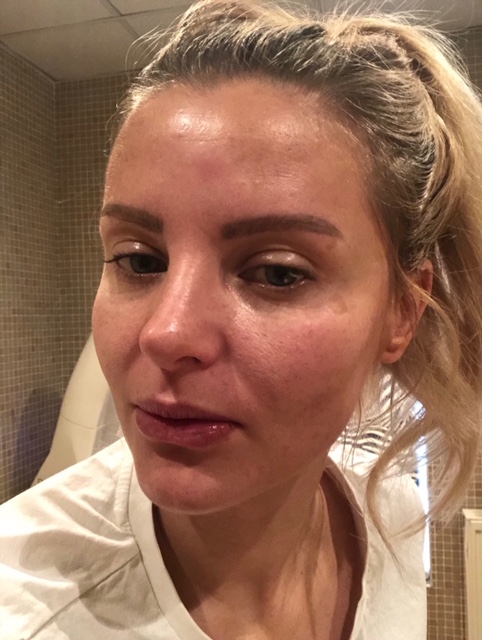 I sat , looking at myself in the mirror and then to Nicola repeatedly saying 'but how?', 'BUT HOW DOES IT LOOK THIS GOOD?!'.
Obviously she explained thoroughly because she was so knowledgeable!
I didn't need moisturiser as I was just ready to rock.
I was fine to head home and get ready for my night out and put on a full face of make up that night!
I took a photo by the natural light by the window before heading home.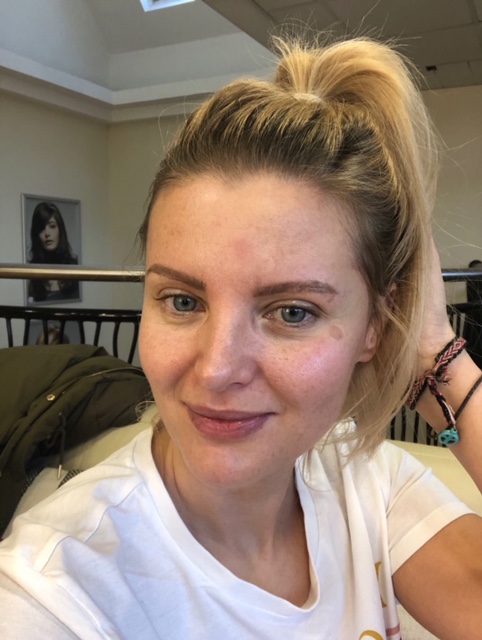 And again in the car.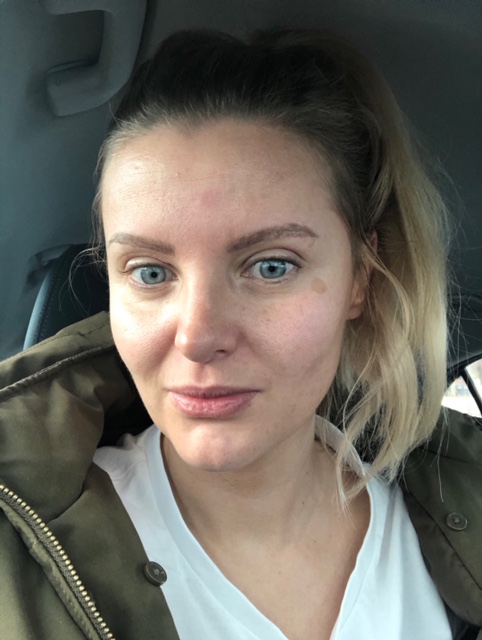 Am I sold on Dermalux LED Phototherapy?
In short, yes.
Here are my reasons:
It's non-invasive and pain free
It's quick at 20 minutes
It can be tailored to individual skin's needs
It doesn't leave redness
There is no down time
You can put make up on afterwards
It works
The only down side for me, is that I like a good hour-long, facial ritual, with all of the therapeutic extras, but the Dermalux treatment can be combined with other facial treatments in a range of different packages.
I highly recommend this treatment, especially if you prefer the non invasive kind and if you want to see visible results from the first treatment.
Dermalux LED phototherapy treatments are available in over 100 clinics across the UK and Europe. To find your nearest clinic, please visit the Dermalux website here.
The price for the treatment is £40 or £280 for course of 8.
If you're a northerner like me, then there's nowhere better than Reds, which is a fantastic one stop shop for hair, beauty and nails in the Tyne and Wear region.
Enjoy!
For more information on the types of light wave treatment benefits of the Dermalux LED Phototherapy facial, visit here.