In June 2018 I married my best mate Mike.
So much preparation goes into a wedding, but I loved every minute of it. There wasn't really a huge amount that stressed me out as I just kept reminding myself that I wouldn't get this time back….that and I just love writing lists!
It was the most amazing day in Northumberland and we were so blessed with the weather. As we said our vows, the sun came out – and then stayed out for the whole weekend!
I'll let you into a little secret about the above photo – we'd sunk a few beverages by this point and I think it shows in our eyes. Plus I think the pair of us were holding onto the sun dial out of necessity, not artistic direction!
This photo among the majority of photos in this post, was taken by our awesome photographers Kristina and Adam of Scott Spock Photography.
THE WEDDING
Here's a bit of a run down of what we got up to before the wedding and on the day. Attention to detail is very much required for a wedding – especially if you want it to be perfectomundo. Hopefully you might find a wee shred of inspiration for your special day here!
I opted for a simple pale nude colour, with a champagne glitter half crescent. I didn't want to go too OTT, but I think these added the right about of sparkle.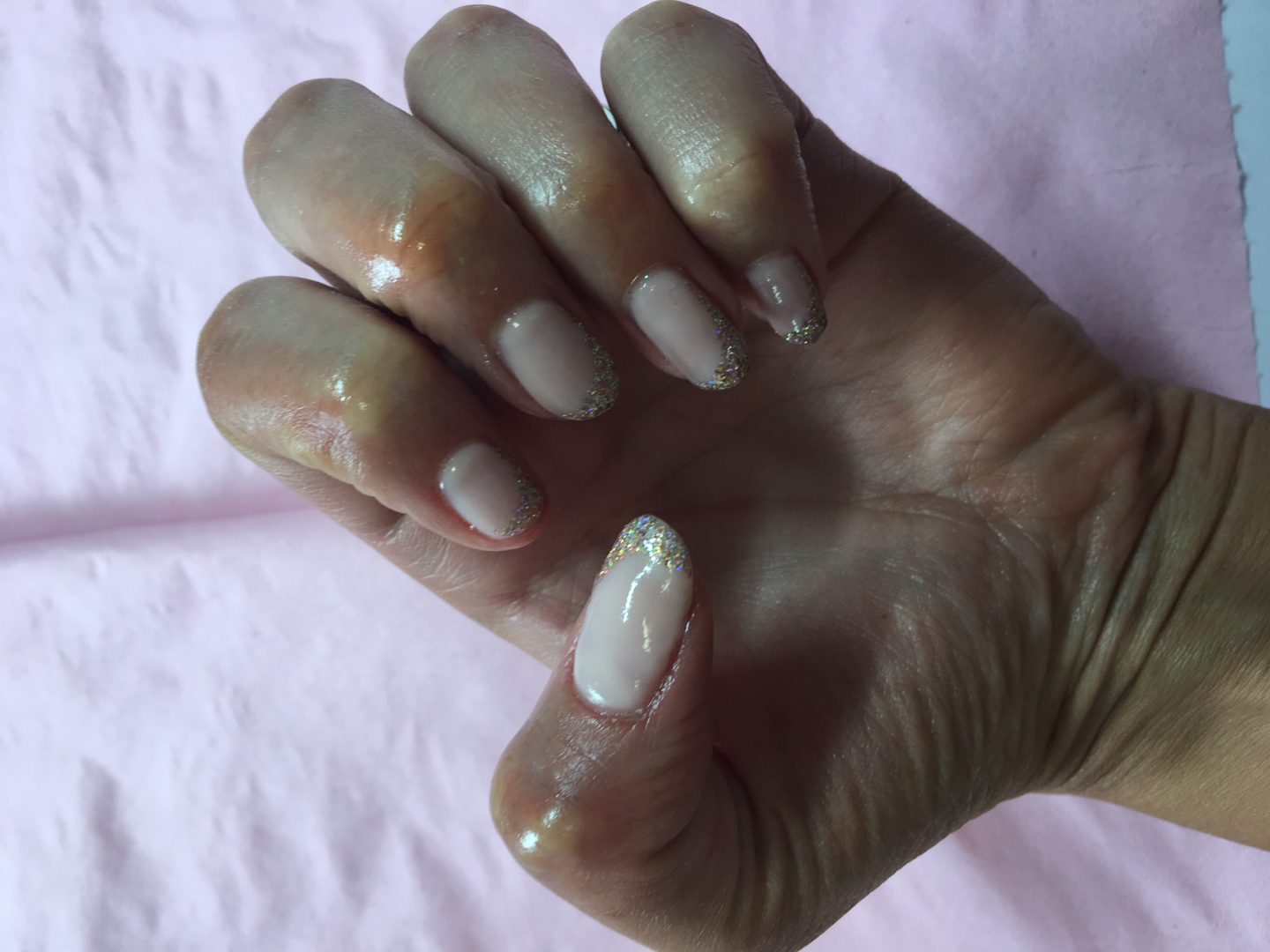 Toes:
I wanted a bit more glitter on my toes, because I was flying away on our mini-moon to Santorini holiday a couple of days later!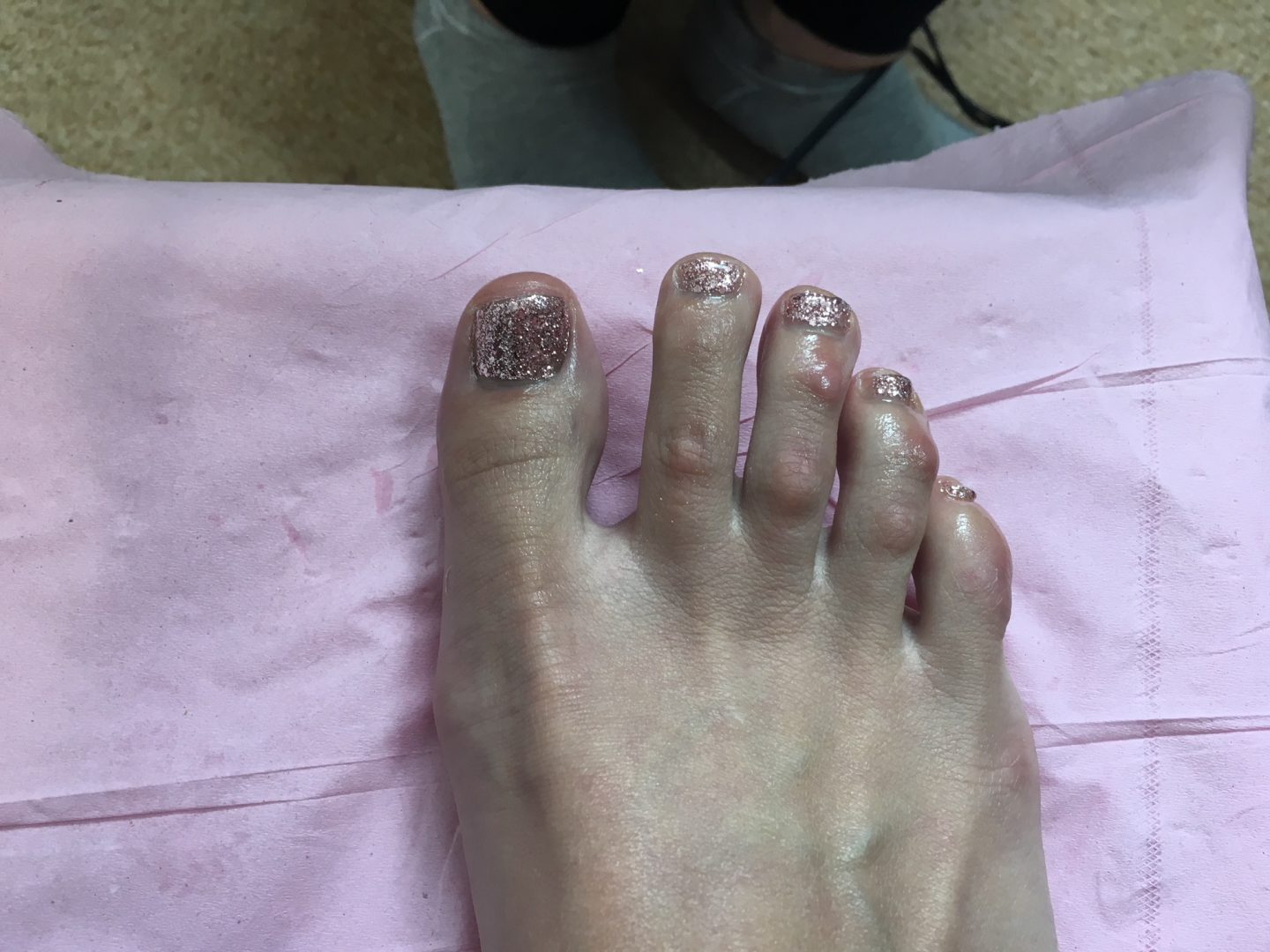 I'm not one for uber bling, but I think these rose gold bad boys were bold enough for holidays – plus no one would see them under my wedding dress (soz if you don't like feet).
They say that you wouldn't decorate a wall without treating and plastering it first – and that the same should be said for prepping your face before applying make up. It's so true. Since going for a few facials and treatments, my make up applies and looks SO much better on.
As well as treatments, it's important to add the right masks to your regular beauty regime. I stuck to clay masks on Sundays, then fruity or peel off masks mid week. I've since let the masks slide a bit and need to get back into a better routine!
Here's a quick run down of the treatments I had, however I have detailed them in more in my wedding beauty prep post.
Muscle Relaxing Injections
Microdermabrasion
Derma-planing
Derma Pen & Microderm (joint treatment)
2. The Venue:
This place needs to introduction. The best wedding venue in the north (errr obvs in my opinion!) the incredible Newton Hall Hotel, Northumberland.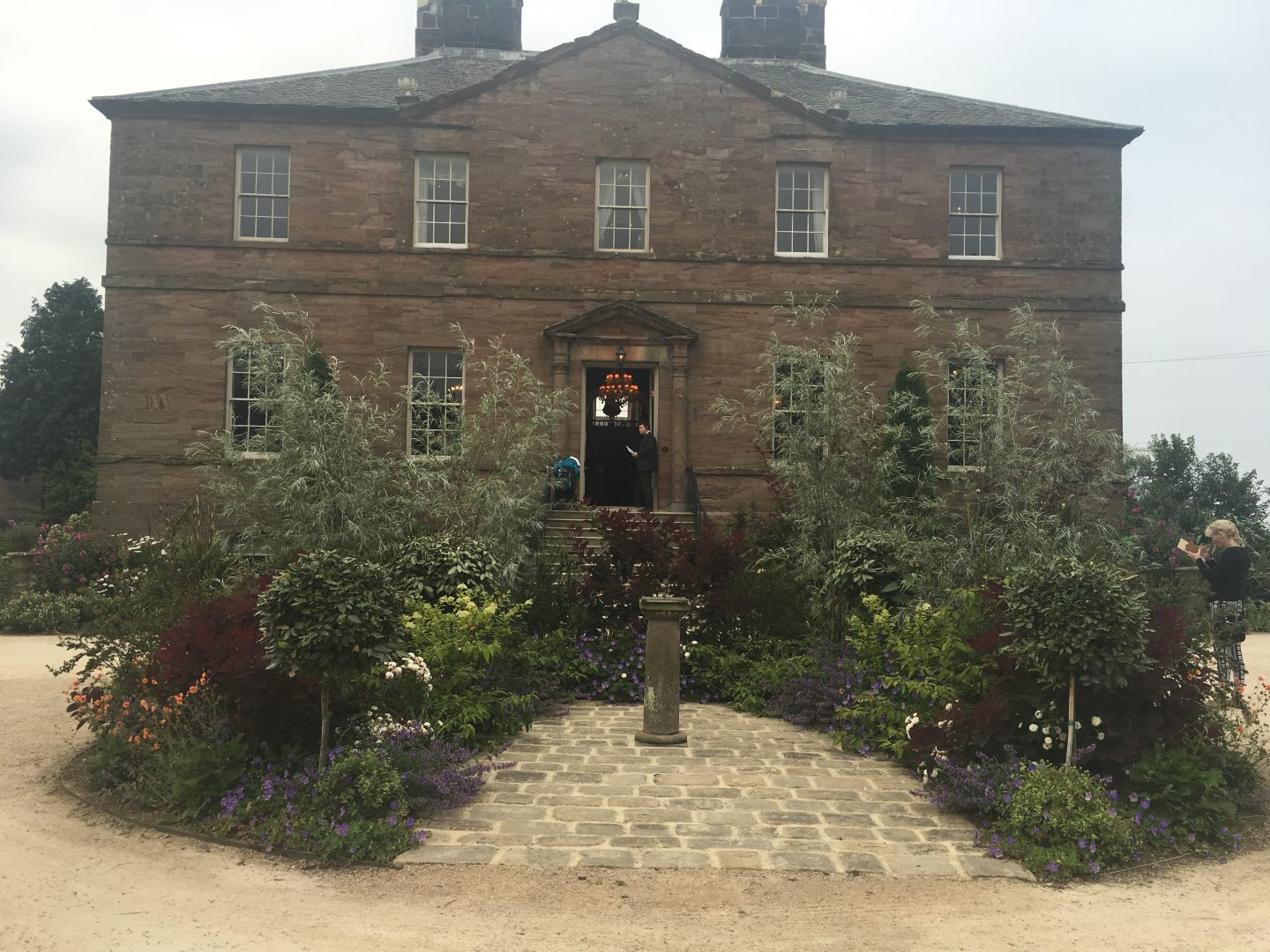 My step dad actually lived here as a child – NB he wasn't some kind of aristocrat, more his grandad bought it after the war for an absolute steal, then sold it a few years later.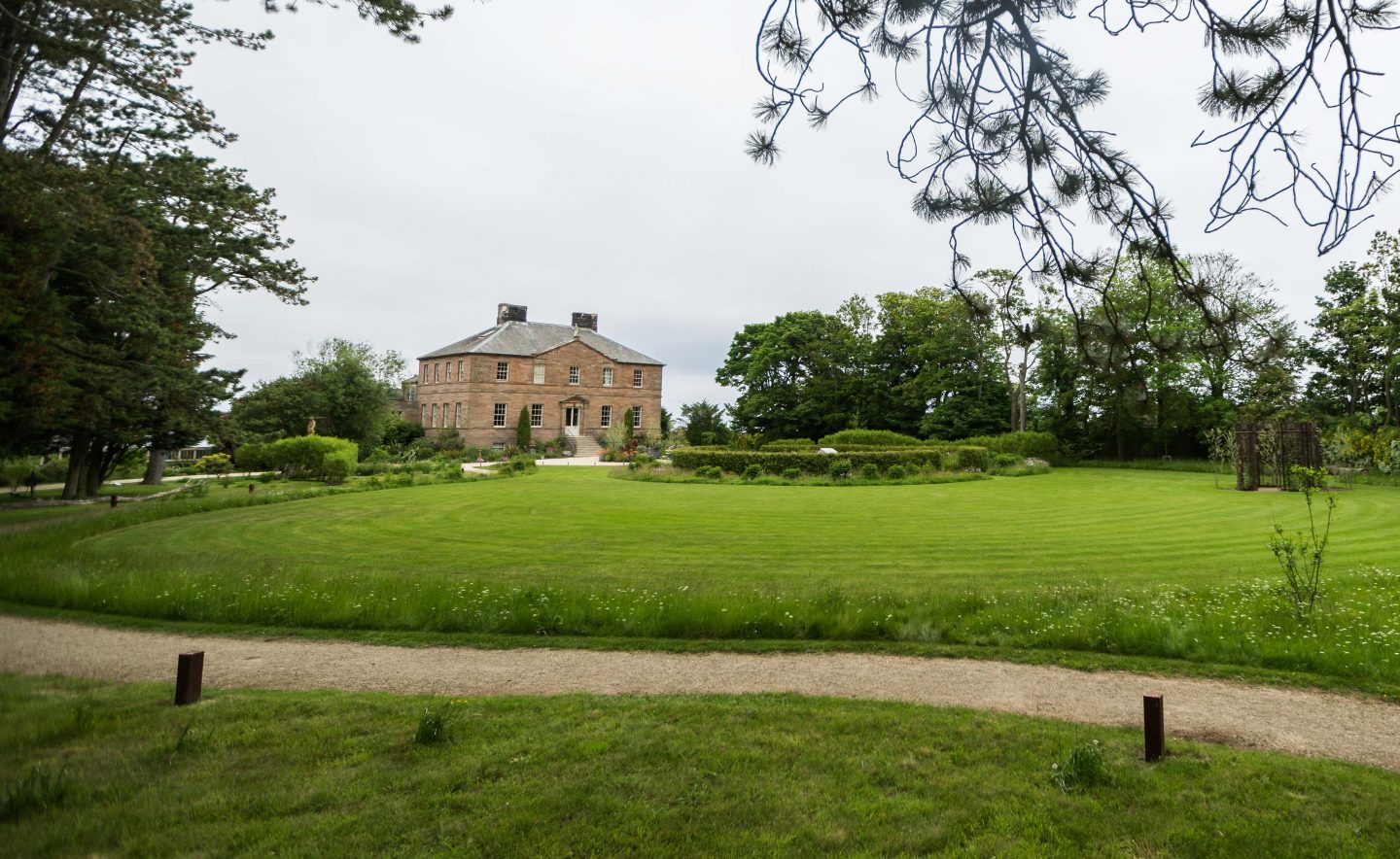 After hearing his stories, furious googling and incessant Instagram voyeurism, I realised I really wanted to get married here!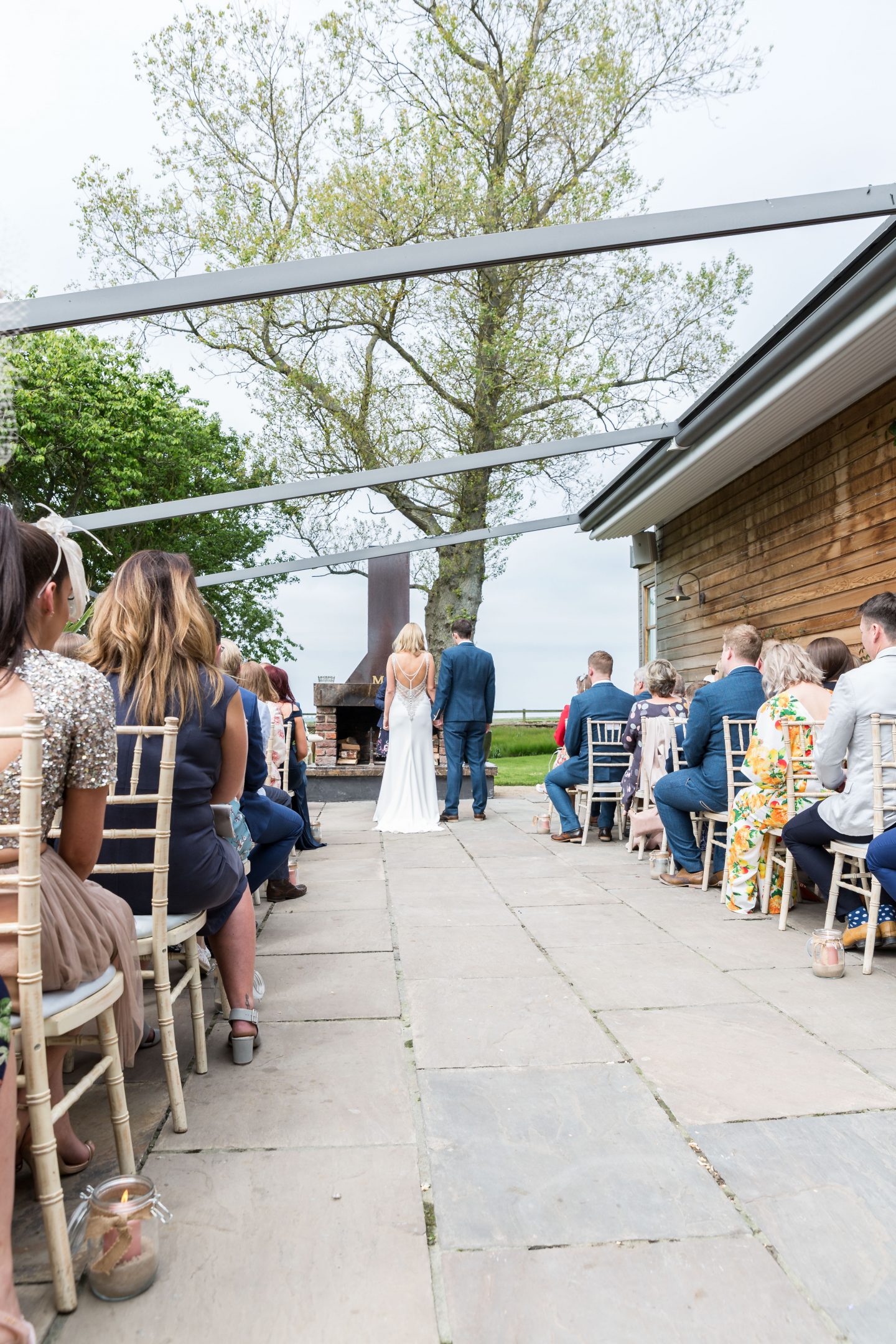 We checked out few rate cards and compared prices and I thought it'd be beyond the realms of possibility – and we were actually about to leave a deposit with another venue the next day – but the venue team were great and it all magically worked out.
…I also asked the universe and I think it delivered!
3. The Outfits
They say when you find your dress you know know it's the one. And I so knew! As did my mam as her face said it all when I walked out of the fitting room.
I really thought i'd go for lace, but when I tried on lace dresses, it was like they were wearing me and had too much going on.
Whilst this one might look plain initially from the front, it really comes to life with a super low back and silvery/grey embellishment.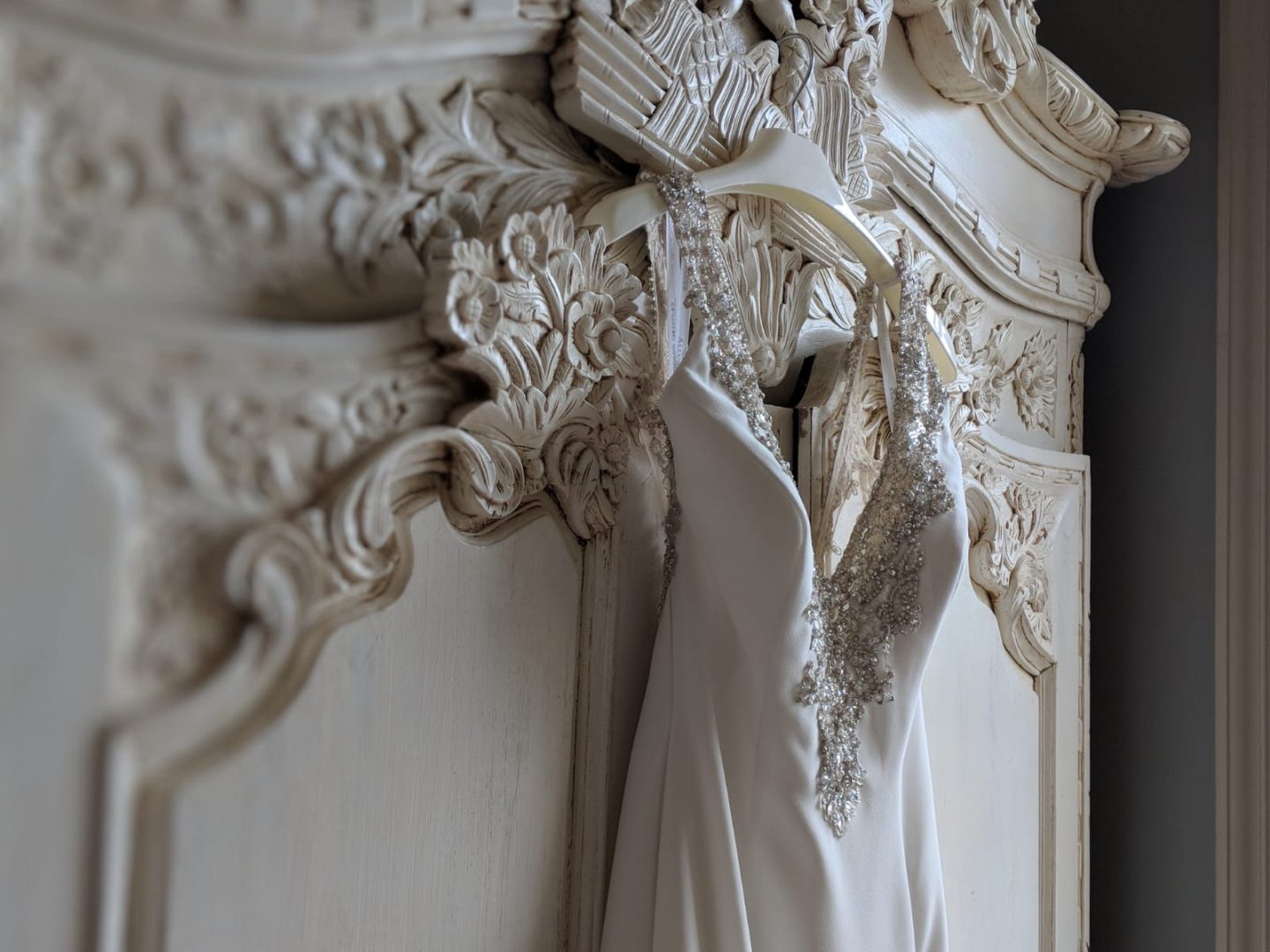 I wanted something understated, but with a knockout wow factor, if there is such a thing.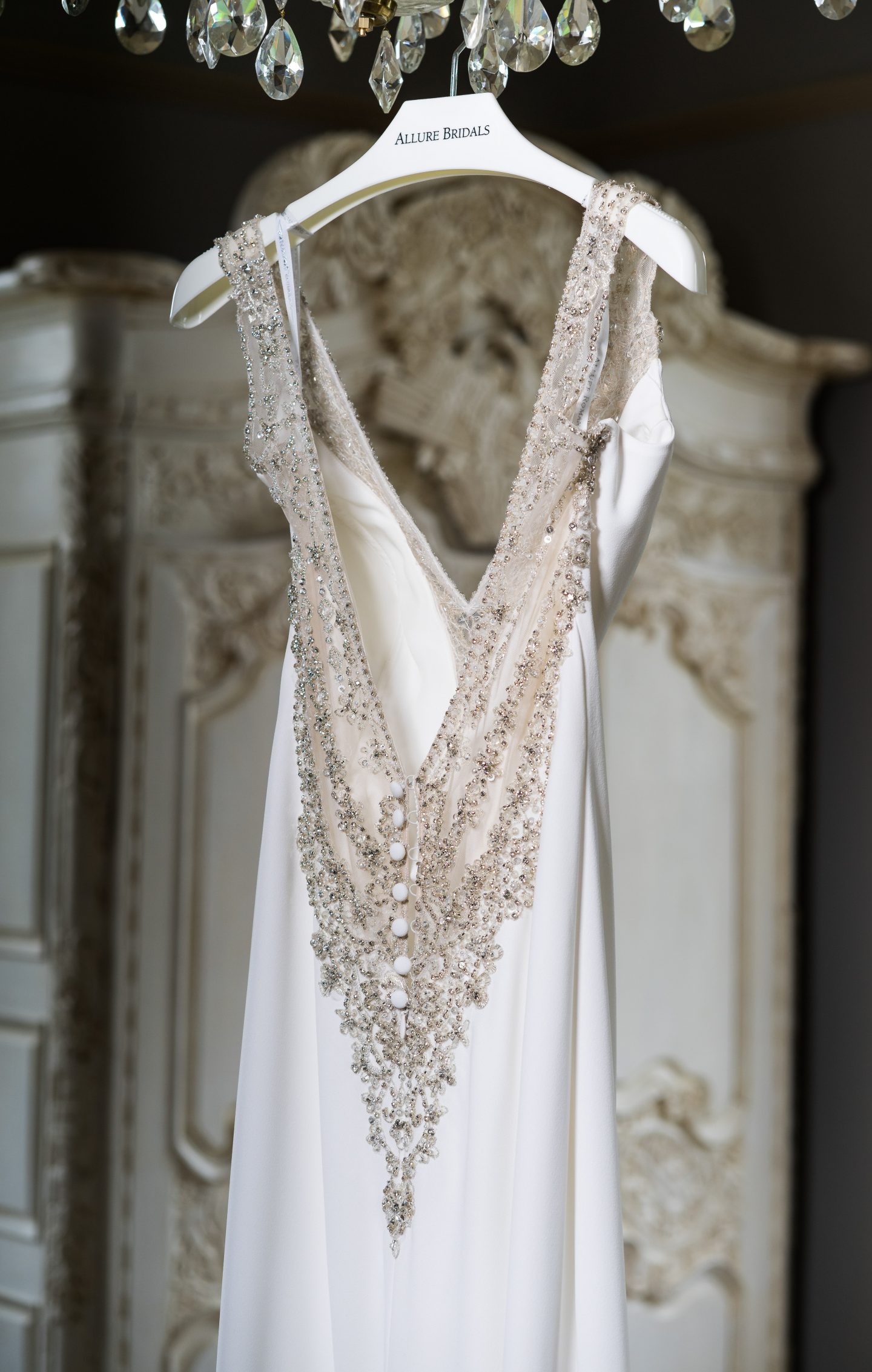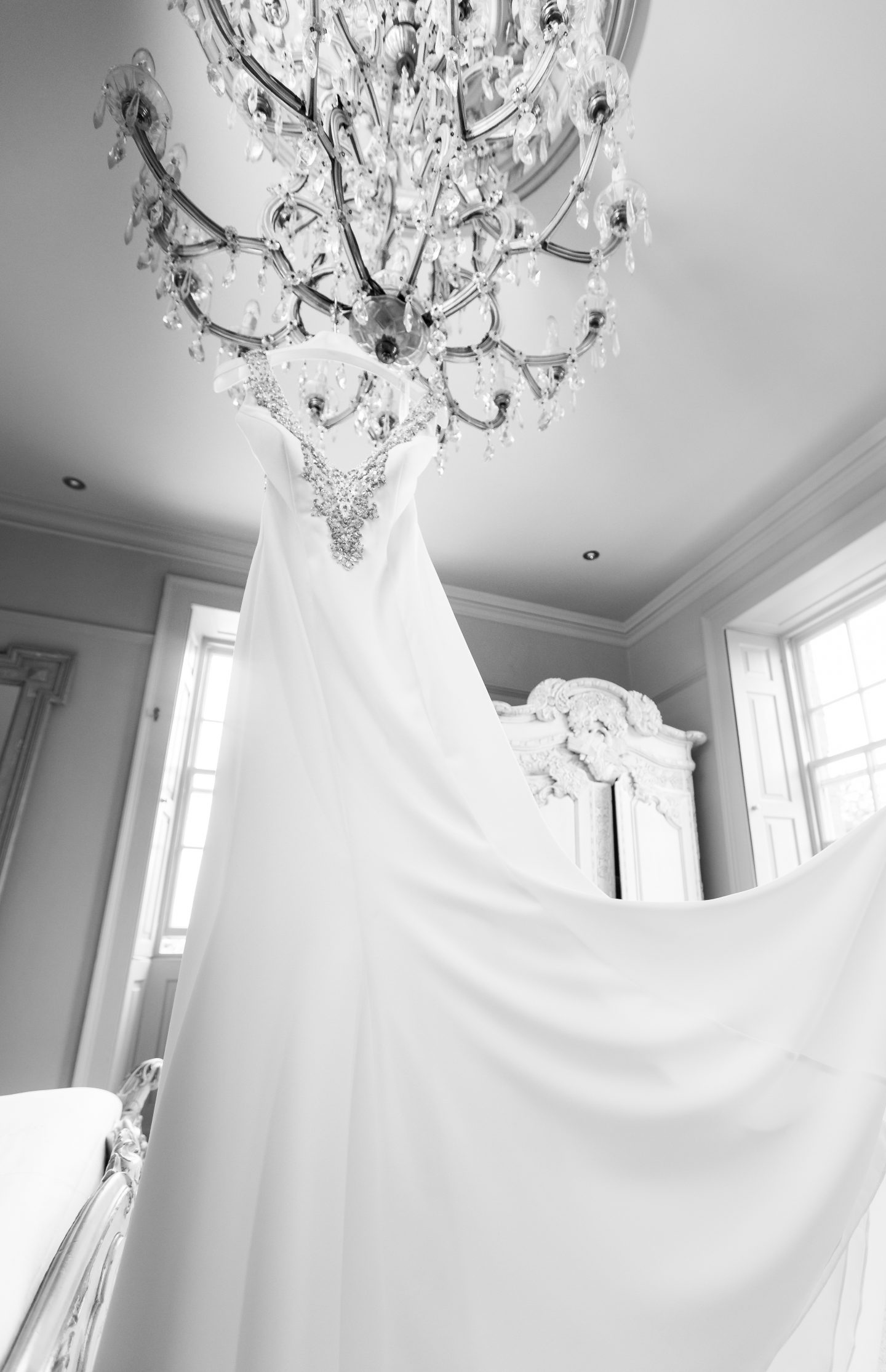 Well, there must be because I think I wore just that on my wedding day, ha!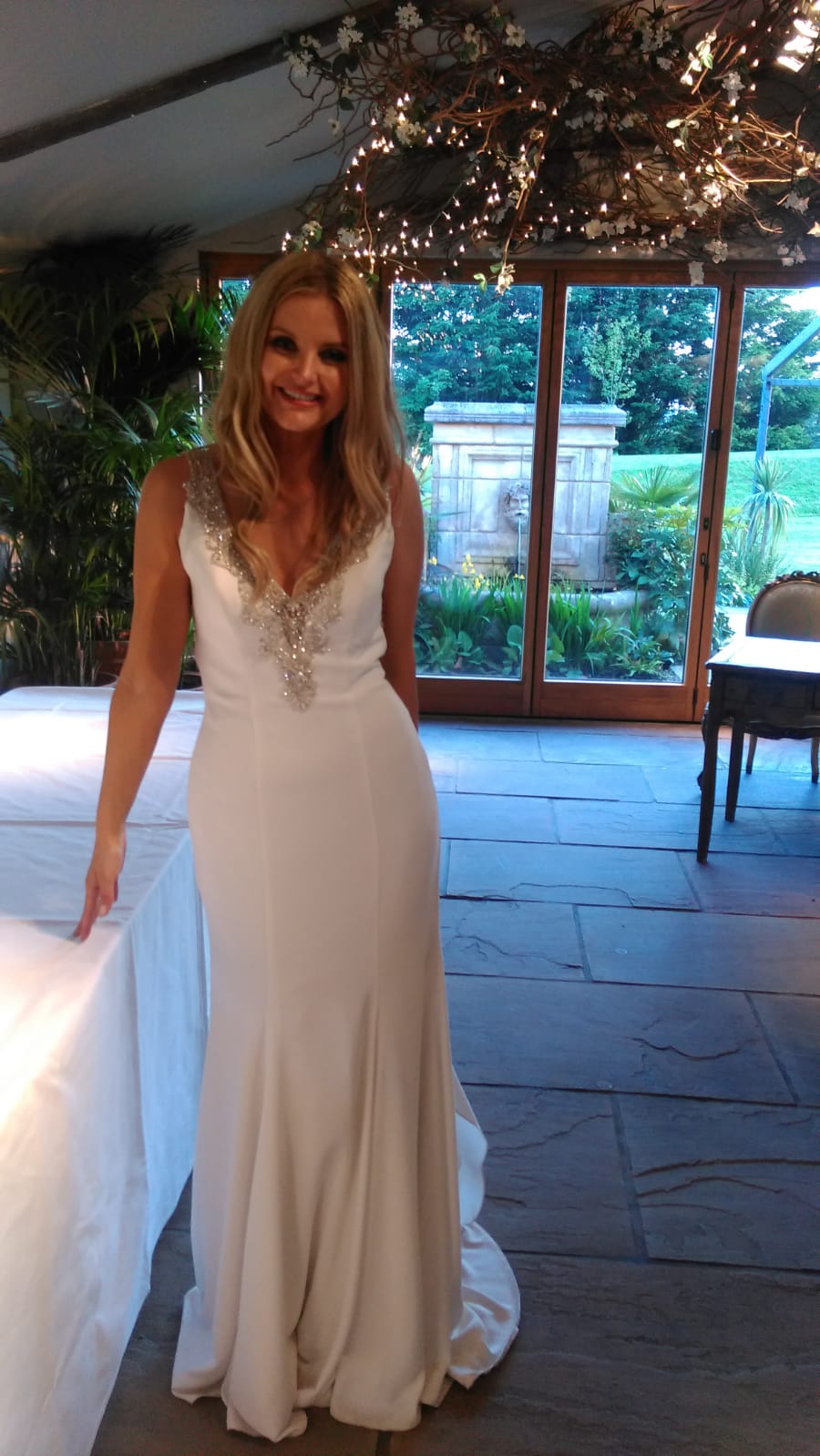 Not bad for a 35 year old knacker eh?
I got THE dress from the wonderful Wedding Wardrobe in Chester-le-Street. The service I received from Tracey and the team was impeccable and they really looked after me every step of the way.
Le back…ta daaaah!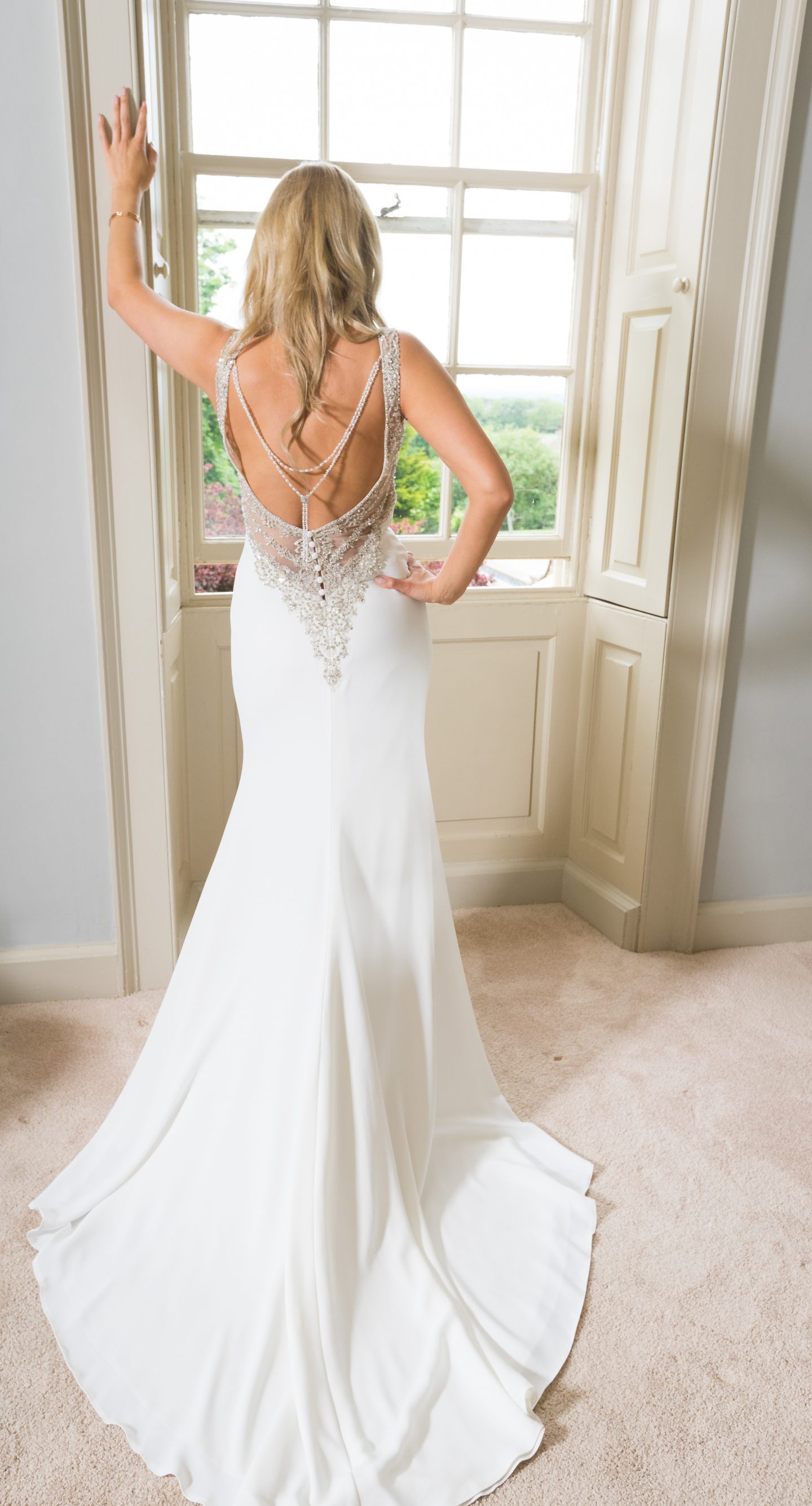 I think it's a real skill to be a bridal boutique owner and be equally as excited as every bride that walks through the door time after time.
They were absolute professionals – and Tracey the owner is also an excellent seamstress, who did my alterations for great value!
I bought the back necklace separately, which I have featured further down in this blog post.
*Tip – don't just stick to trying on dresses that you think you want and remember that they always look better on, than on the hanger. I knew i'd go for a slinky shape, but I tried lots of variations of styles and materials on.
The Bridesmaid dresses 
Girl In Mind store on Silkfred 
Mike's Suit 
Mike wanted something fitting for our venue and wanted something a vibrant, yet cool – and yes, he did want something a bit Peaky Blinders. Who can blame him when literally every item of clothing on that show is cool as f*ck?
He did his own hair….
Mike's suit, along with all of his groomsmen's suits were from Master Debonair, Boldon.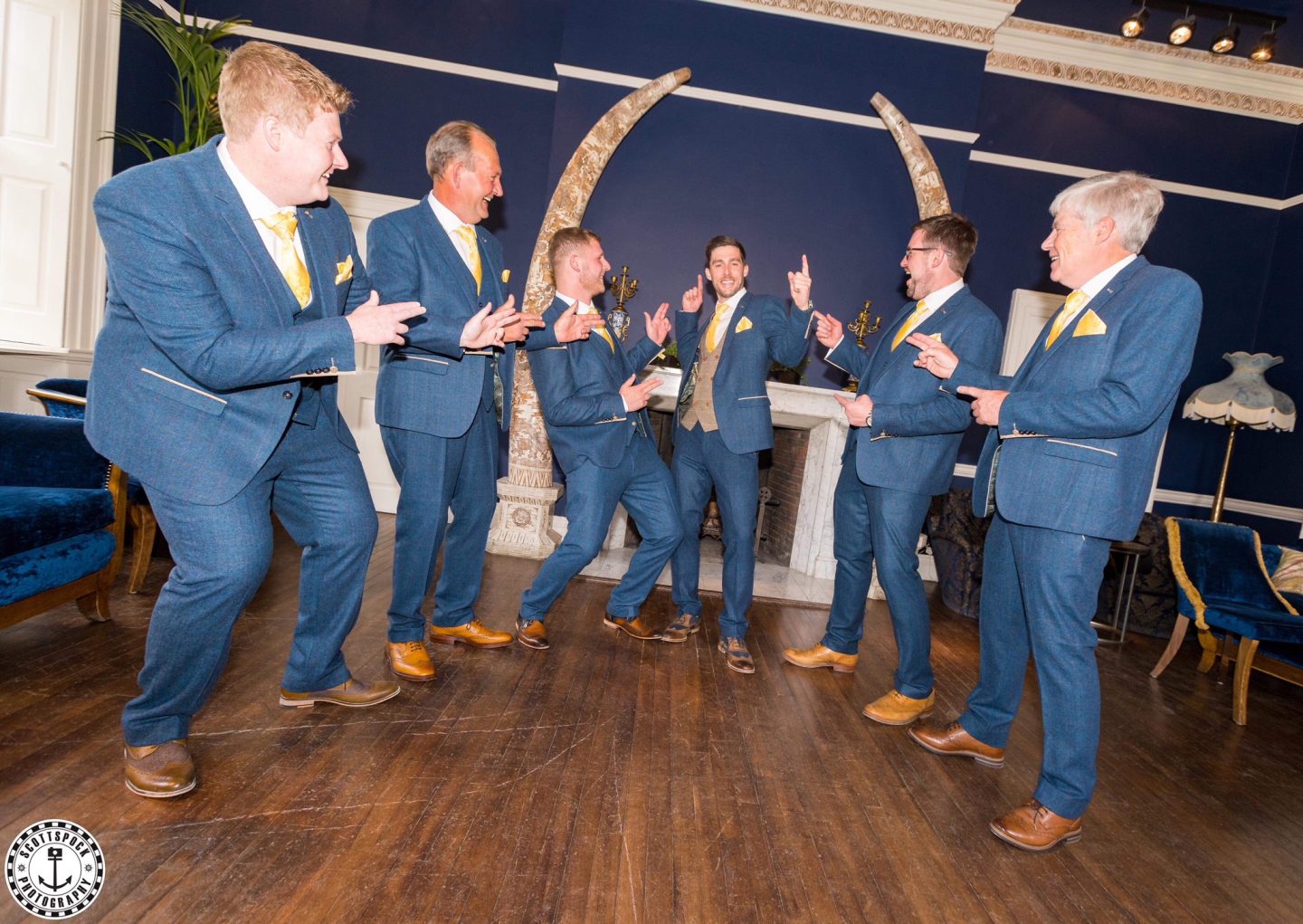 Mike went for a different coloured waistcoat, which was a great shout. Don't they all look amazing? You can see why we all went for blue.
4. The Hair
I had my hair done by my personal hairdresser Neville. He kindly came up to the venue early doors and turned my fine hair into wonderfully lucious locks of golden tendrils! I always wanted simple, yet glam hair for my wedding and that's just what I got. He used high quality clip in extensions.
He also did my mam and bridesmaids' hair.
5. The make up 
Wedding make up is as vital AF as wedding hair. You need to look amazing, feel amazing, but also it needs to show on your photos. Key to having beautiful features on your photos, aside from good bone structure, is excellent make up.
Fortunately I know the best MUA in the north east and she did an incredible job on me. Amanda has an insane CV and has made up A list celebrities in her career. Most importantly however, she hits your brief 100%.
I have also added a post on my wedding make up trial with before and after pics.
I went for rose golds and shimmers on the eyes, a bit of contouring and a peach, coral lip, which was my own from Charlotte Tilbury in Super Cindy.
6. The Accessories:
OK, I wouldn't really class wedding rings as a wedding accessory, given they usually stay on your fingers for life, but I wasn't sure where else to write about them. My engagement ring and both of our wedding bands came from Old Eldon jewelers. They're the nicest guys there. My engagement ring was made bespoke for me and boy did Mike do well with it.
It's a platinum metal, with emerald and baguette cut diamonds. It's a bit 1920s / 1970s, brought right up to the now. You might think this would have cost a bomb, and I don't know how much it cost, but it's absolutely worth looking at getting a ring made, because you often get way more value for money and you're not paying a national retailers' mark up.
Pic in box
Our bands were also made to our specification and from Old Eldon again. We got a good deal because we bought the engagement ring from there and both the bands.
Pic on hands together
Both rings are platinum; mine plain and Mike's with a brushed effect – cos he knew he'd scratch it a lot!
I bought the back necklace separately from Wildest Dreams Bridal, who can be found on Etsy. Mine was actually hand made bespoke based on something i'd seen online.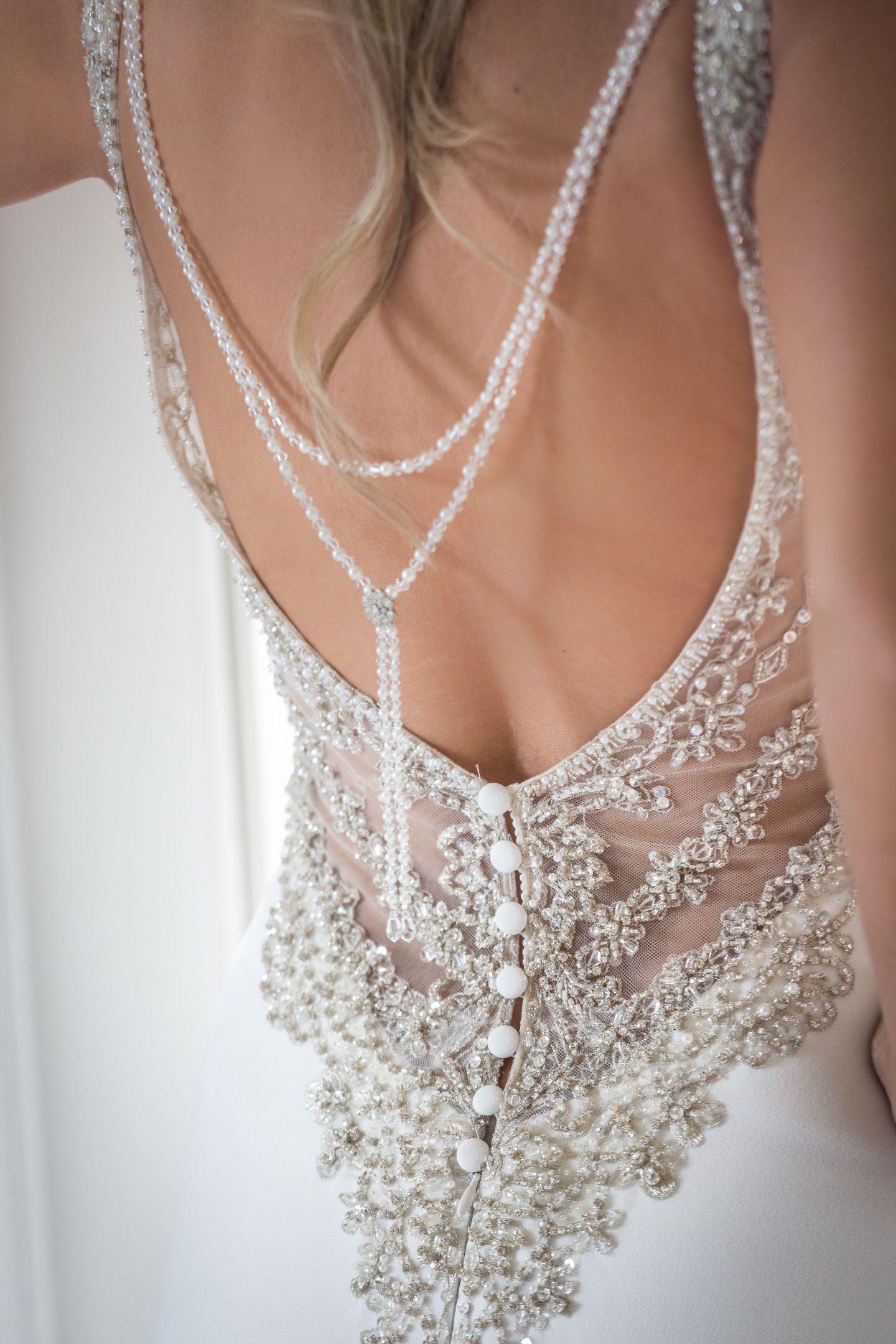 Samantha from WDB was great when we discussed what I was after. We decided on crystal a vintage pearl design.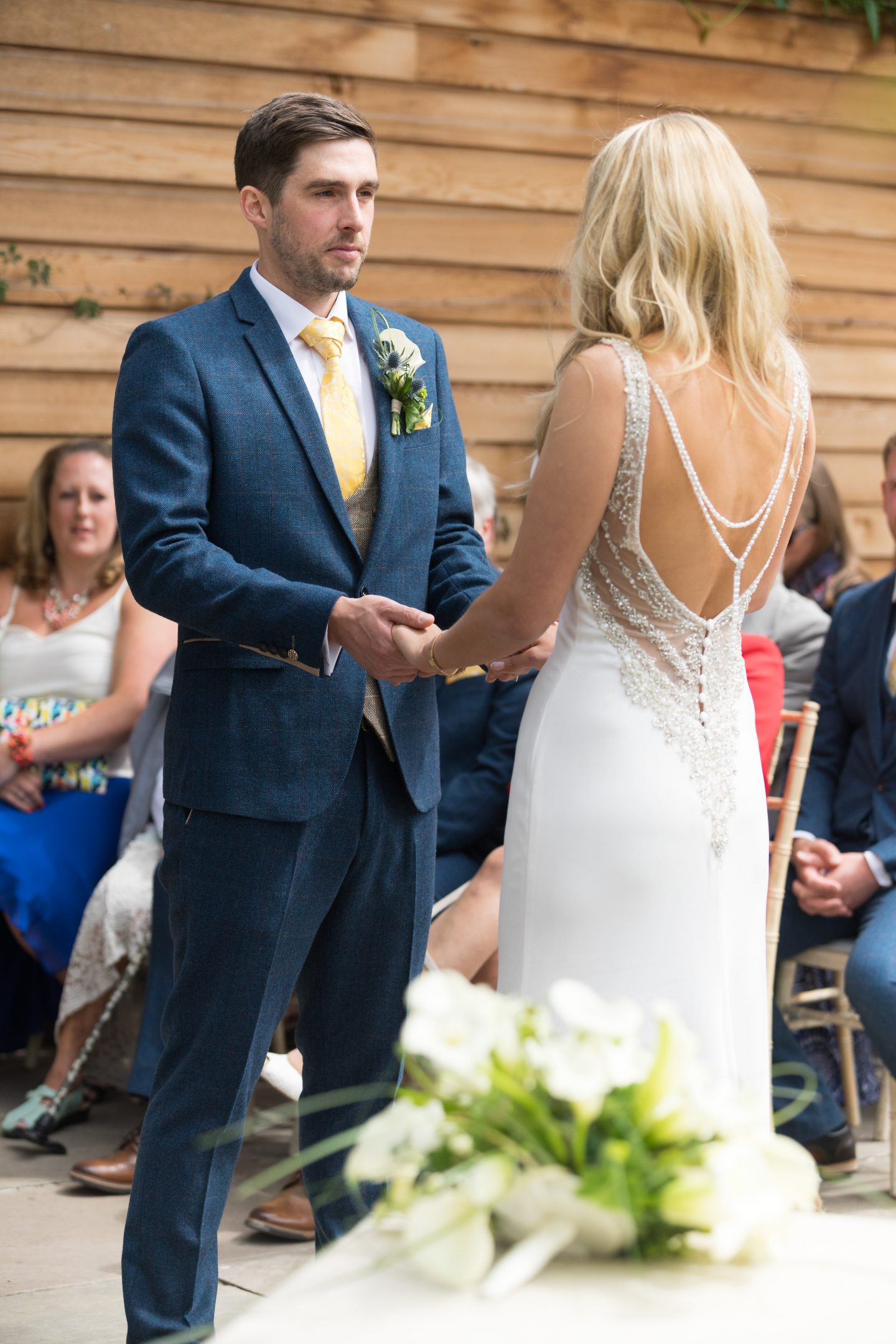 It meant a lot to me to have something hand made in the UK and at £75, it was a bargain for bespoke and hand made – and still worked out £30 cheaper than in bridal shops.
Tip: If you're going to go bespoke, then give your maker enough time to make and deliver it to you.
I didn't want to spend loads on a handbag that I wouldn't use for photos and I knew I wouldn't be carrying it around with me, but I still wanted something a little special.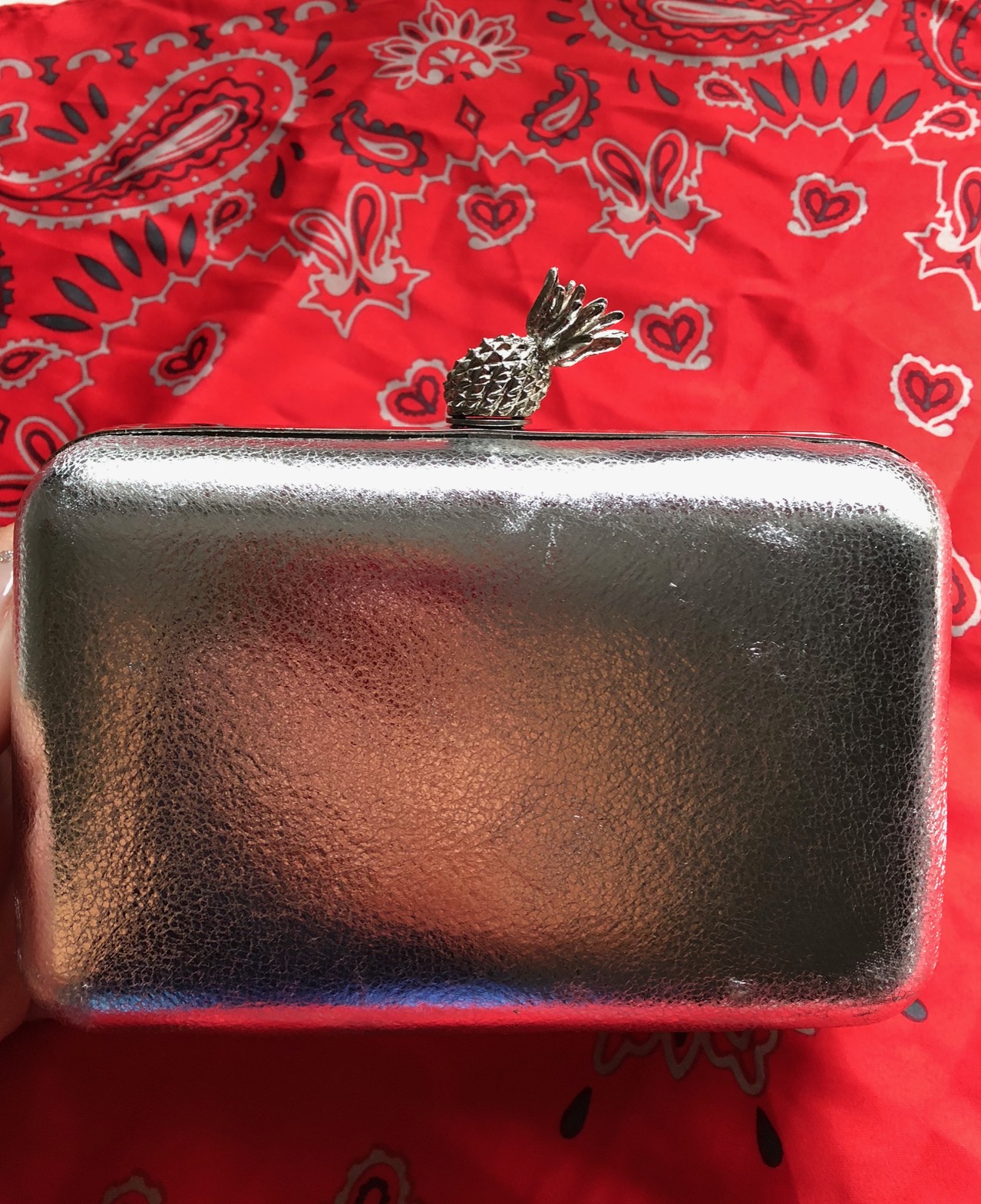 I wanted something a little 1920s-art deco-esque and found the perfect little clutch online at fashionworld.co.uk after a generic google search for 'art deco clutch bag + pineapple'. This was £25 at the time.
OK, so many of you will disagree, but I was determined not to spend a lot on wedding shoes. Let's face it, it's not likely you'll wear them again. Having said that, the shoes I found could definitely be worn again as they weren't a standard wedding shoe.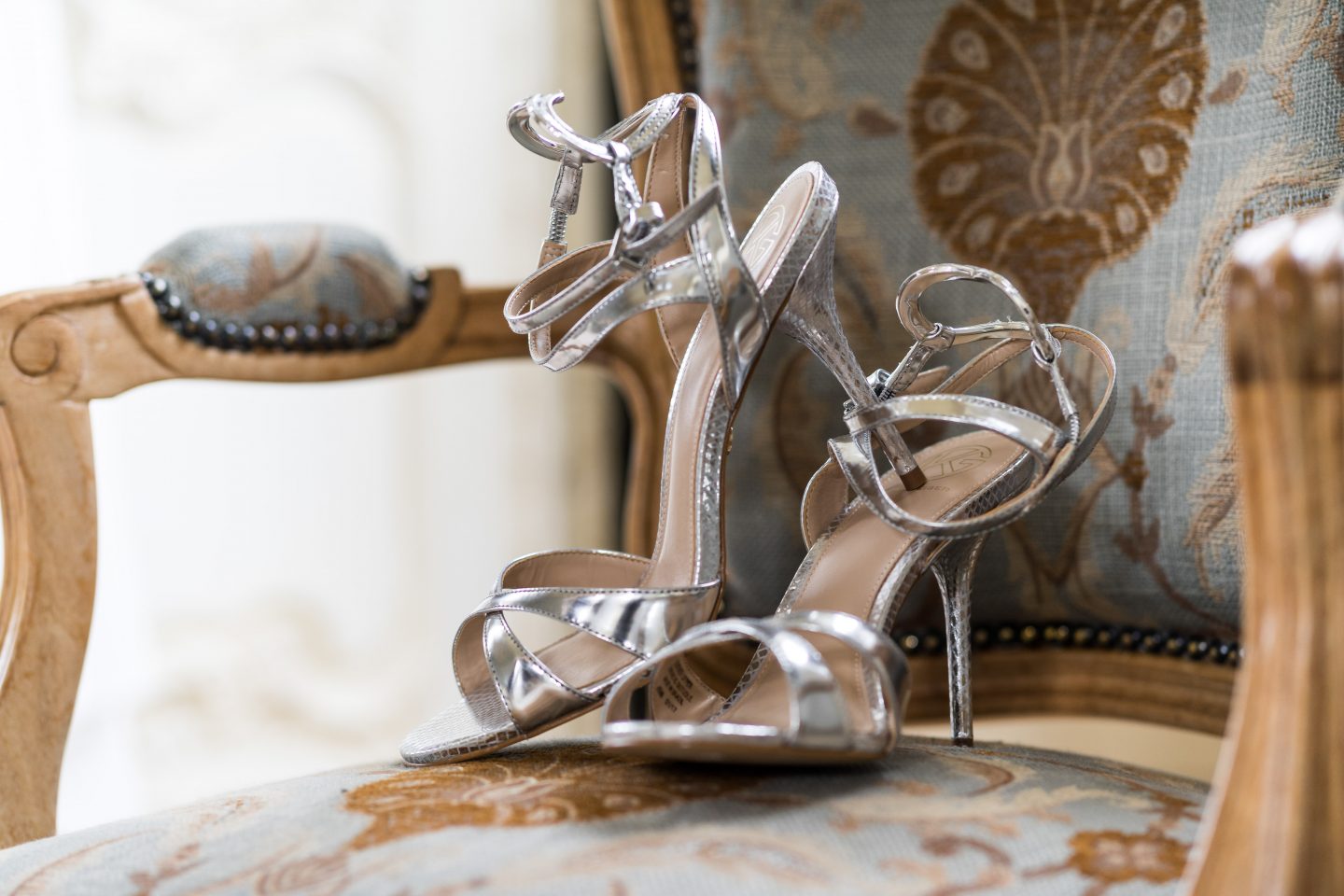 I went to the Metrocentre one Sunday in summer 2017 and said to myself, 'I'm going to the metro and i'm leaving with a pair of wedding shoes!' – and that I did.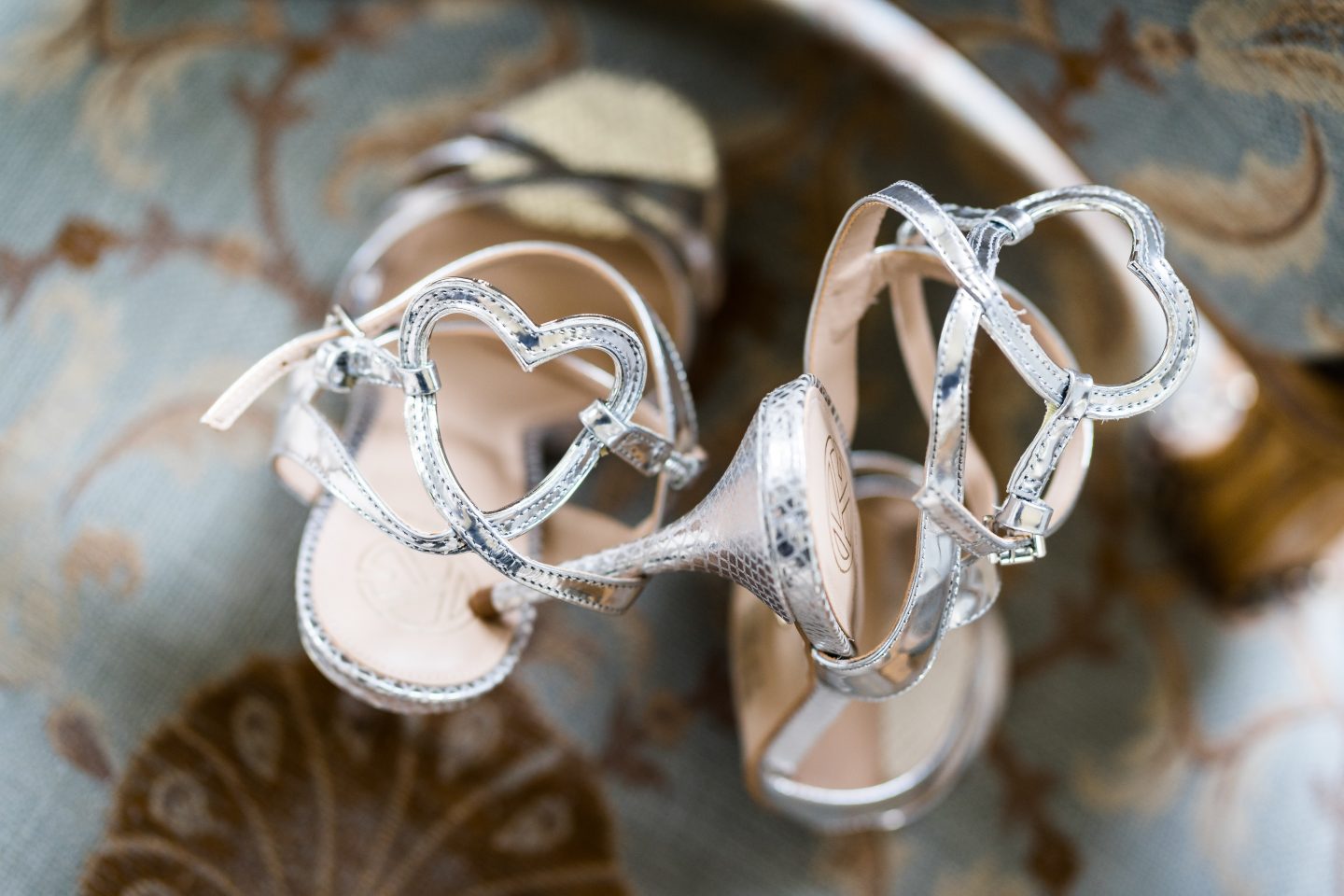 My friend Kirsty and I visited around five shops and I eventually had a look in the Kurt Geiger – I was delighted to see they had a big selection in the sale.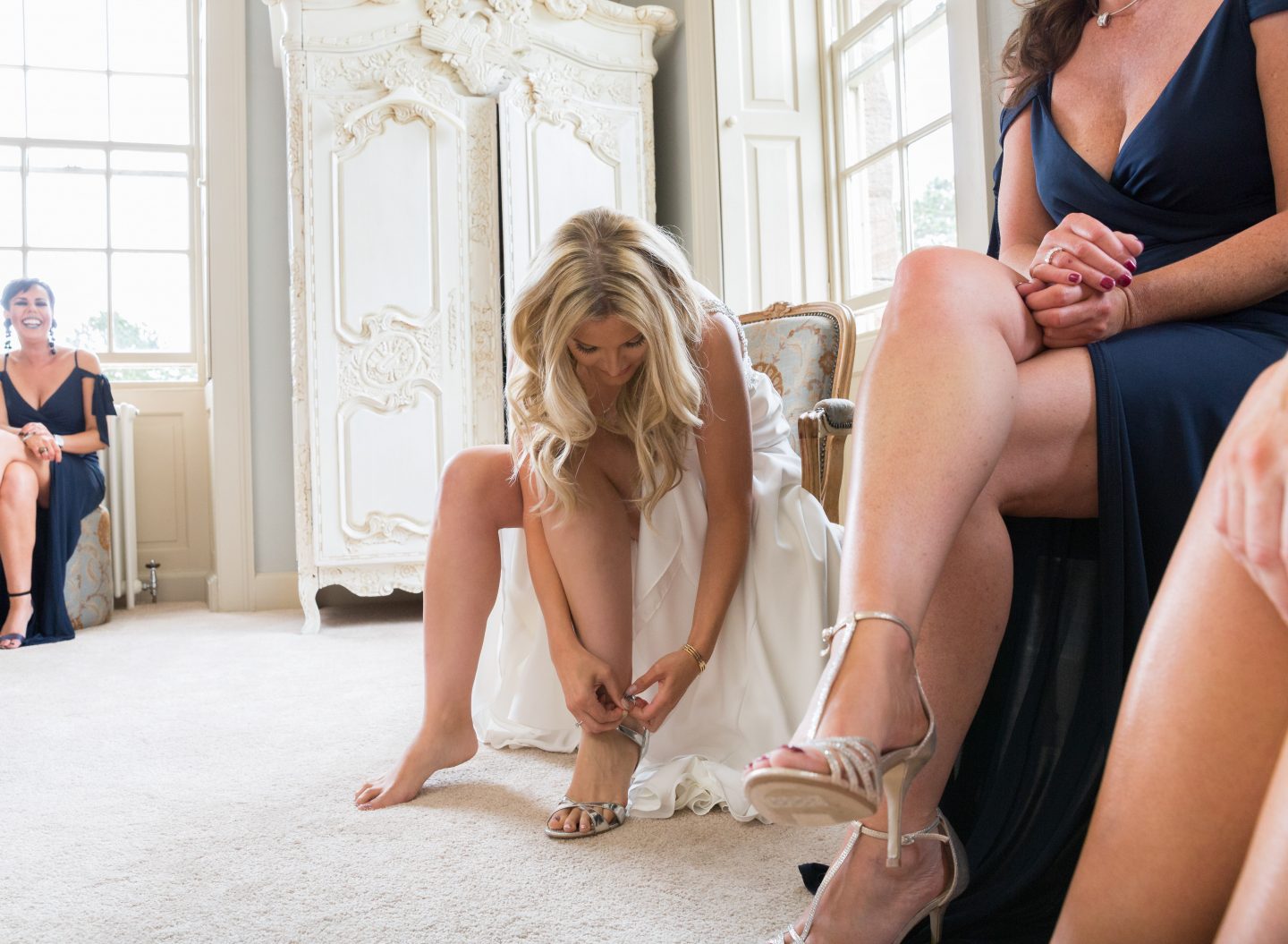 I found these fabulous silver strappies, with heart heel detail and a high enough yet low enough heel.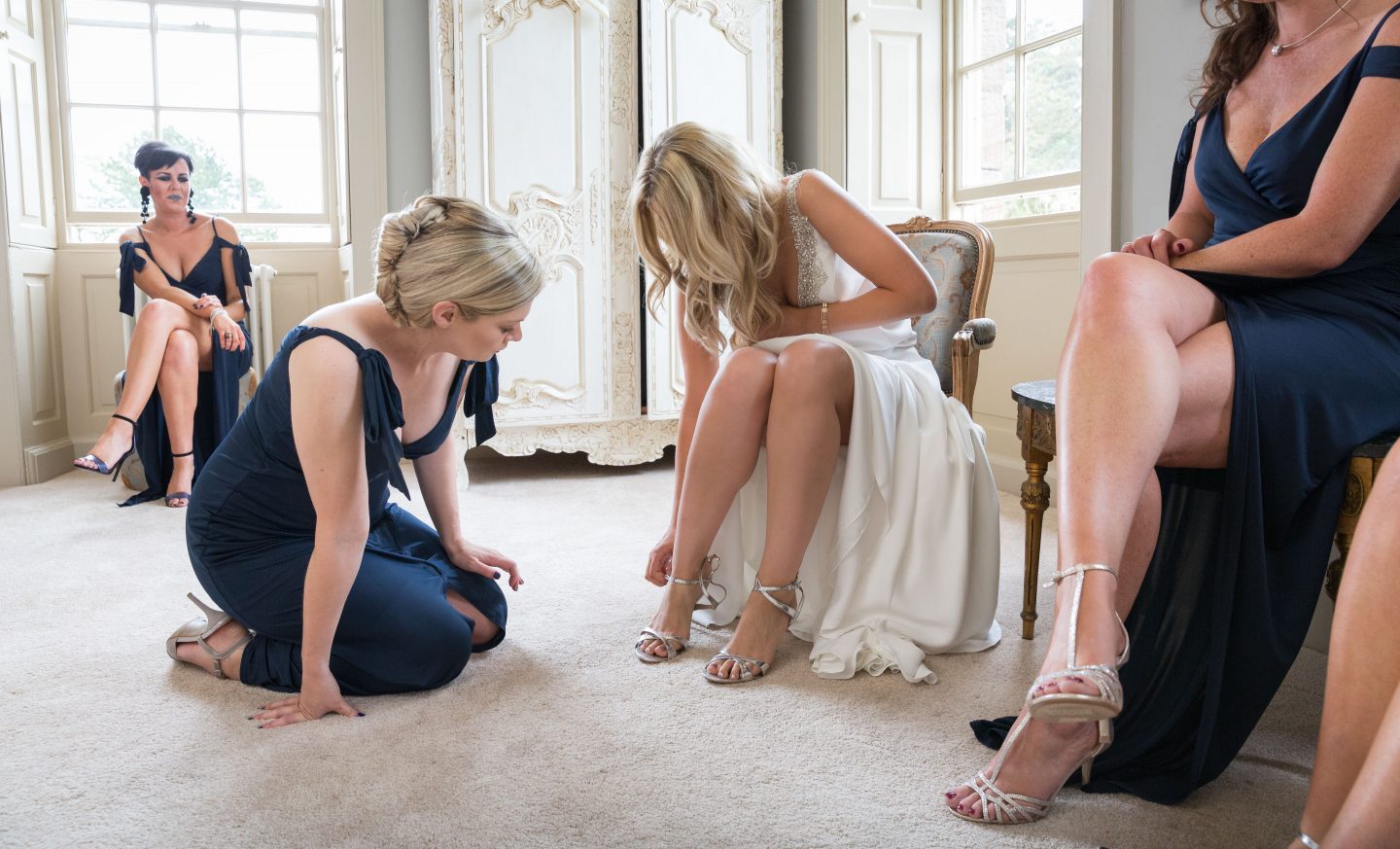 The best part? They'd been reduced from £149, to £60, to £39. I. Was. Delighted.
*Tip – If, like me, you don't see the point in £200 wedding shoes. Always check out the sales at the higher end stores around a year before your wedding ( if a summer wedding, summer sale. If winter, go winter sale).
Also from my sister (from ebay), I wore this cute Bride gown whilst getting ready, a must for every bride ever!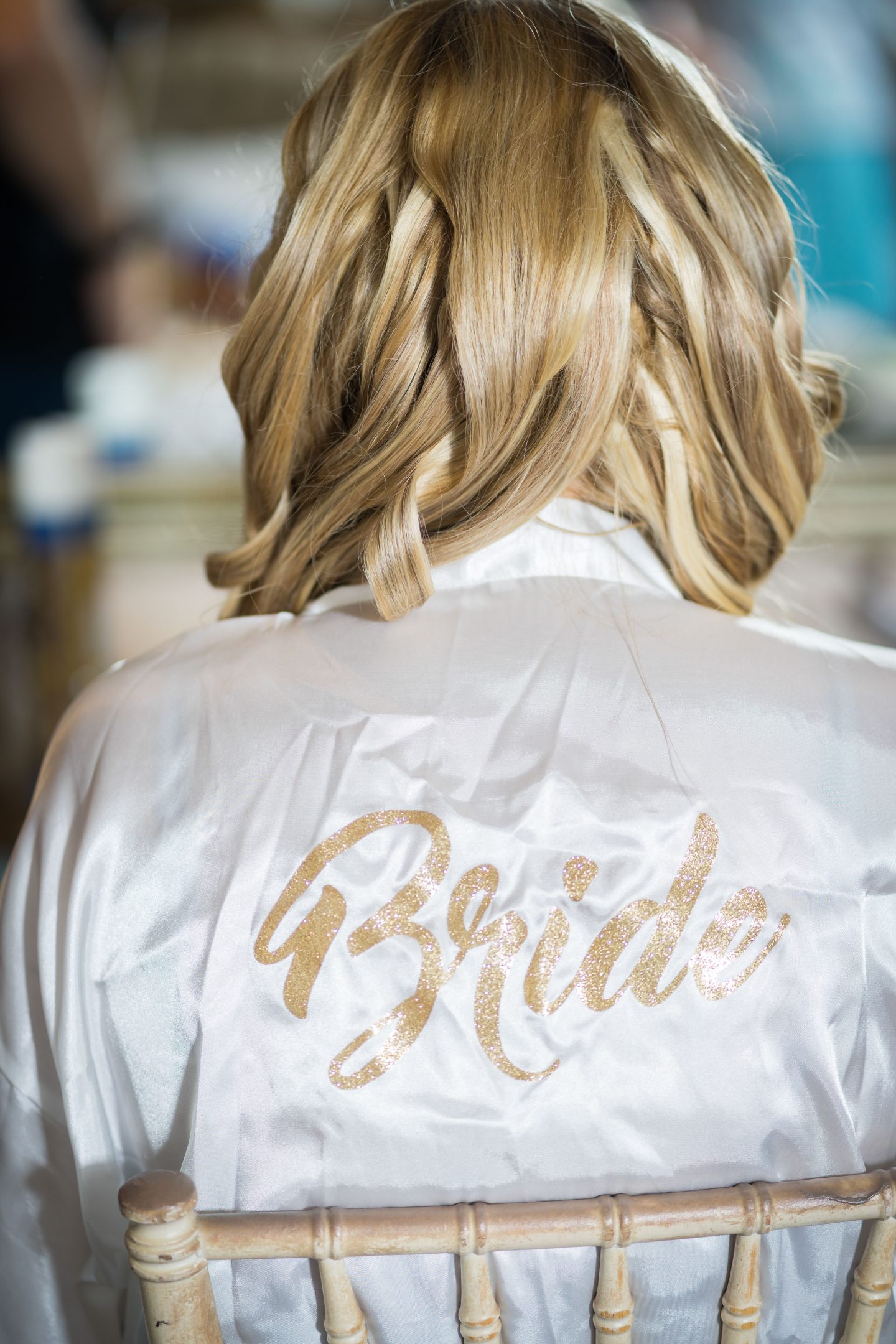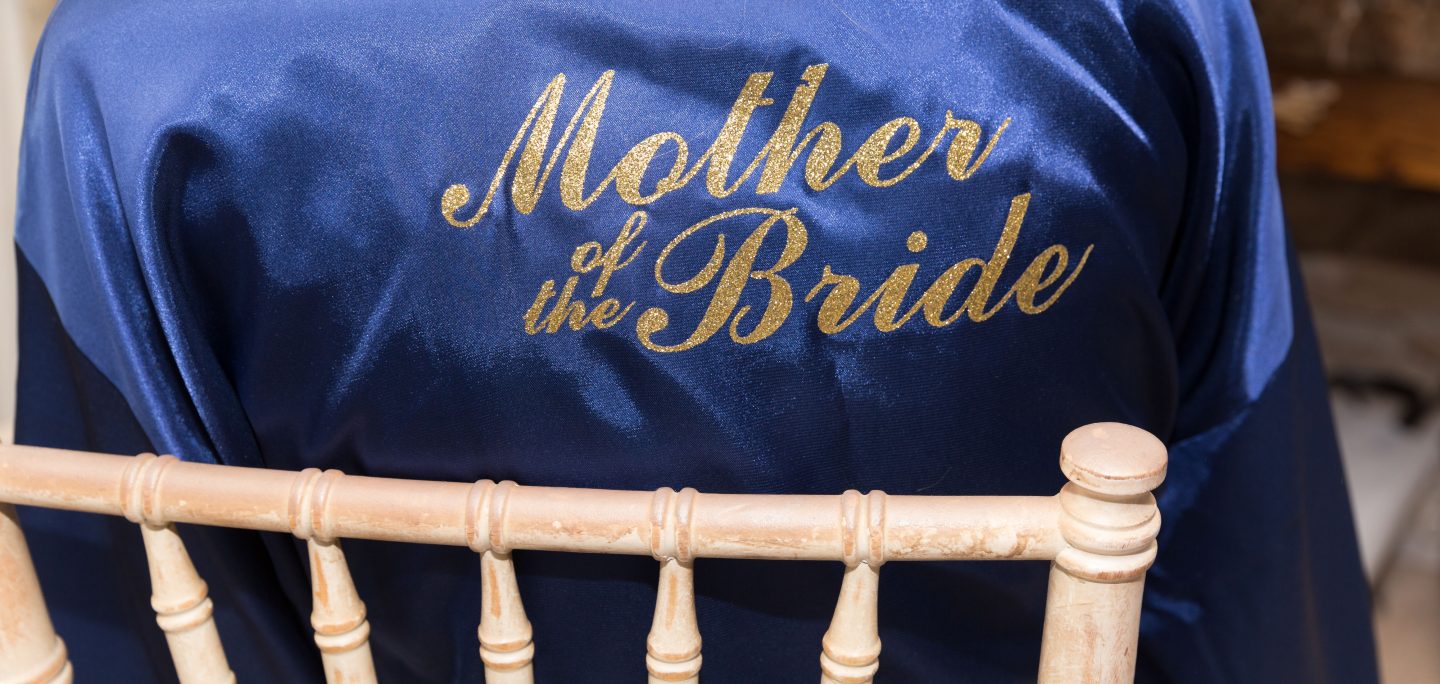 Bit creased!
The beautiful 'Bride' mug my sister got me to have my morning wedding coffee! She knows I love Tiffany blue and she got me this perfect piece from a gift shop in Coxhoe, Durham.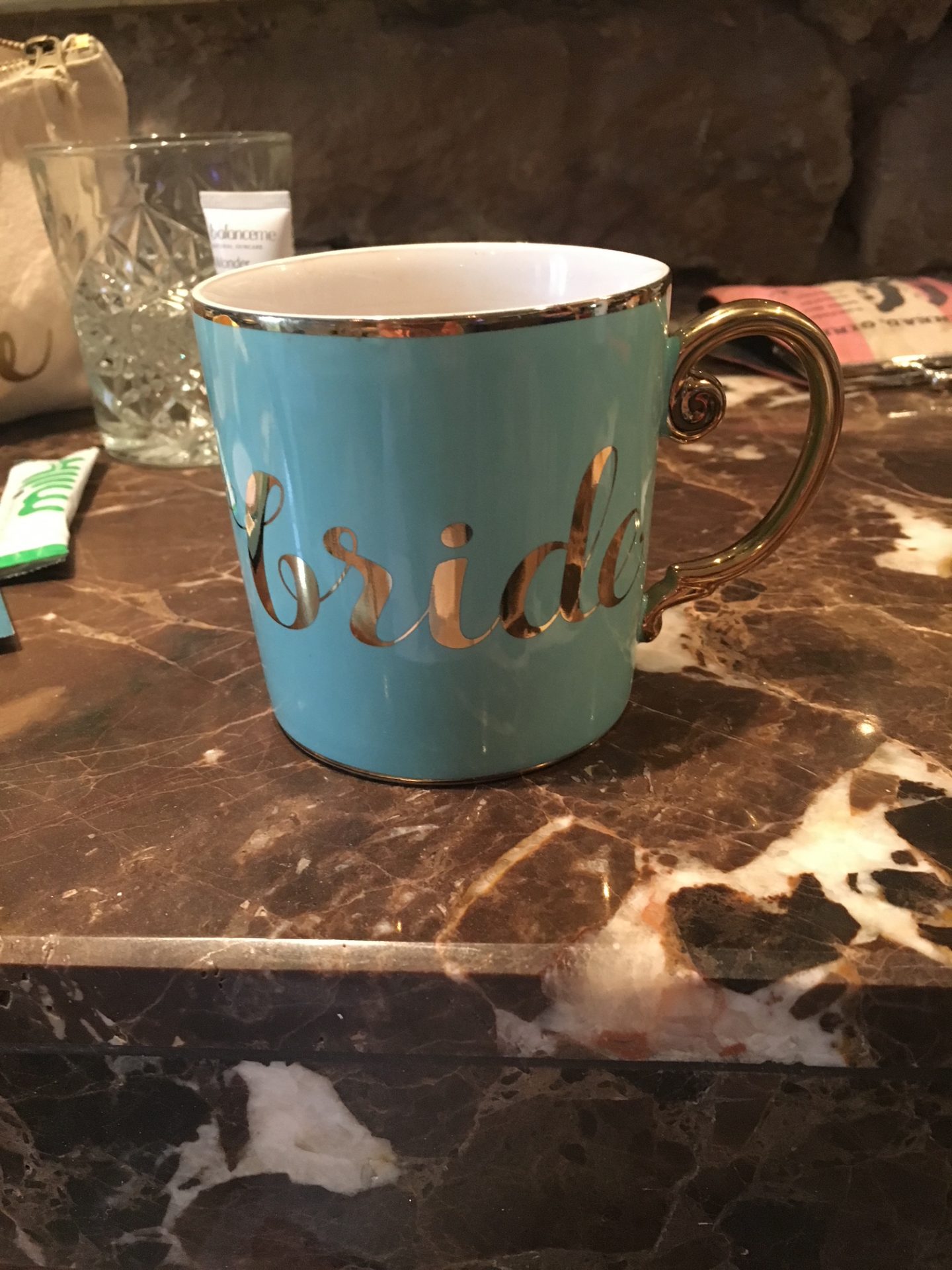 7. The Gifts 
Mothers of the Bride and Groom
My cousin had this gift set bought for her for Christmas 2017 and after a whiff and a check of the price £36 – I knew I was sorted.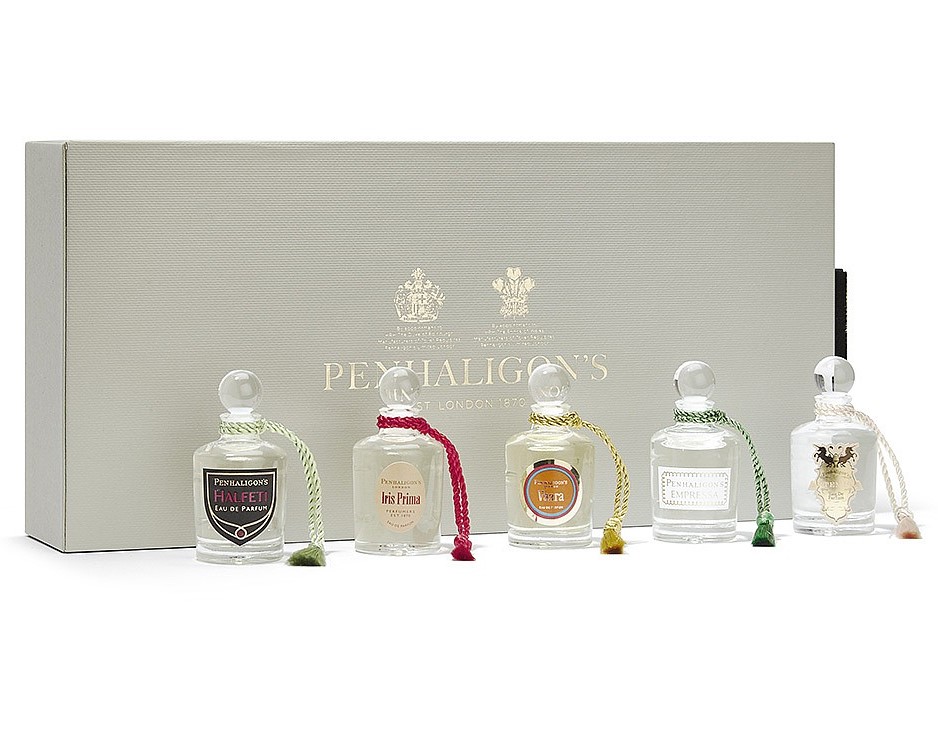 Penhaligon's are a British fragrance brand and and hold two royal warrants. They smell incredible, last for ages and to my delight are Cruelty Free!
I can't wait until I can afford a full sized bottle for myself!
I paid for the bridesmaids to have their hair done, so i just got a few token bits and put them into goody bags.
Each goody bag contained:
Face mask sachet, Superdrug – I buy a lot of their own brand stuff as it's great and it's cruelty free
Peppermint foot sock pack, Superdrug
Prosecco & Peach Lip balm, Sweet Cecylis
Edinburgh Gin 5cl Liqueur (various flavours), Fenwicks, Newcastle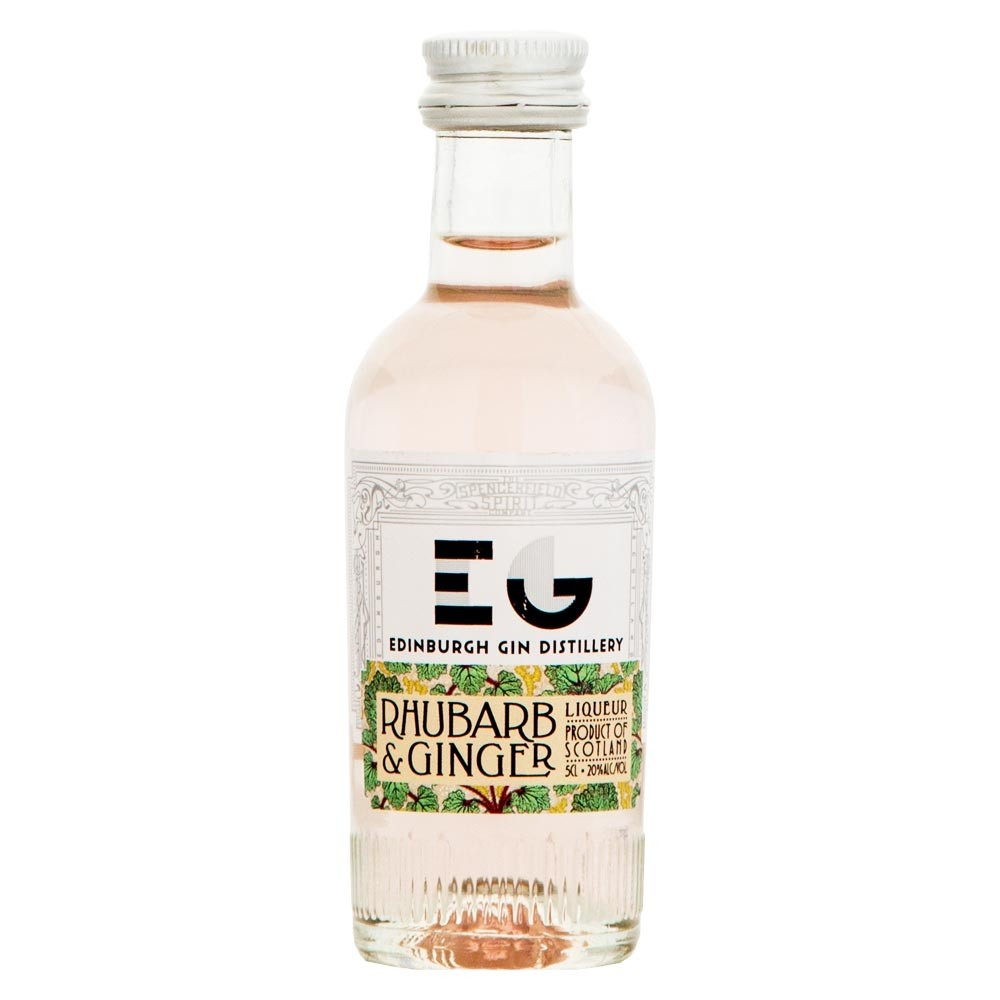 8. The Decor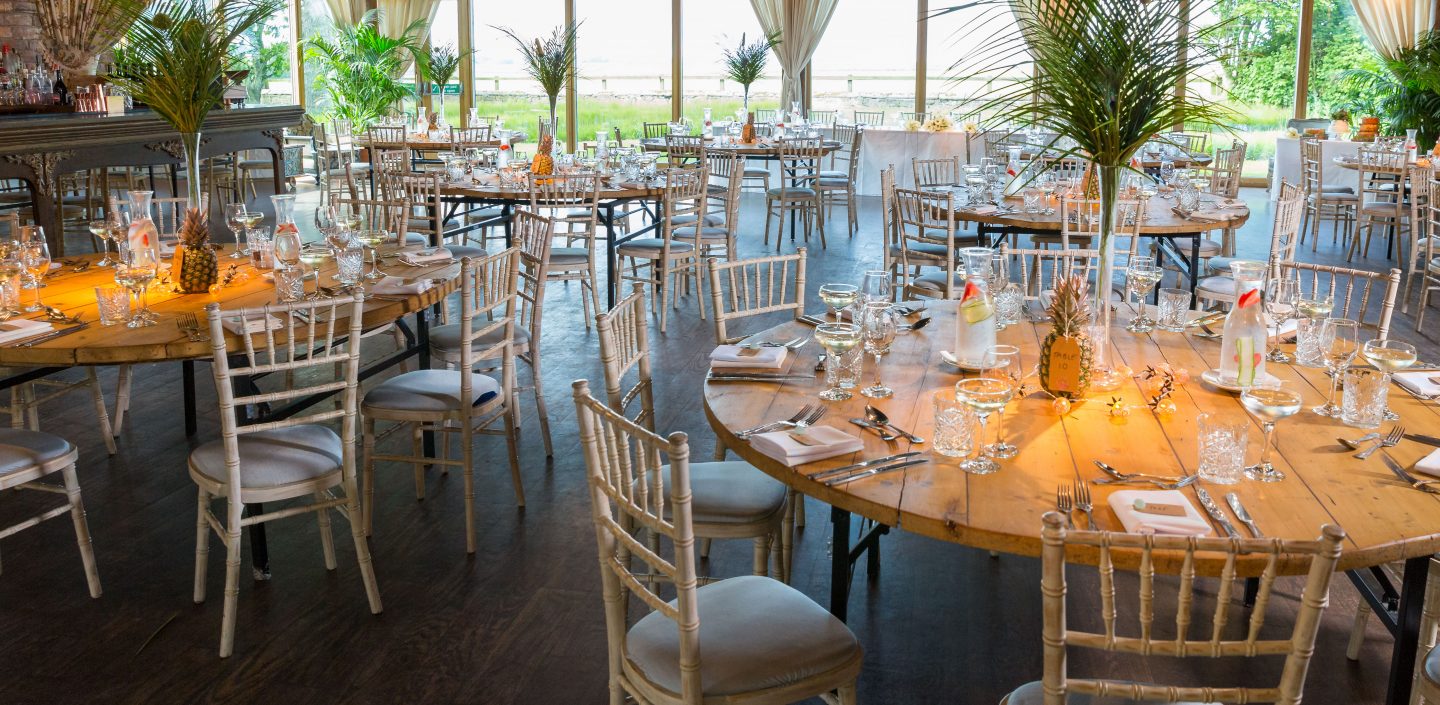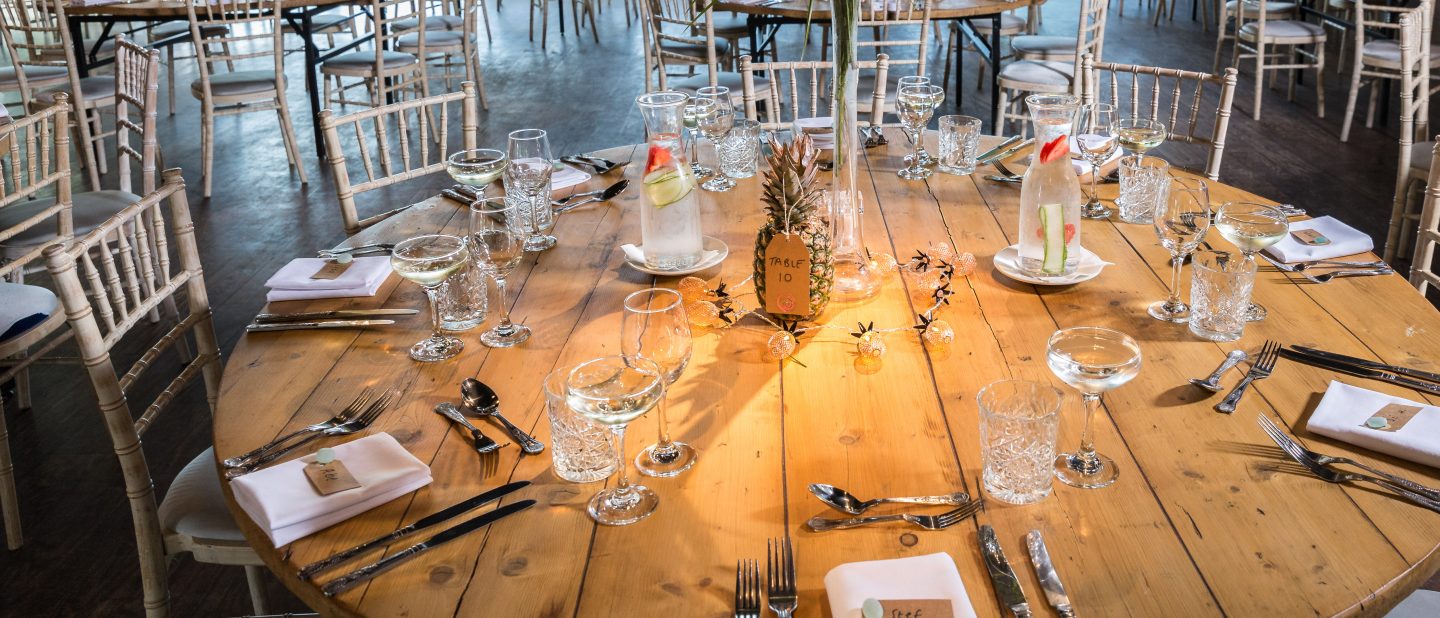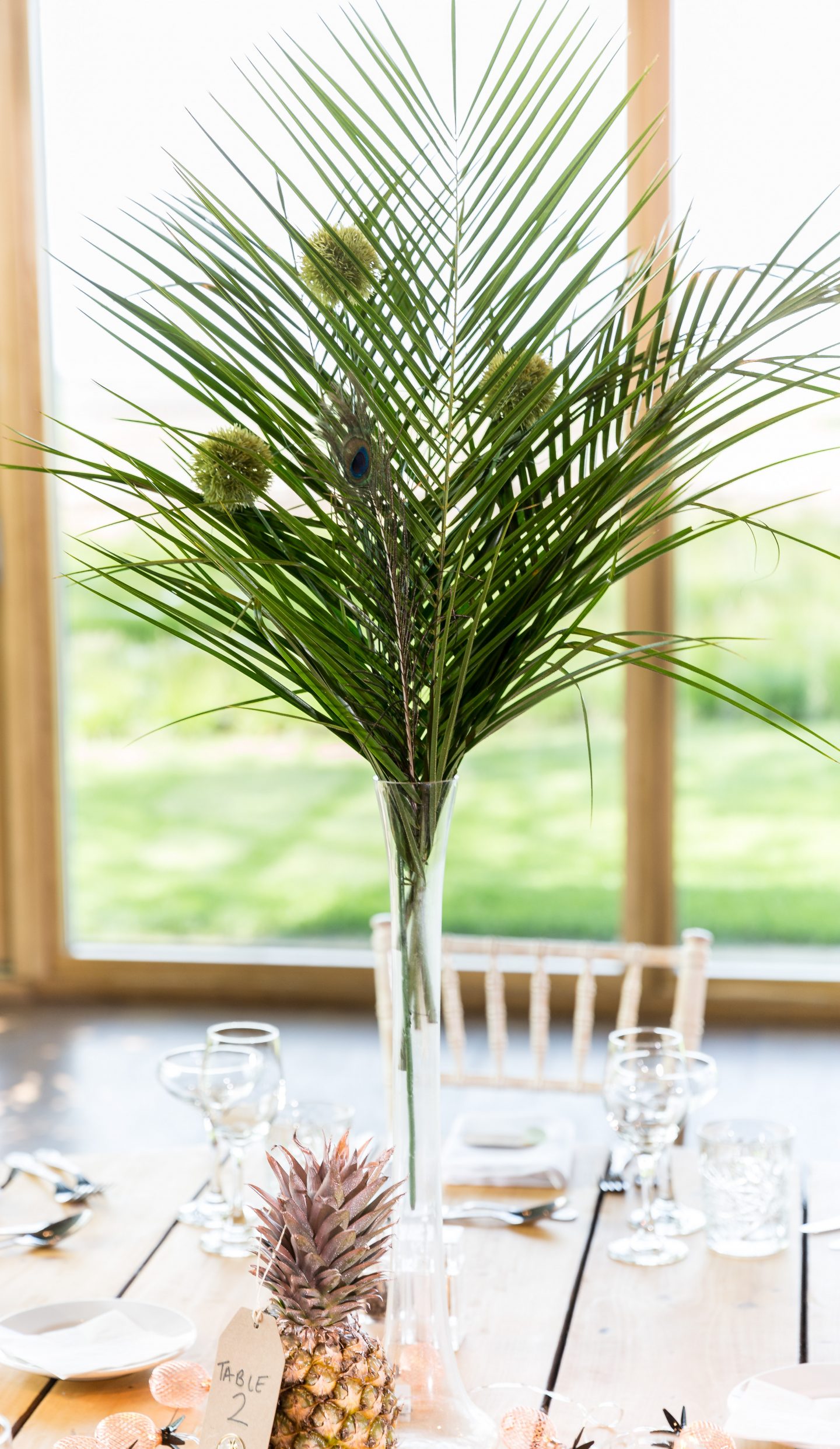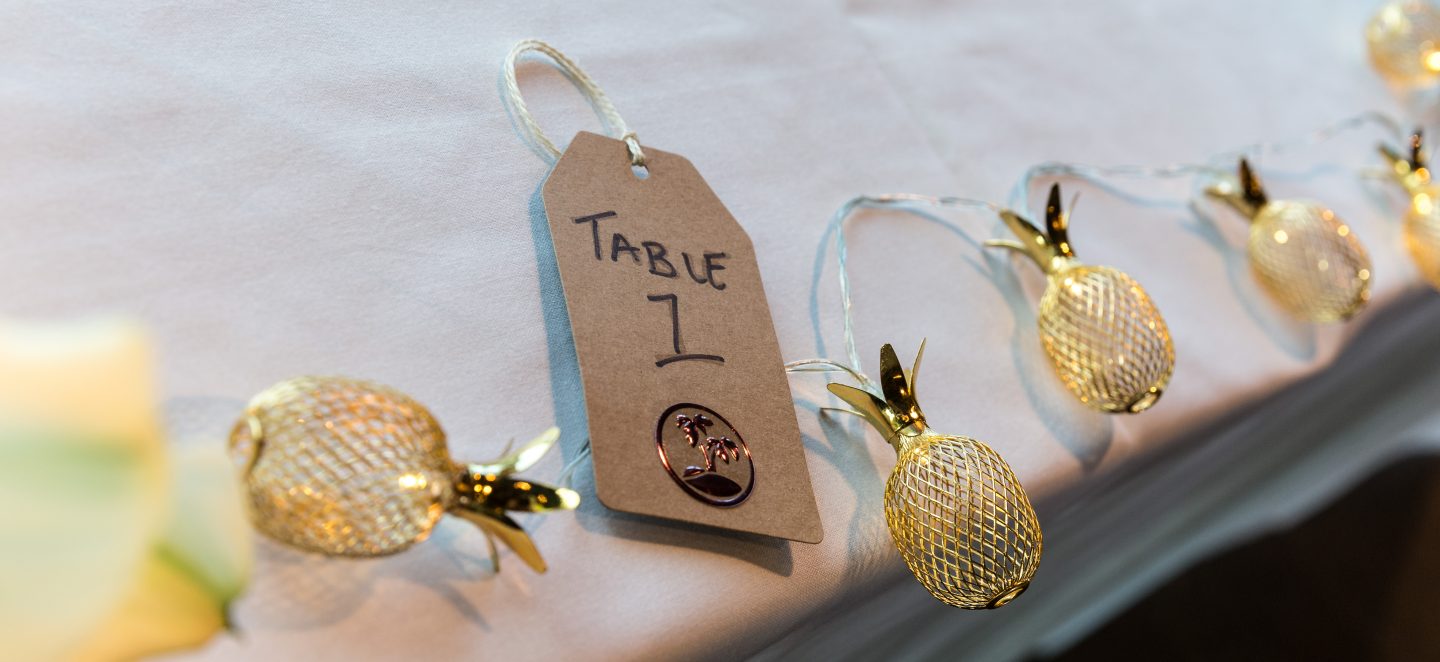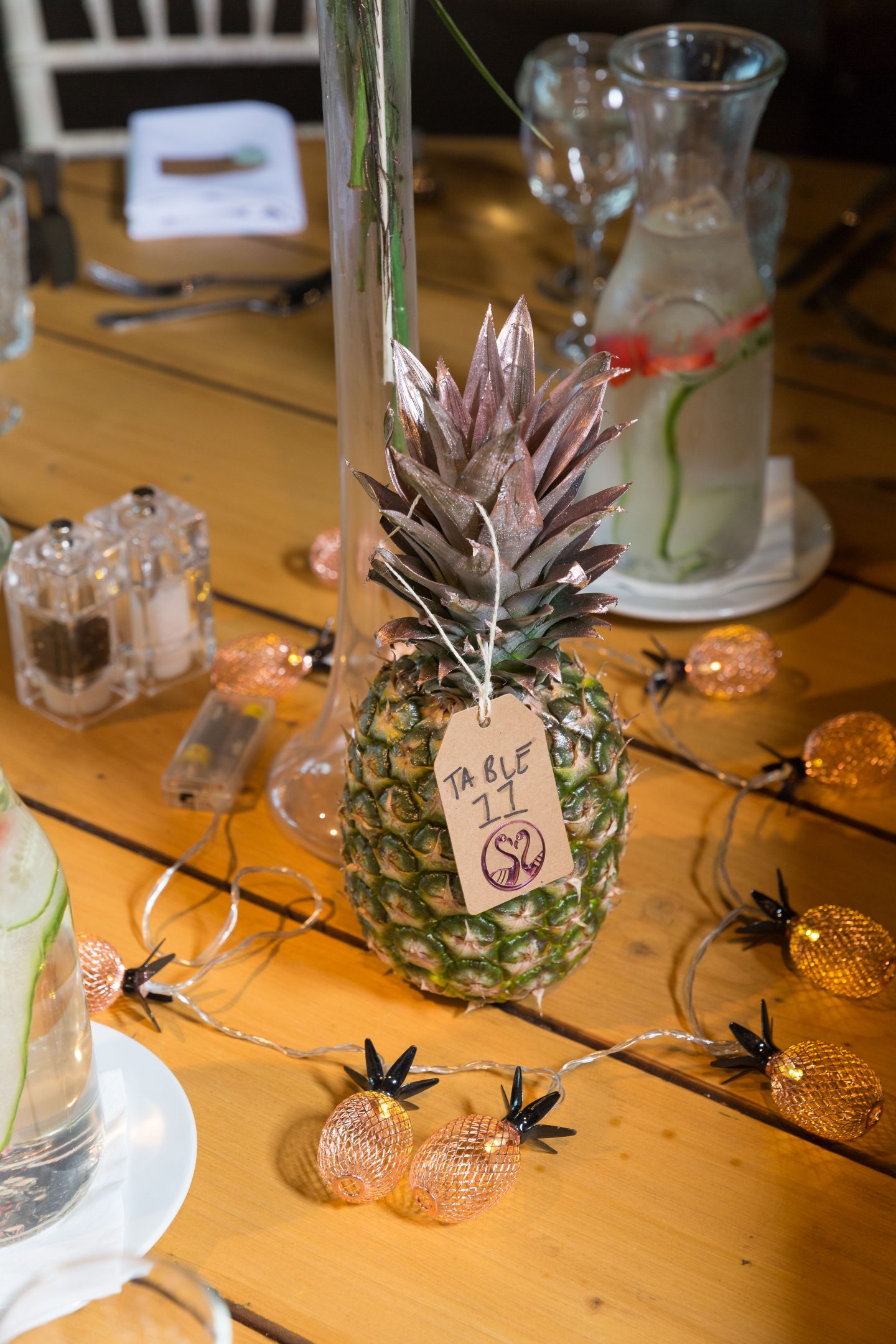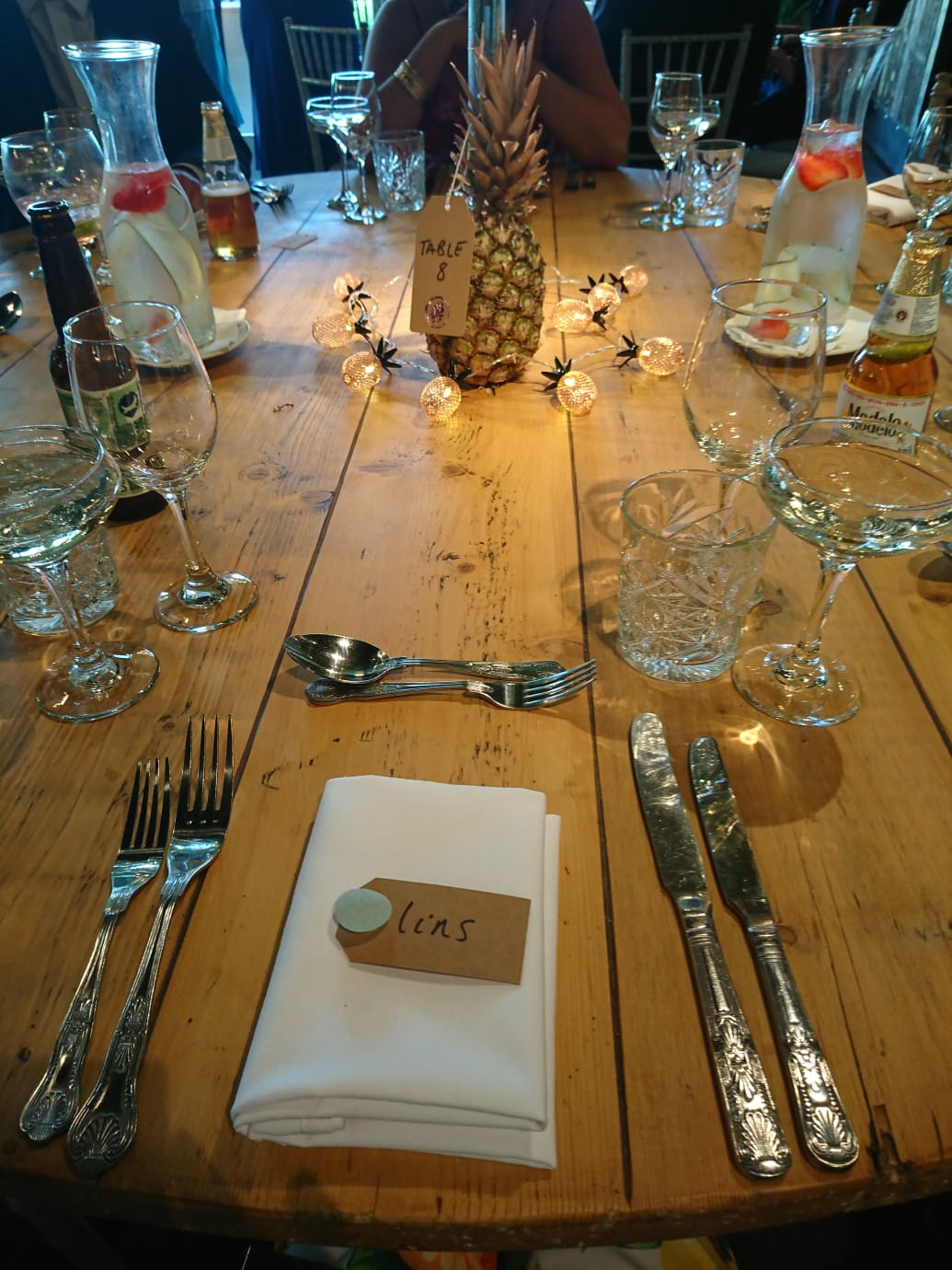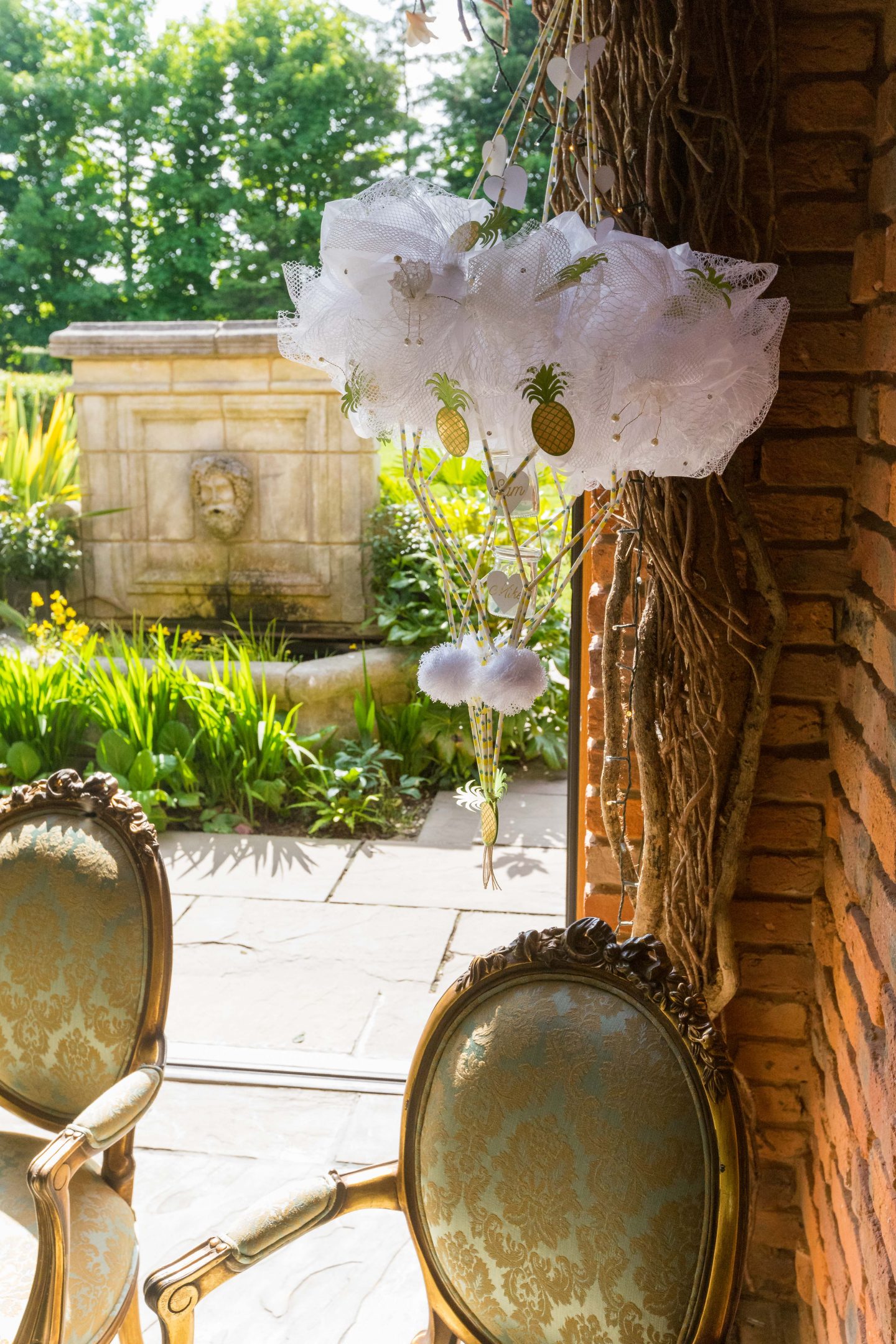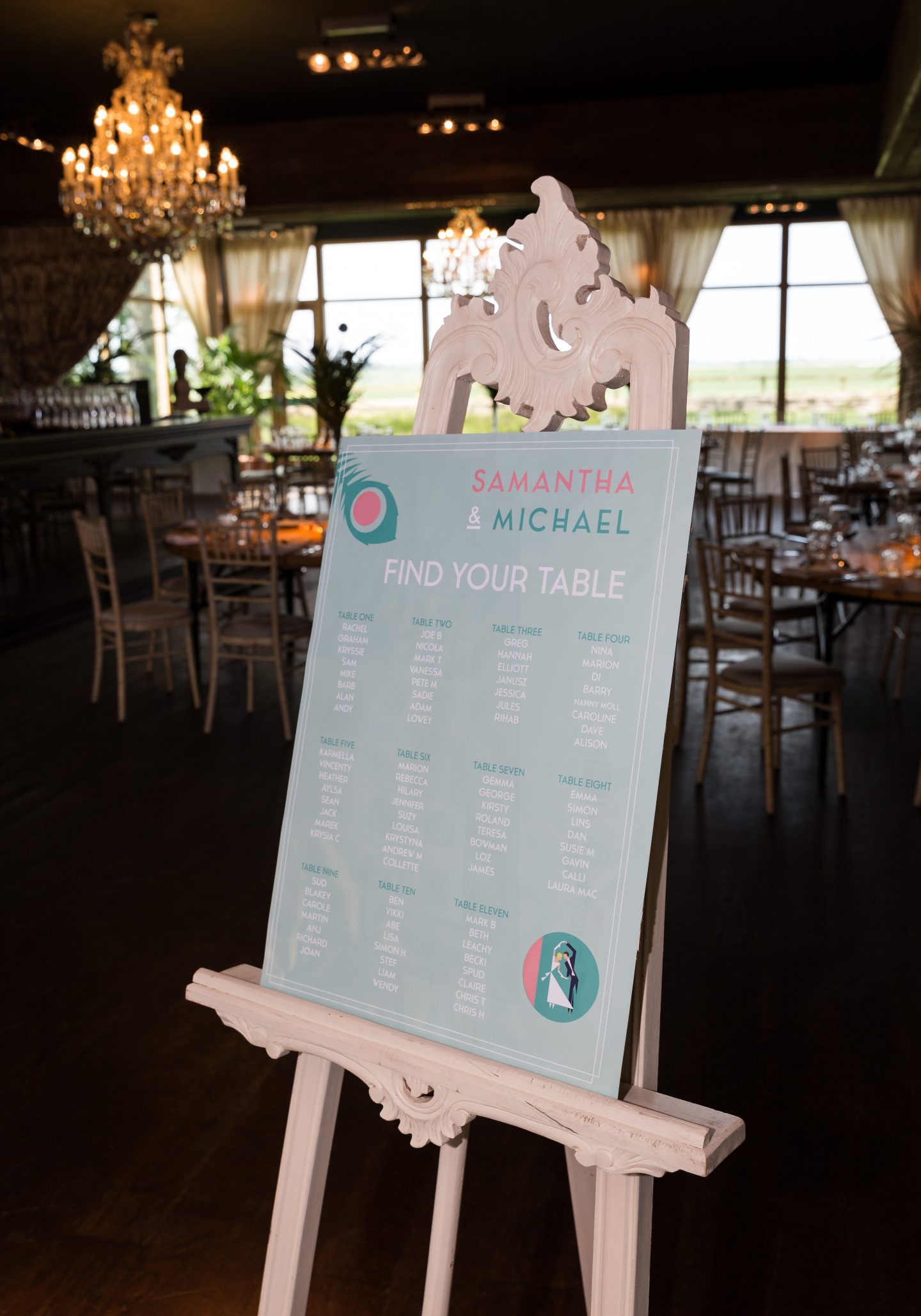 There were many other elements to our day, but I think I've included enough on here!
I'd love to hear your comments and hear any ideas you might have.
Best wishes,