Date of Visit: December 22nd 2018
I'm one of those unlucky folk to have a birthday close to Christmas, but at least it means I know to get somewhere for lunch booked well in advance, and then not have to think about it again until the big day.
I have written a post on my Quayside birthday day out here, hopefully you'll get a little local lifestyle inspo!
Fortunately I had my organised head on in October and booked Trakol, a Nordic-style open flame cooking restaurant at the aforementioned container village on the Gateshead Quayside, not only because I had beaten some of the festive lunch bookers, but also because Jay Rayner just dropped an epic review of the place and dubbed it as "outrageously good" in an article for  The Guardian. Sssshhh Jay, man! Don't tell the southerners! 🙂
I'll admit I was a bit smug, safe in the knowledge that my lunch date at the hottest place in town was secure. I just hoped that it was going to live up to expectation.
The arrival:
It was my actual birthday on the Saturday and it was a chilly December.
We were quickly welcomed by the lovely staff who showed us to our seat, which was fortunately right by a log burner. We got comfortable and looked at the wine and food menu.
We were immediately pleasantly surprised by the price of the food and drinks. Whilst not at the budget-eats end, it was entirely fair and I was very intrigued by the Sirloin Steak with breaded marrowbone dish for £20! It must be tiny, I thought, but I eyed enough steaks passing me by, intended for other tables and I was relieved. That was the main settled!
The Order:
We went for a bottle of red,  three small plates and a main course each, comprising the following;
Bottle of Rioja
Curried Mackrel on pickled eggs
Grilled Pork Jowl, XO Slaw
Grilled Duck Liver, Celeriac, Watercress, Hazelnut Dukkha
2x 400g Aged Sirloin, Smoked Marrow Bone & Fries (NB: this is now £24 per dish)
The food:
I'll start with the wine. It was smooth, with a bit of body and plenty of warmth. I normally go for a more mellow wine, but Mike was paying and he loves a Rioja, and I quite like it too, plus we needed something to stand up to the steak and other meat dishes we had ordered.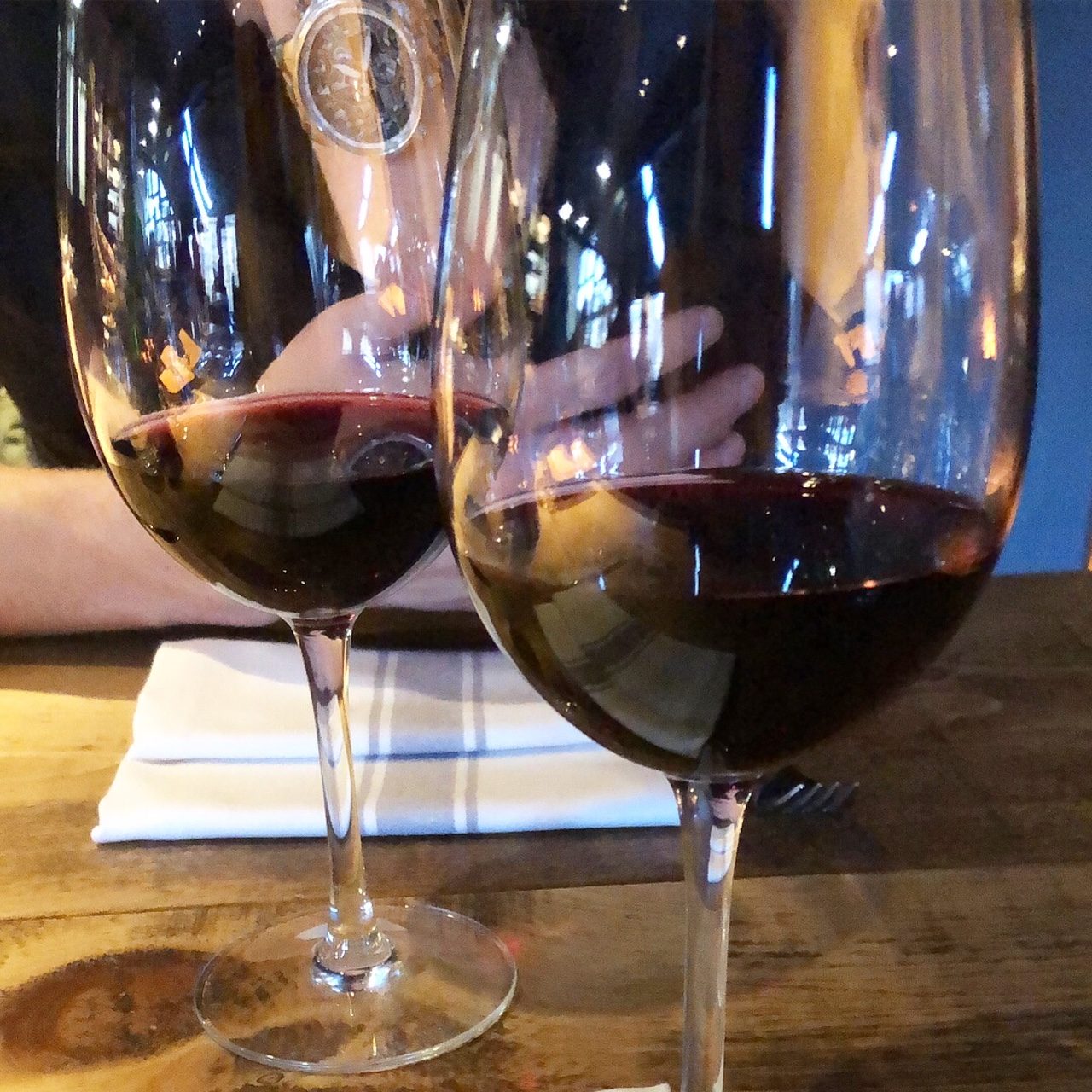 Mike and I are much more conscious of the amount of meat and diary we consume now, and 2108 was definitely the year that we cut down on both food groups significantly. And since this was a birthday celebration, and Trakol appeared to use a number of cuts of meat, boasting nose-to-tail style dining and thus being less wasteful of the animal, we  agreed to set away on a meaty mission on this occasion!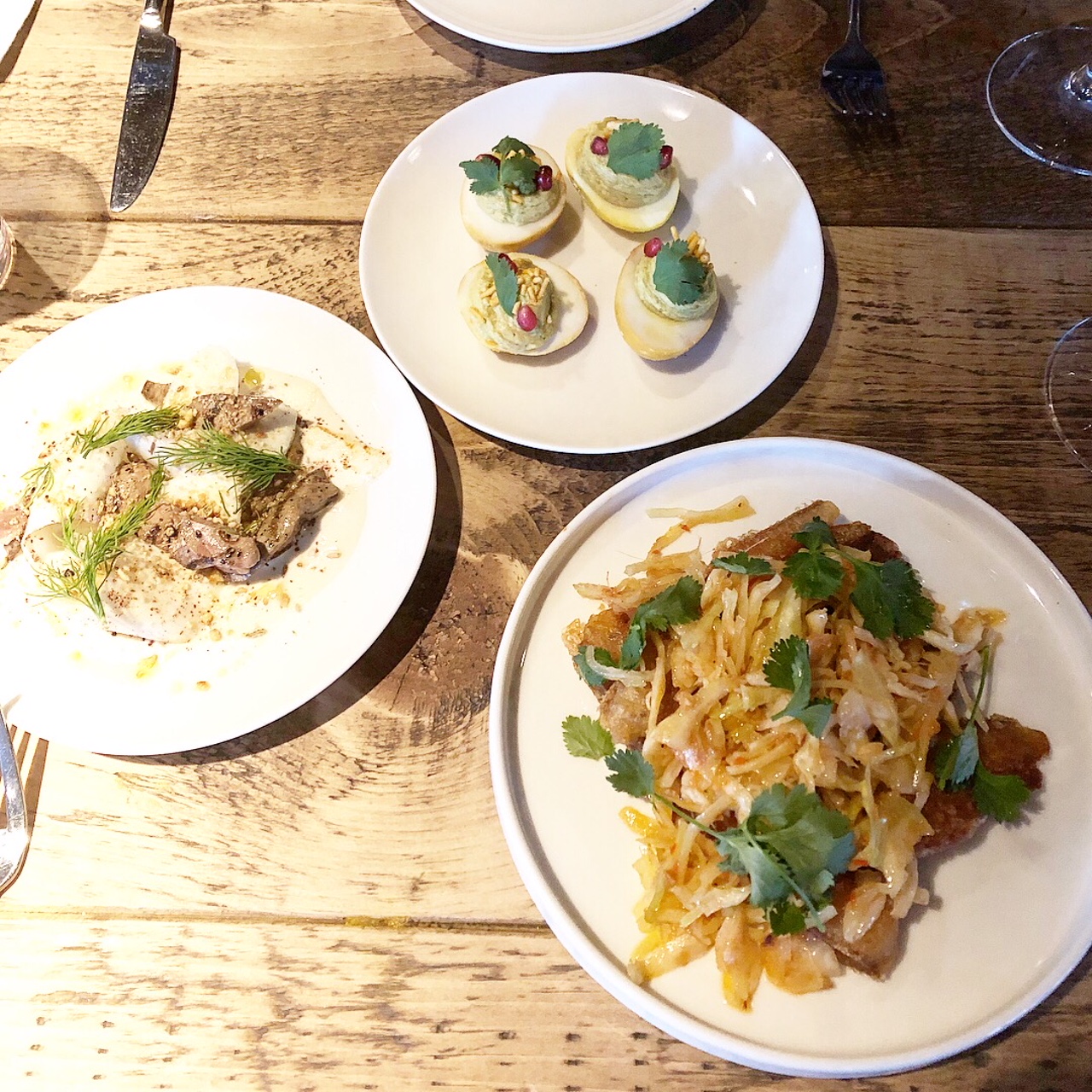 The small plates arrived at once and we both went in for a curried egg. I loved the sweet, acidic pickle against the mild curry and oily mackerel. Pomegranate seeds and a bombay mix-like crunchy topping were also sprinkled over, adding that extra texture to the otherwise soft dish. A great amuse bouche to get the taste buds going.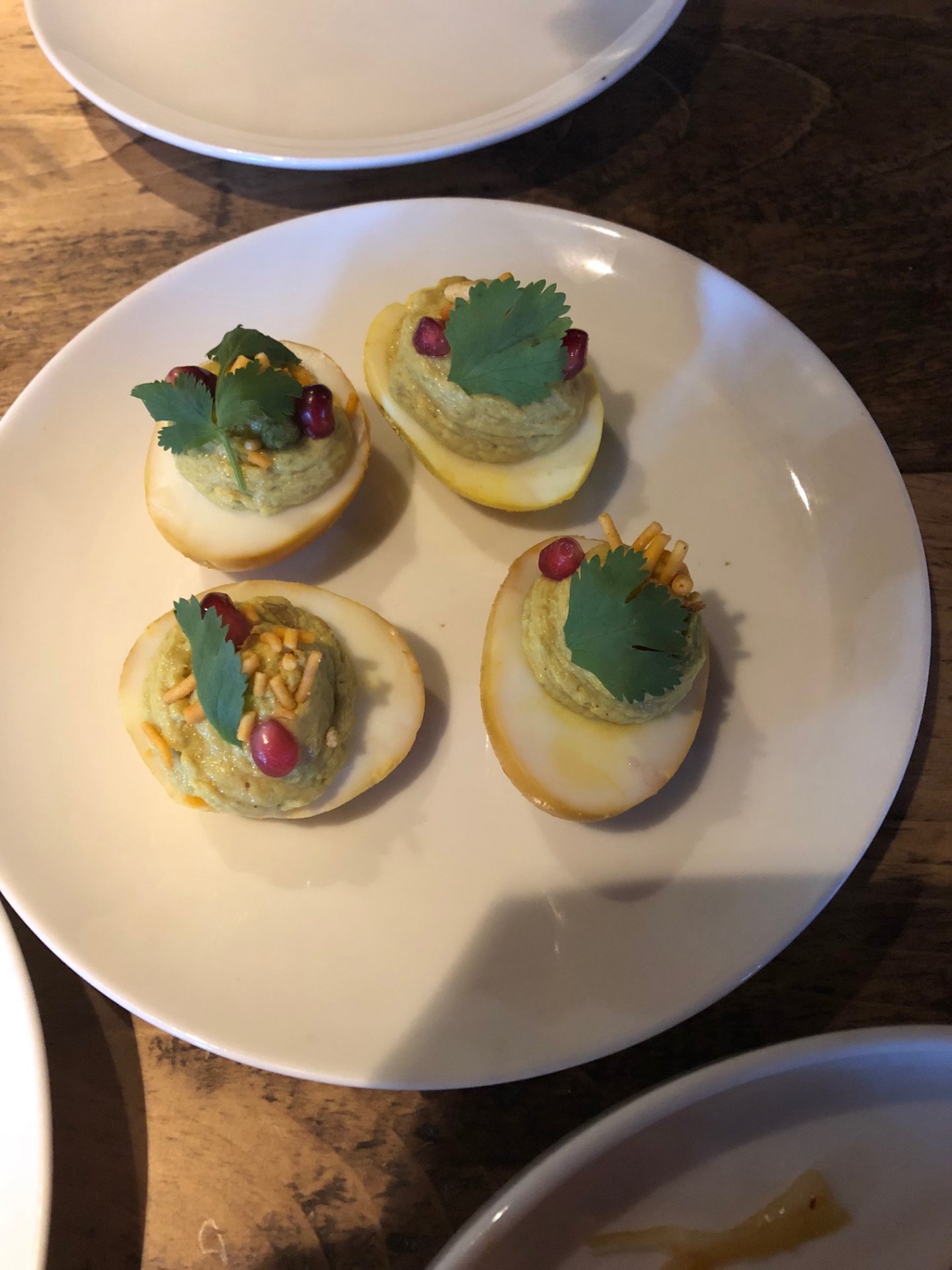 We then worked our way through the duck liver dish, which for me was the star of the meal. The creamy dhukka, with the hazelnuts and the shaved celeriac was heavenly – and the earthy flavours worked in harmony with the liver, yet added a lightness to an otherwise rich sounding dish. Once the liver and celeriac was gone, I continued to scoop as much of the cool sauce up with my fork as I could!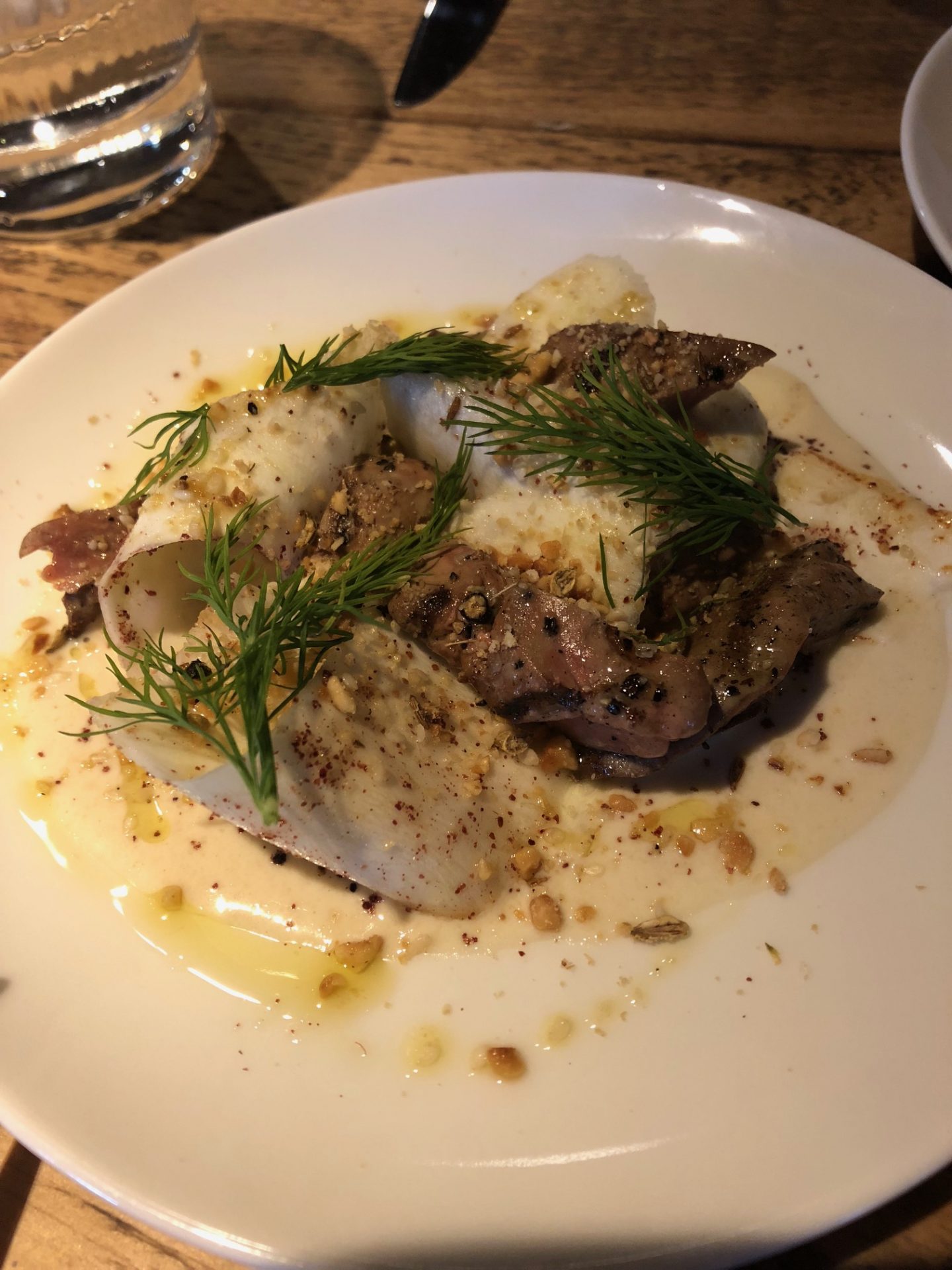 Mike and I agreed that the pork and slaw would have the most robust flavour of the three plates, so we treated it like a stilton and saved it until last. The XO slaw was like a lighter version of a kimchee, and the cabbage had more bite than a chinese leaf that you would find in a kimchee, which was a welcome taste. We waded through the slaw to find the treasured pork jowell jewels beneath, which looked like they could be tough, but once in the mouth, the fat rendered and the meat took much less effort to eat than anticipated, yet still retained enough toughness so that you could really savour its flavour when chewing.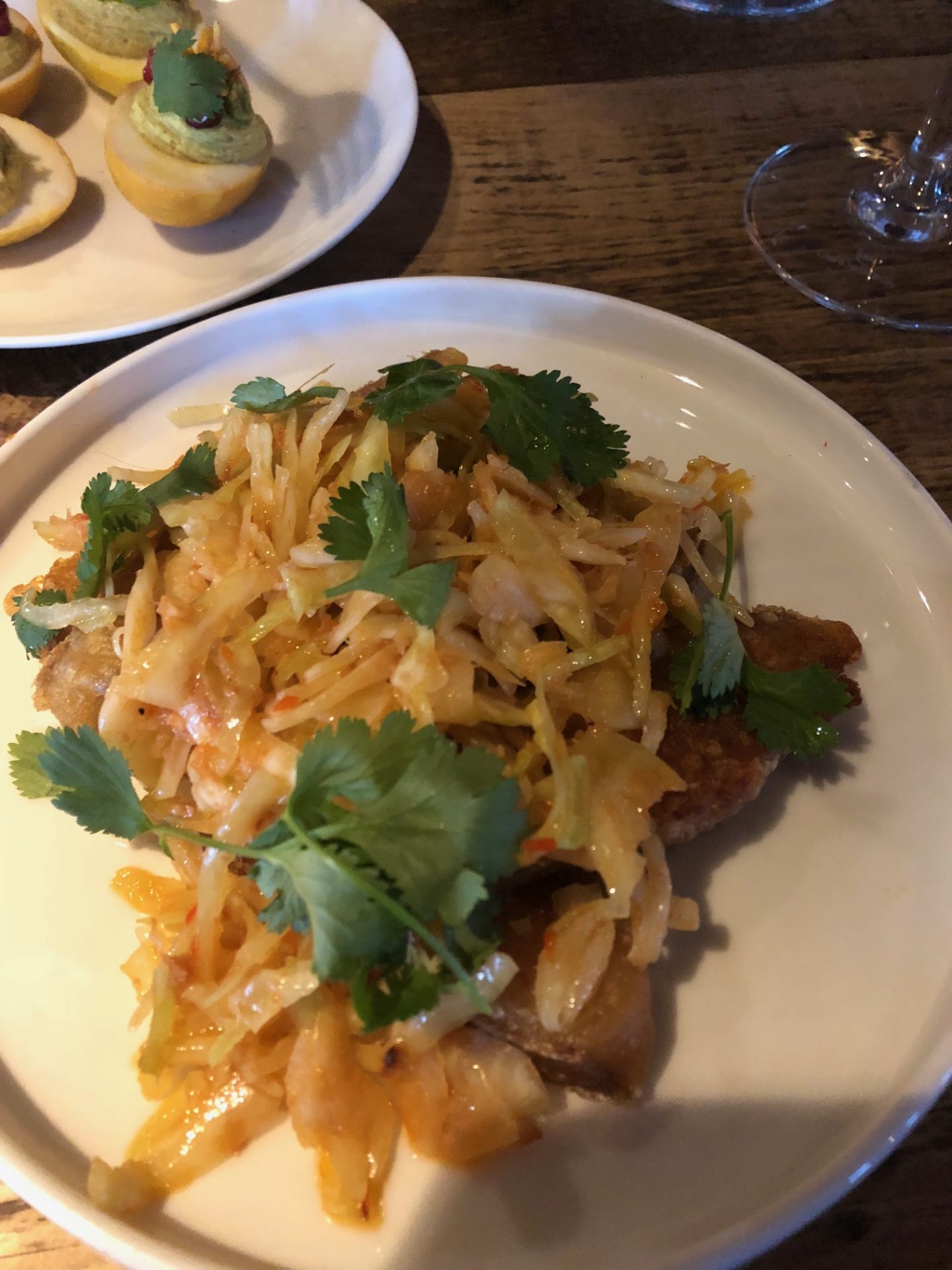 I had ordered my steak medium-rare and Mike ordered his rare. His arrived looking perfect, however mine was slightly overdone in places for my liking. I was a little disappointed, however the waitress assured me that this was how it comes. She asked me if I wold like her to do anything, however I sucked it up and Mike and I decided to half eachother's steaks. It's also important to note that this was on the bone, so my main note to myself is to always order a rare steak if on the bone in future.
The steaks were however fantastic. The rub was charred, yet seasoned beautifully and the breaded marrowbone just melted away on the tongue. It was utterly lip-smackingly delicious and easily the steak of 2018 for me. I almost never want to have my steak cooked in any other way again!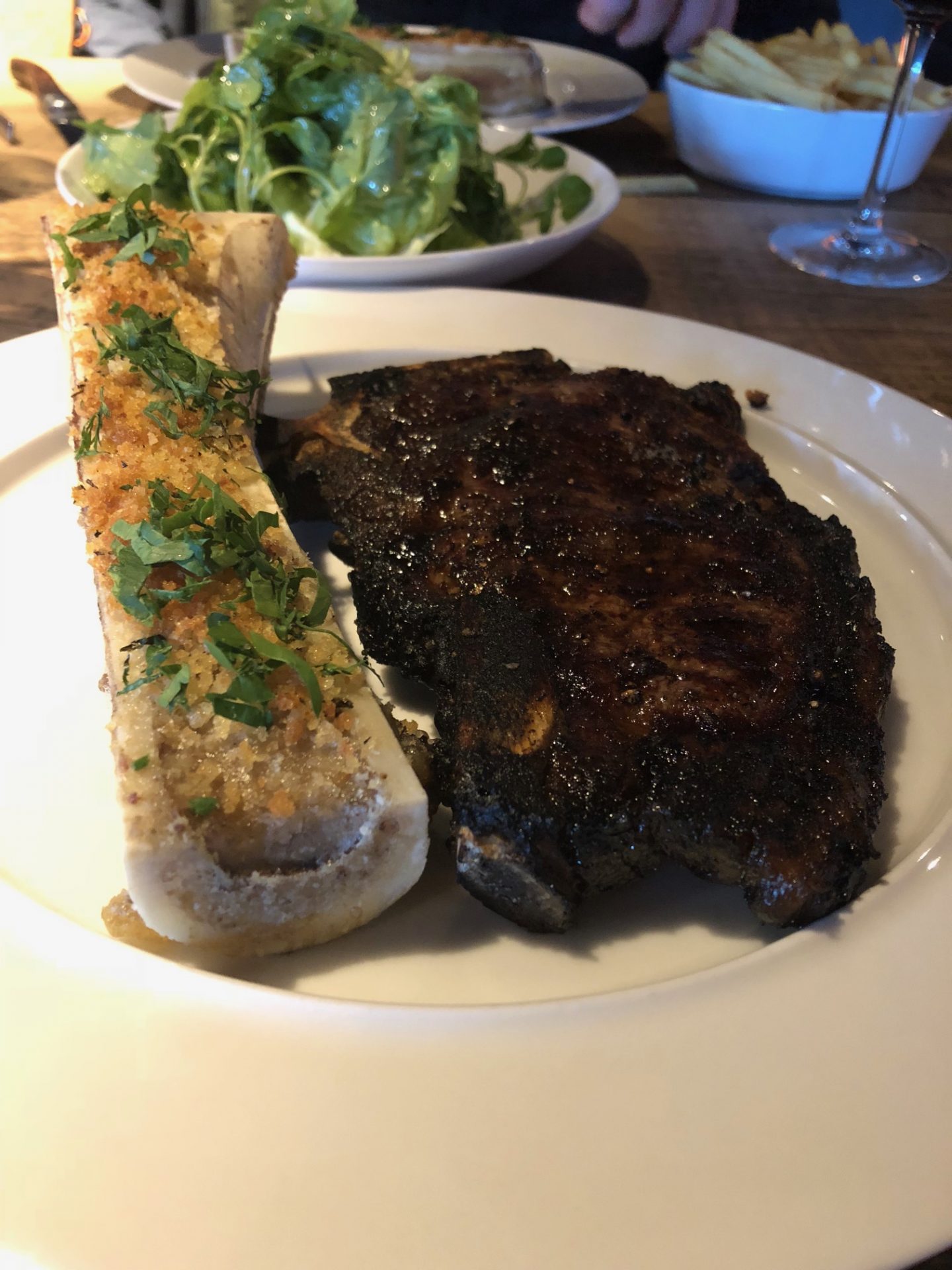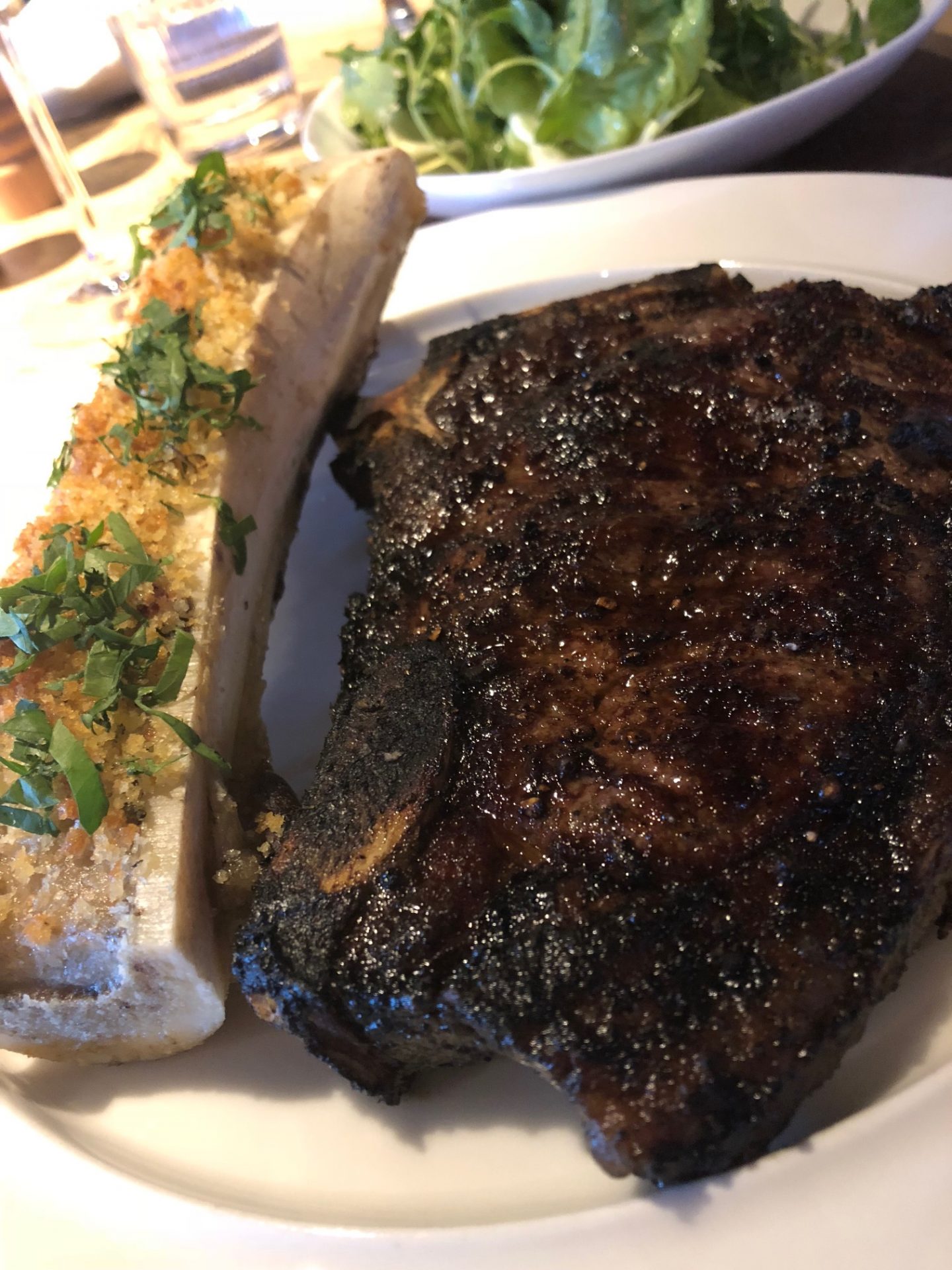 The summary:
The meal came to £84. Now compare that to elsewhere in Newcastle and you're north of £110-£120, for food that's not as good as Trakol's.
Trakol was first class and had given me a truly memorable birthday. Don't just go for an occasion, though, as it doesn't necessarily need to be one to dine there.
I also want to shout out to the lovely staff, they were friendly, welcoming and informal, yet entirely professional and knowledgeable. The restaurant setting is a reflection of the food and the staff there; warm, welcoming and easy going, yet you know you're still dining somewhere really special.
It delivered simply cooking, bold flavours, using the finest produce, which to me are the three main components to any exceptional meal. I can't wait to go back and try the other incredible looking dishes on offer.
Suitably stuffed, it was time to head out and have another drink!