The great Exhibition of the North had just launched and my cousin was coming down to Durham from Scotland to visit my mam, therefore we decided that a day for food, drinks and wandering around Newcastle was what we should do!
Pre drinks:
The sun was scorching and Revolucion De Cuba had just opened their roof terrace, which I was dying to try out. Once the ladies arrived off the train we headed straight there and shared a couple of jugs of Sangria between the three of us.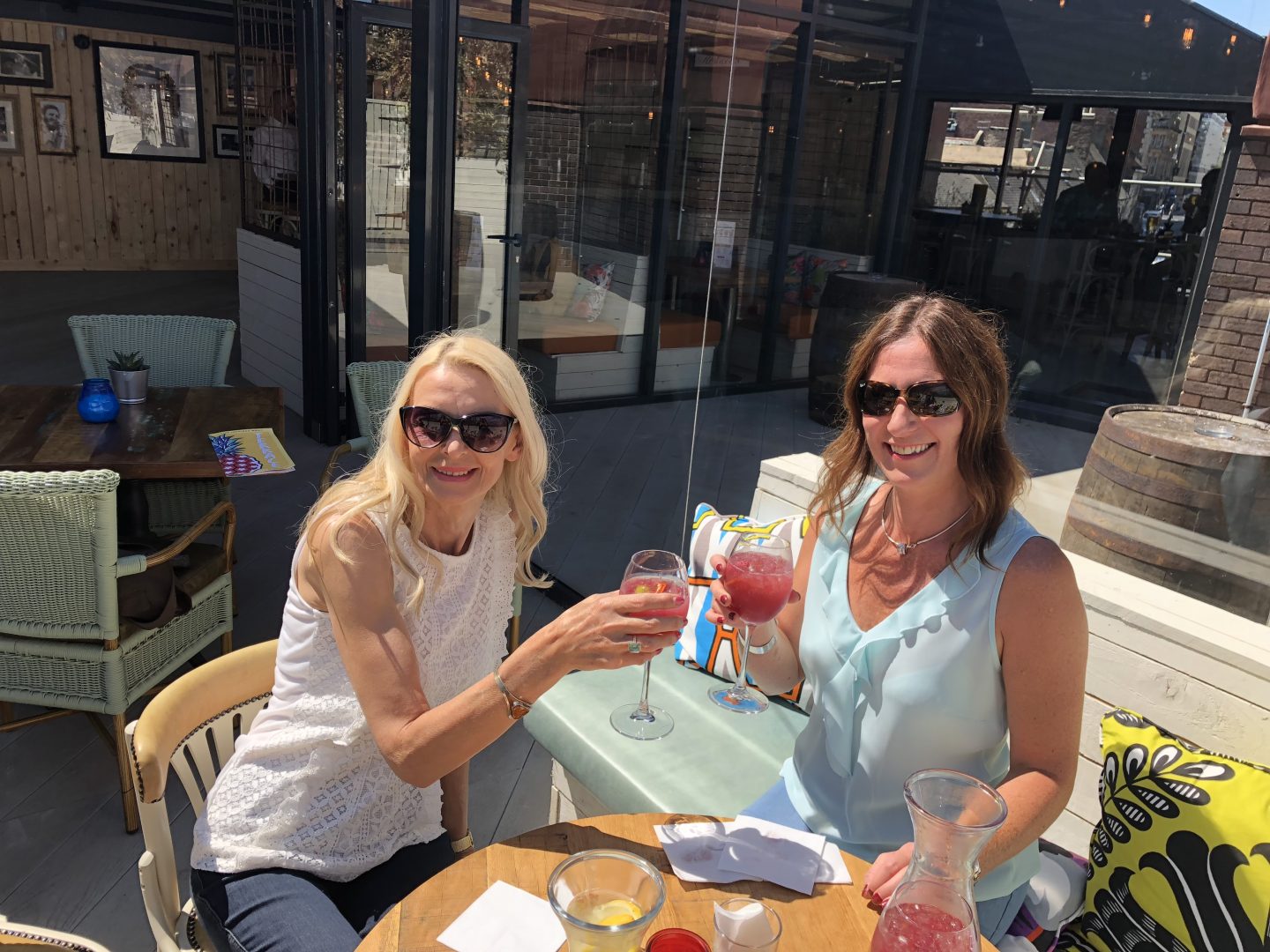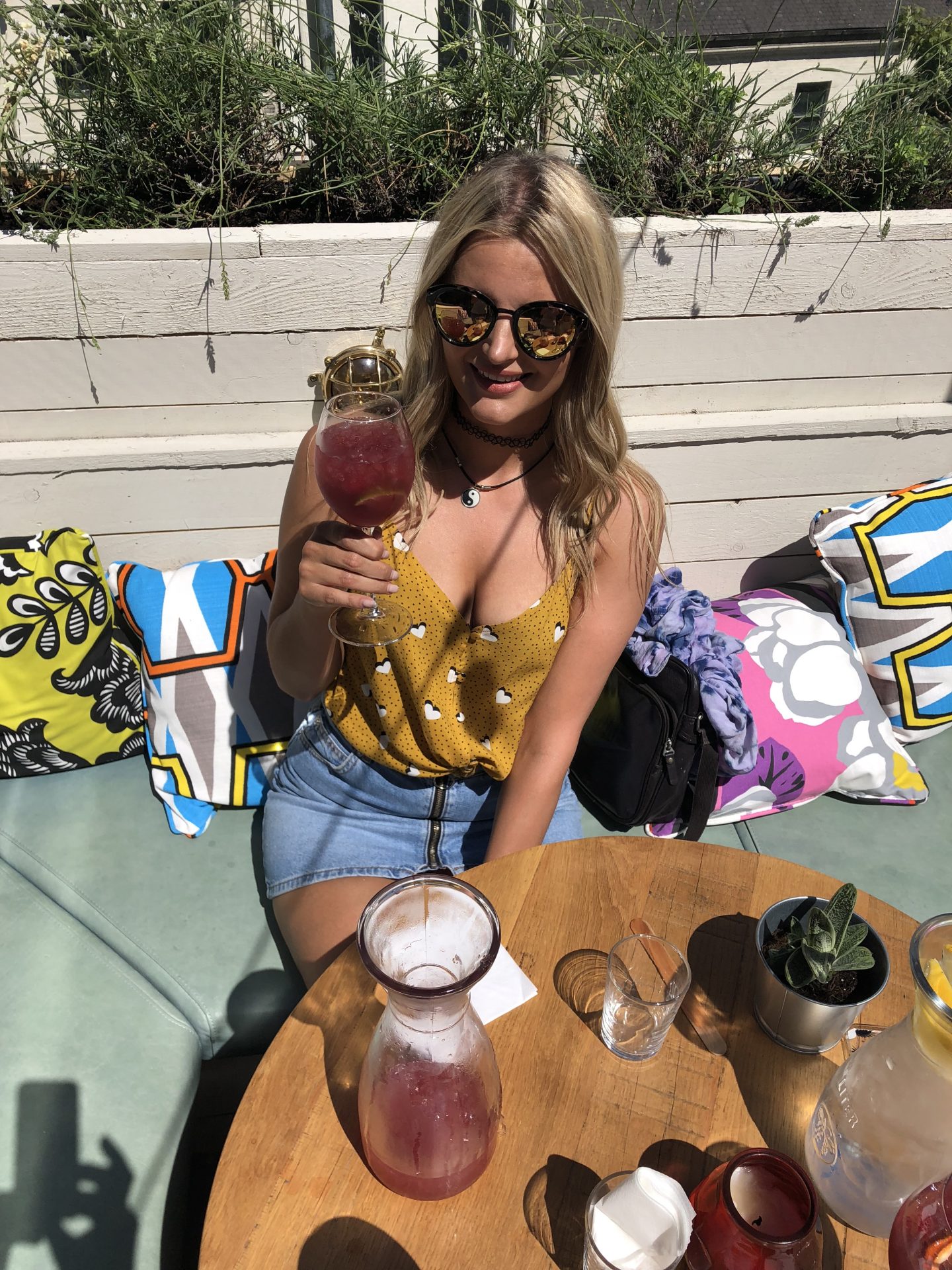 Left to right: Mamma, Nina and Moi. We like to go all Hollywood and join our surnames together and call ourselves the Czworzsynskis! I know…
Might I also add that the Sangria at Revolucion De Cuba was delicious. Often bars will throw anything in a jug and call it sangria, but this stuff was the real deal and was mixed with a lovely scattering of dried fruit for extra flavour!
Lunch
I visited Kaltur with my husband and our friend Adam around a year ago and it was fantastic. We predominantly went for a few sharing platters and one or two Tapas, but I had been wanting to come back and try a few more dishes.
I told the ladies about this place and they were sold on it pretty quickly.
We arrived for our 4pm reservation (booking ahead is strongly advised) and were quickly greeted and shown to our table.
After we'd had our whisltes wetted by the delicous sangria at RDC, we were well in the mood for more drinks! Our drinks order of Cava (when in Spain) and vodka (well we are Polish) was swiftly taken and we were given some delightful nibbles of kettle chips and fuet, a chewy Spanish sausage.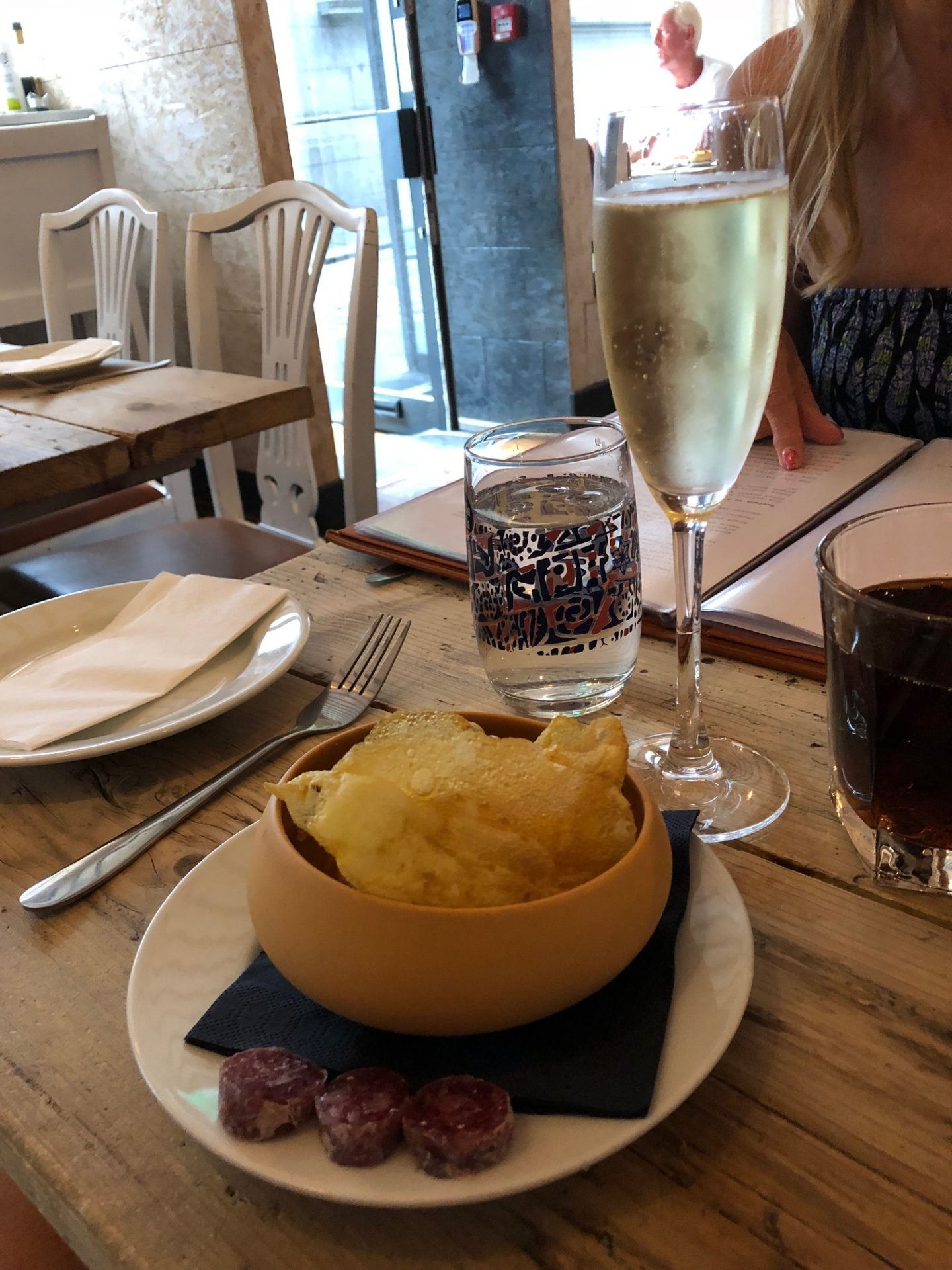 When it came to checking out the menu, we needed a bit of help on choosing our dishes – and our server was more than happy to oblige.
She took us thorugh a few options and we decided that we'd go for three tapas and a large dish to share.
We all share a huge love for food and we all have great appetites, so it was easy for us to agree on our shared dishes.
Dish 1: Potatoes, eggs and ham. 
We also love breakfast, so this dish really appealed to us. The potatoes were cooked and coloured to perfection and the eggs the same. The ham was rich enough provide the salt and the texture, but not too much to overpower its accompanying ingredients.  It was also a substantial plate, even between the three of us, so this dish was an absolute winner.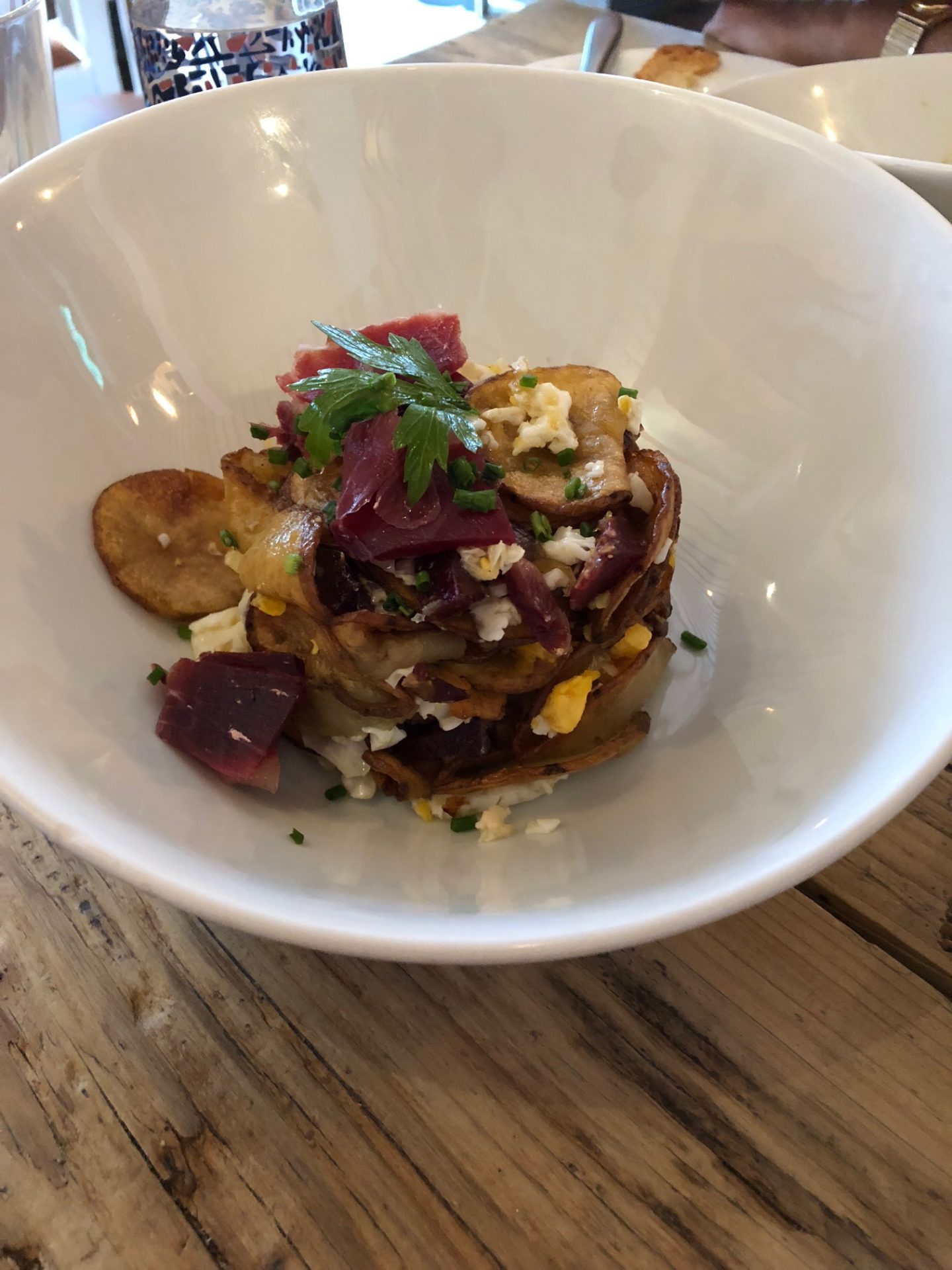 Dish 2: Partridge pate and spiced sausage paste. 
It also helps that the three of us adore pate – and pretty much anything you can spread on bread! My mam makes an amazing pate herself, which I always use as a benchmark when ordering and sampling pate from restaurants. Yes, it's that good!
The pate did not disappoint. The partridge flavour was strong, as I feel it should be, but the texture was smooth and velvety, which spread on very crispy toast was a dream to eat.
The spreadable sausage was also next level. Full of flavour and the perfect consistency. I could quite happily have eaten a huge plate of just these breads and spreads!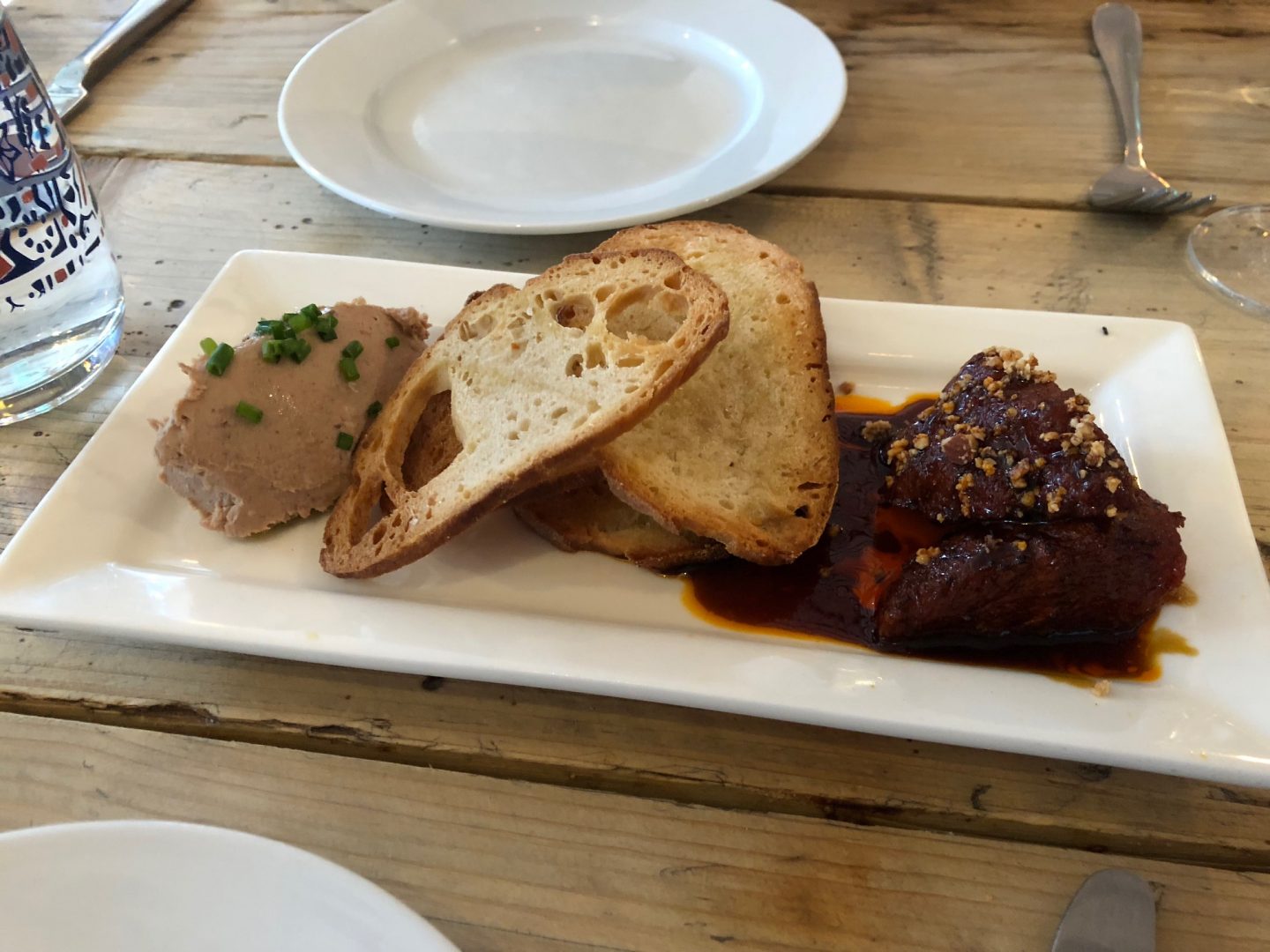 Dish 3: Black pudding
Our final small plate was black pudding and root veg puree. In terms of black pudding, i've eaten my fair share of it and this was delicious. It was delicate, yet flavourful with a soft and almost crumbly texture. The puree added just enough moisture and seasoning and the spice mix provided just the right amount of balance.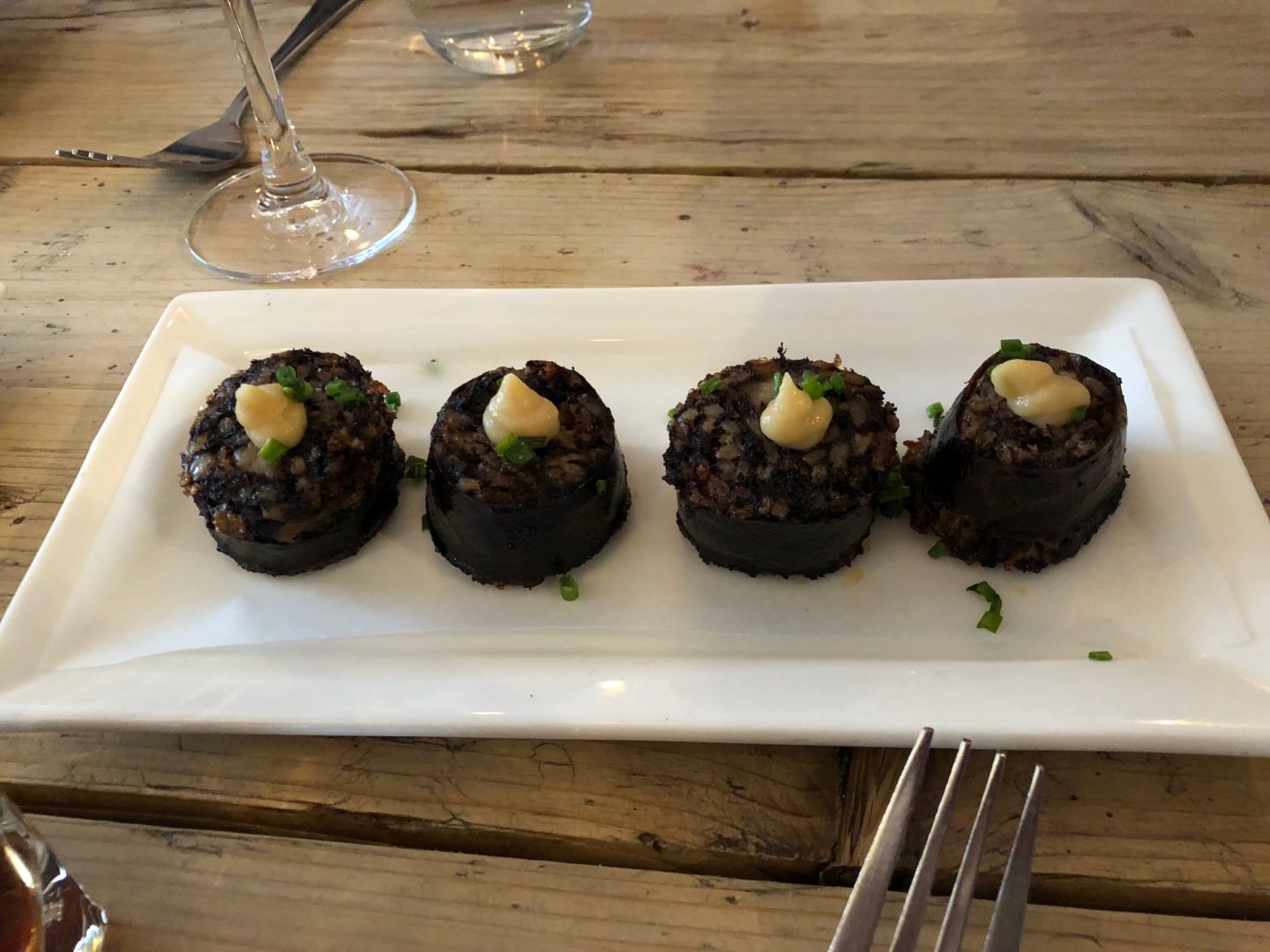 Dish 4: Pork fillet with accompaniments. 
This really was the star of the show. It was the pig version of steak with all the trimmings. Our server informed us that the fillet would be served pink, which my cousin was apprehensive about, however I have had pork fillet served like this before and I've cooked a Delia recipe in the past, which instructs to serve it in the same way – and aint no one gonna argue with Delia!
The dish arrived with a stack of golden, crispy triple cooked chips, roasted vine tomatoes, friend mushrooms and a warm, coarse mushroom pate.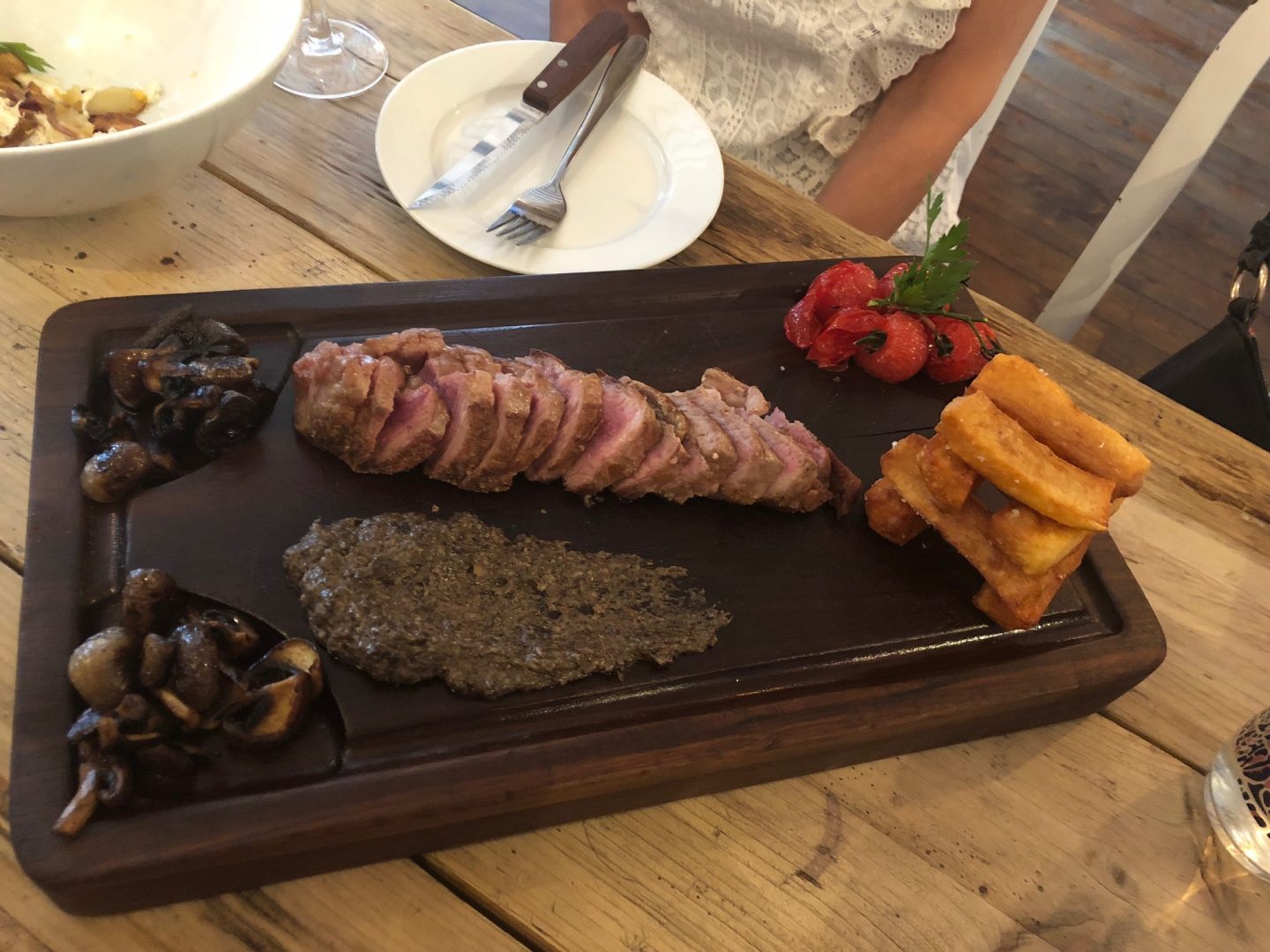 The pork was very well seasoned and perfectly cooked. Nina took one bite and all of her pink pork fears melted away with the pork in her mouth!
The chips were cooked to perfection and the mushrooms and tomatoes were cooked just as I like, a bit on the well done side – and the mushroom paste acted as a great ketchup for the chips and saucy accompaniment for the pork.
The dish was an absolute triumph and tasted of the mountains. Earthy mushrooms with a top quality cut of meat was a big hit with us all.
Kaltur is a real treasure of Newcastle, serving authentic Spanish dishes using the best ingredients and it also changes the menu frequently to keep it fresh.
The Czworzynskis were all huge fans of this place and we can't to go back to try more dishes!