Mike's favourite food of all time is Mexican – and I have zero complaints.
I had been wanting to try Mexico 70 since it opened and although I work in Sunderland, I rarely eat out there on an evening and it looked a bit too special for a weekday lunch.
Mike had bought us tickets since to see The League of Gentlemen at Sunderland Empire, so this was the perfect excuse for our pre-theatre food fix!
You can't reserve a table at Mexico 70, so be mindful of this before you go. I sent them a message on Facebook ahead of my visit for advice on what time we should arrive pre-theatre and they were really helpful and responded quickly.
Our show was at 7:30pm on a Friday night, so I just walked over after work at 5:40 and met Mike there. I was starving and I spotted they had a Michelada, which is like a Mexican Bloody Mary, on the drinks menu, so I figured this would be the perfect pre-starter-starter to curb my growing appetite!
It was quiet in the bar where we chose to sit and I ordered a Michelada, a Pistonhead lager for Mike and also a Watermelon Margarita to accompany my meal. Why have wine when you can have a margarita?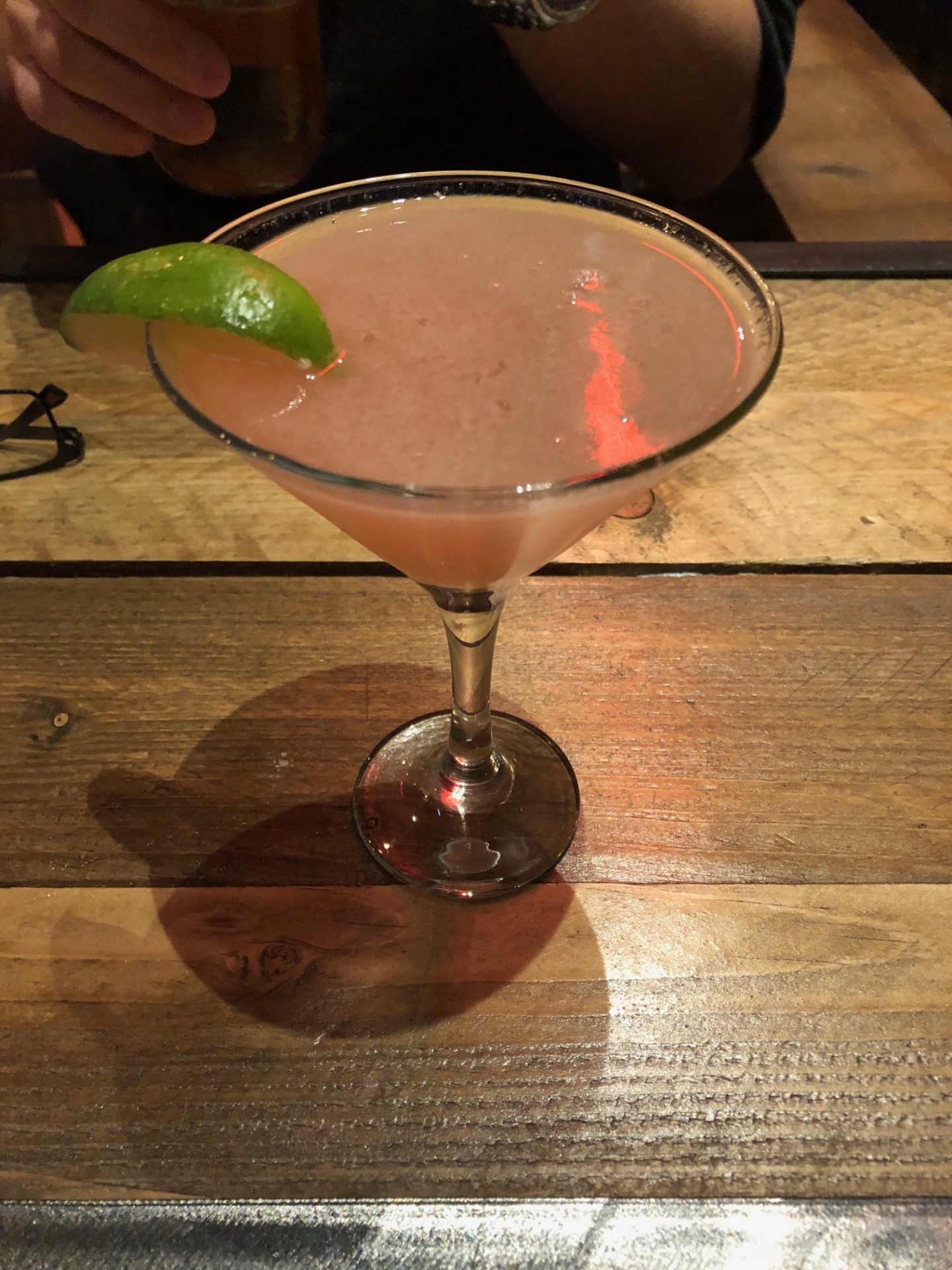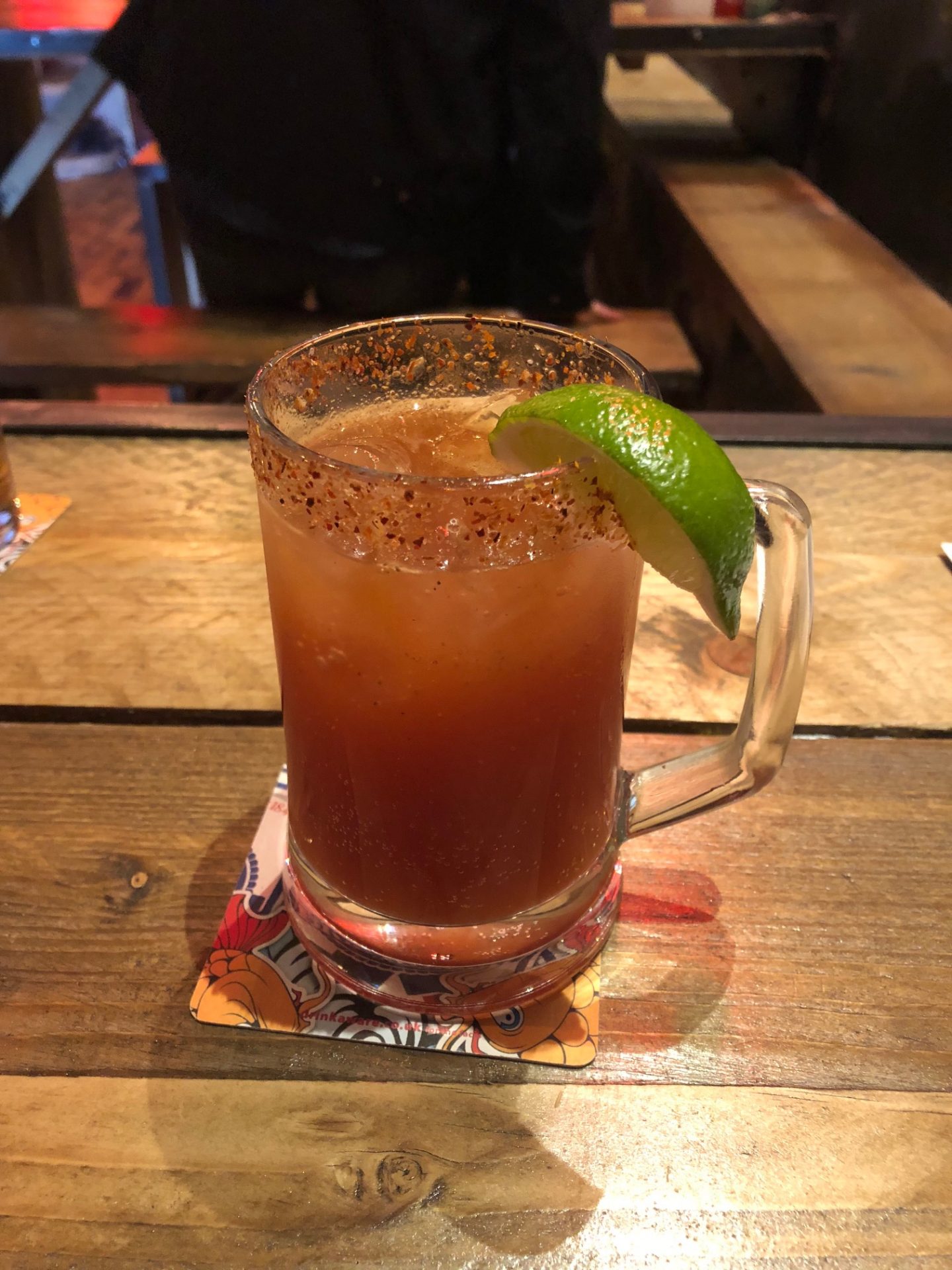 Mike enjoyed his lager and I was a big fan of my Michelada. Our lovely waitress asked me if I liked my Bloody Marys spicy and made it very well for me! A Michelada is made up of some usual Bloody Mary suspects, but replaces the vodka for tequila (of course) and is also topped up with a little beer, making it quite refreshing on the palatte!
Onto the food…
We got some great advice form Neil our waiter, who advised we go for three tacos each and perhaps a sharing dish like nachos.
Now I must warn you that as well as being unable to reserve tables at Mexico 70, you also order your food and drinks at the bar. I've no issue with casual dining and the owners and waiting staff in there are all lovely and super attentive, but if you're hungry bordering on hangry, be efficient and decide what you want and go order it!
Mike and I were hungry and have eyes bigger than our bellies, so we went for a few dishes!
First up were vegan nachos. Neither of us are vegan, but every little helps – plus the toppings of jack fruit, guac and vegan cheese all sounded fantastic.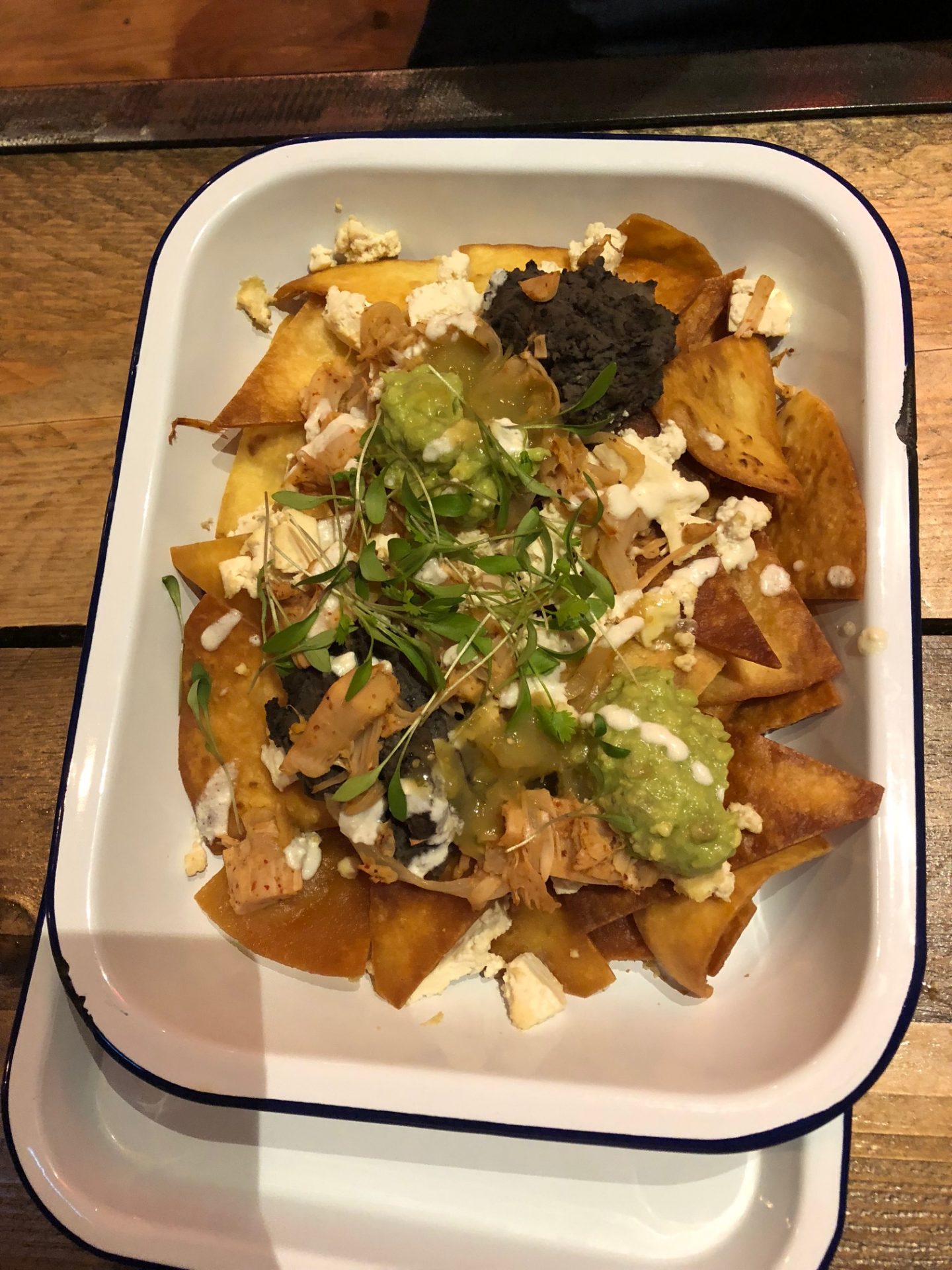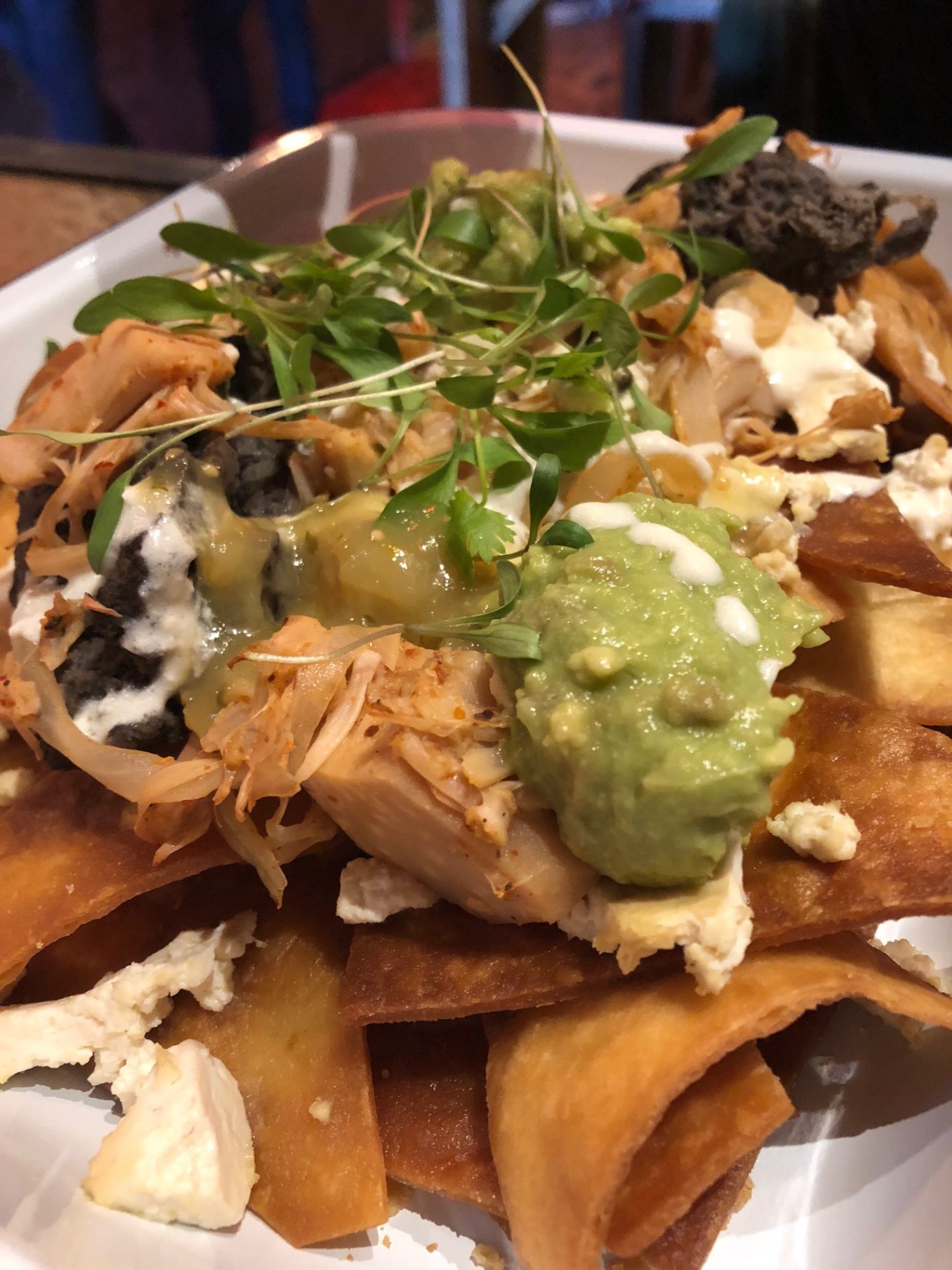 The actual nachos were the-best-nachos I've ever had! And although they'd been fried, they weren't in the slightest bit greasy. They were super crunchy and were seasoned well and the toppings were tasty and added a welcome lightness against the heavy tortillas. The tray was also massive, so between two it was quite a large portion.
Mike can't go a week without wings. And once again, I'm happy fulfill my wifely duties and give the man his wings! We ordered five buffalo wings and again, the portions were large because as you can see below – you get fill wings.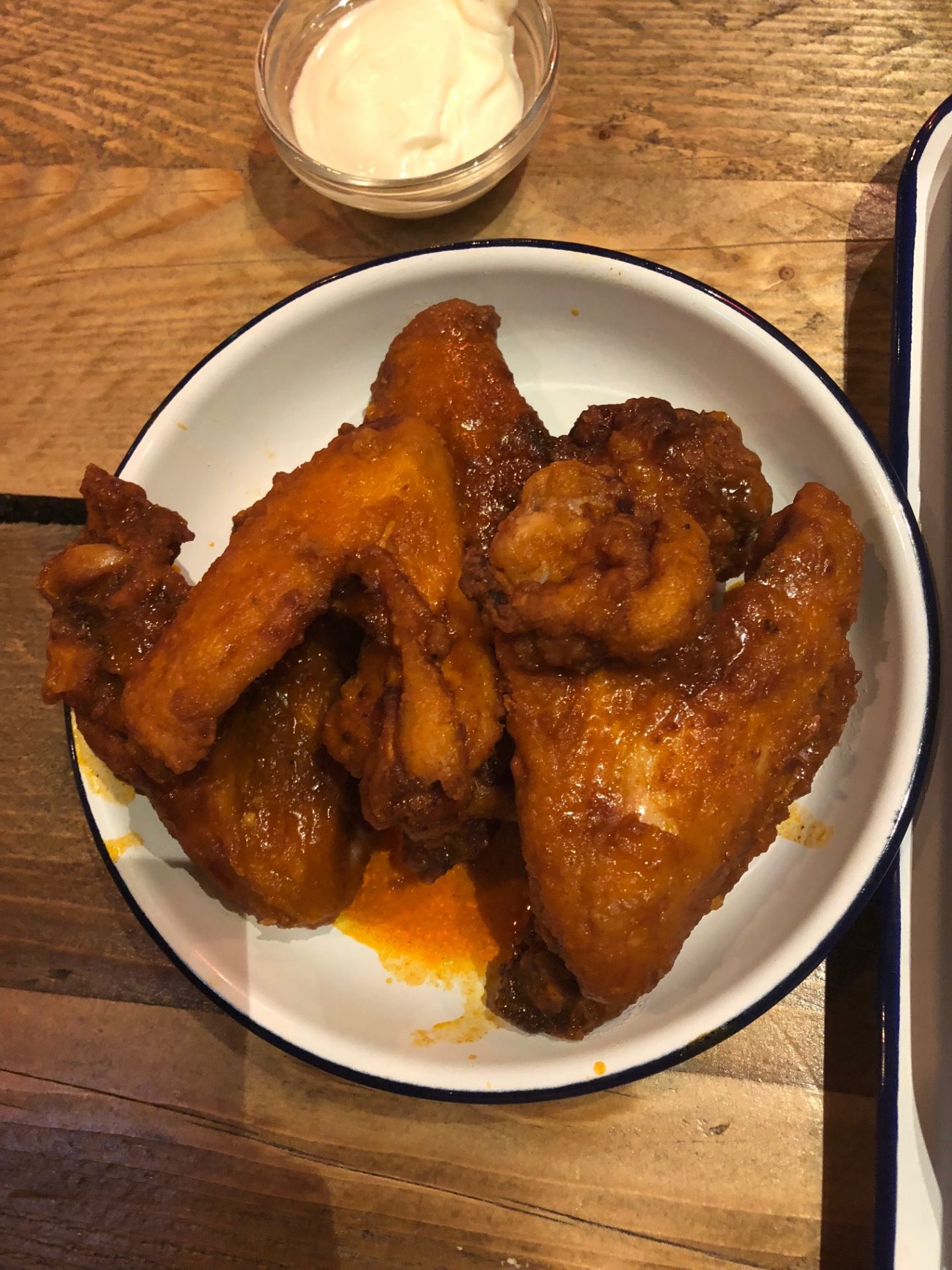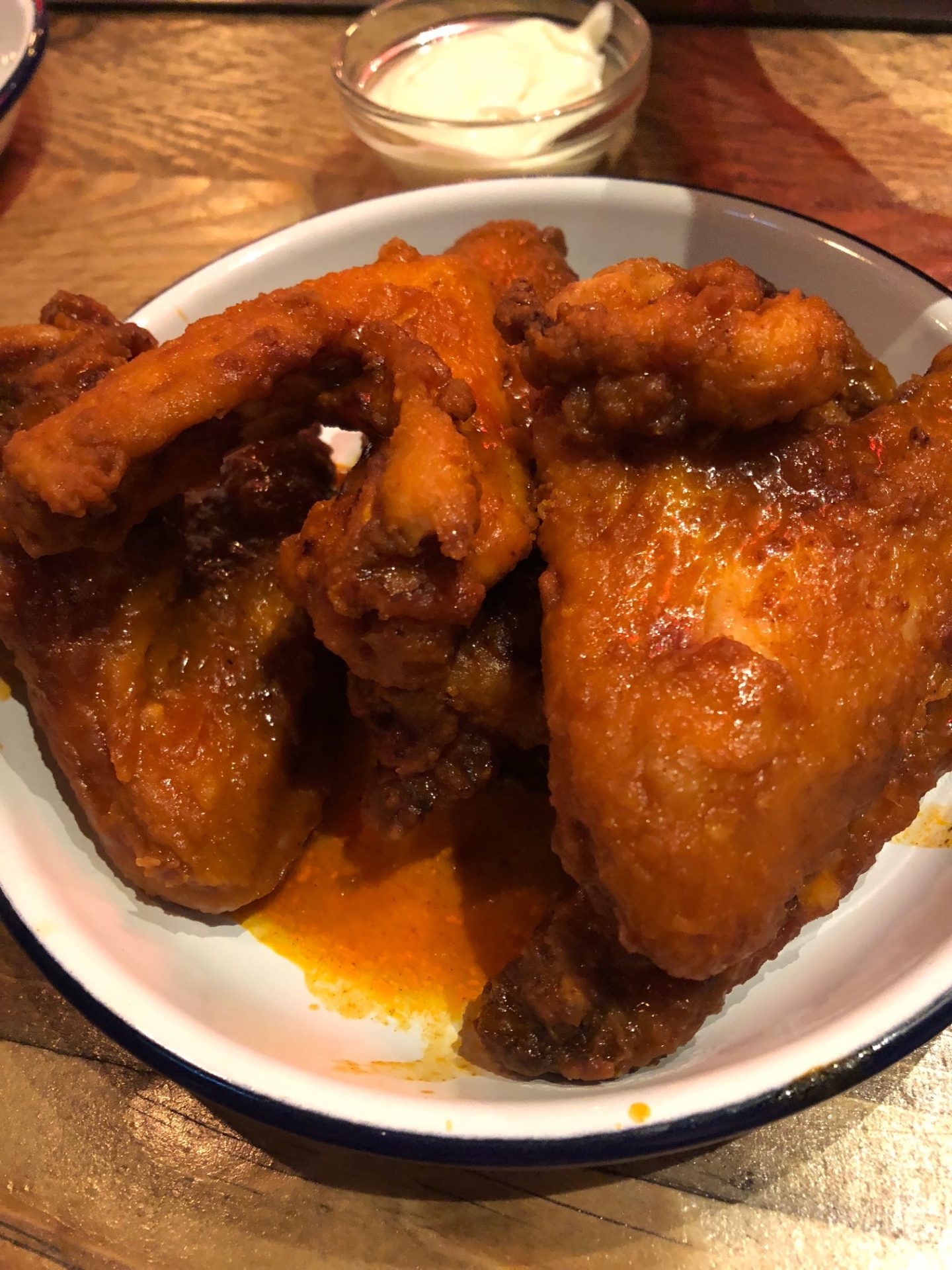 The wings were soft, tender and succulent – and the buffalo sauce, mixed with the meat juices was divine. I like a bit more buffalo sauce on my wings, but that's just me.
We were also intrigued by the pork scratching nibble dish on offer, so we ordered that too. I enjoyed the scratchings, however I think they could have done without the cheese as they softened the fat. I'd have been happy with a pinch of salt.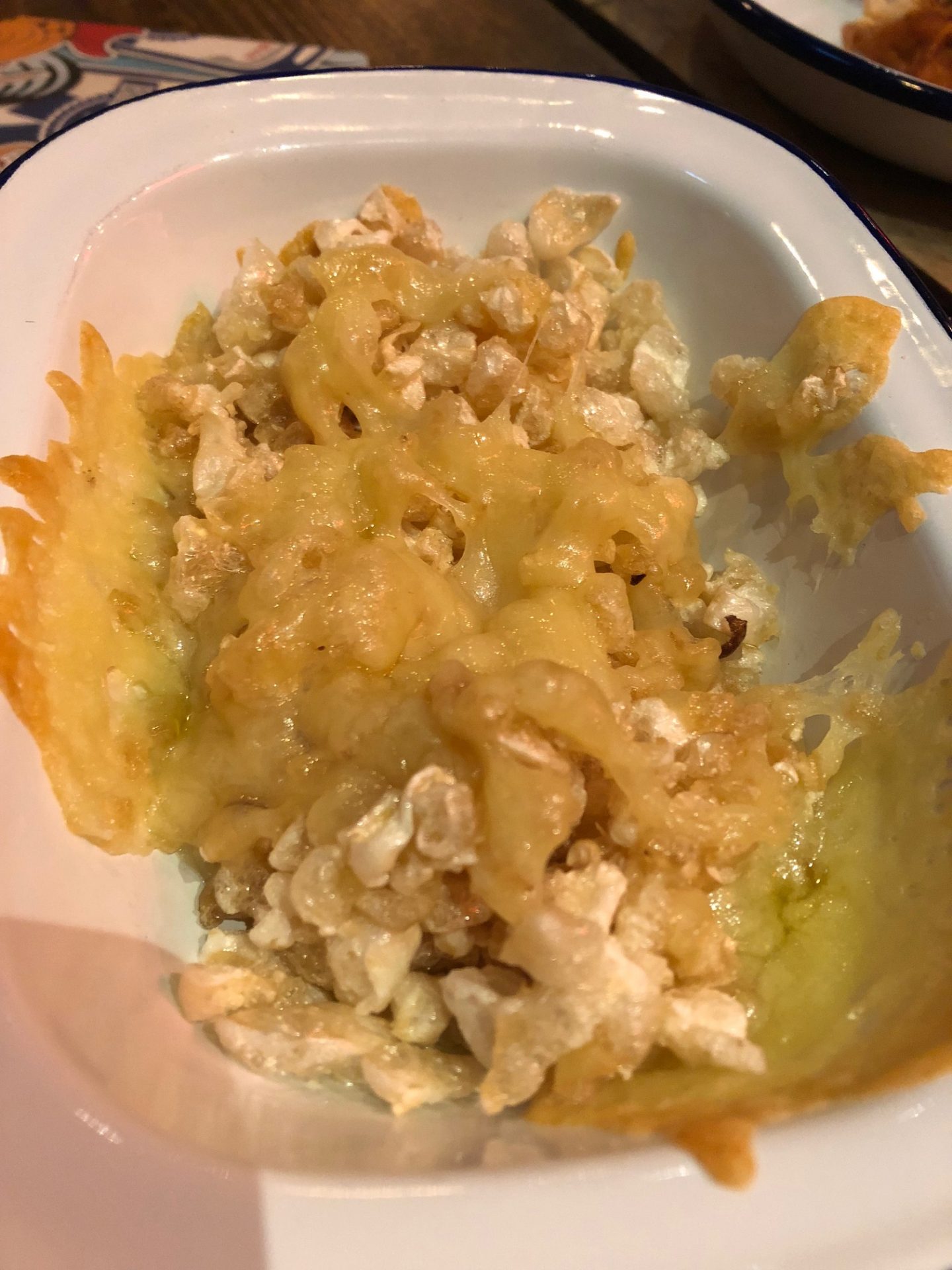 Onto the main event – our tacos!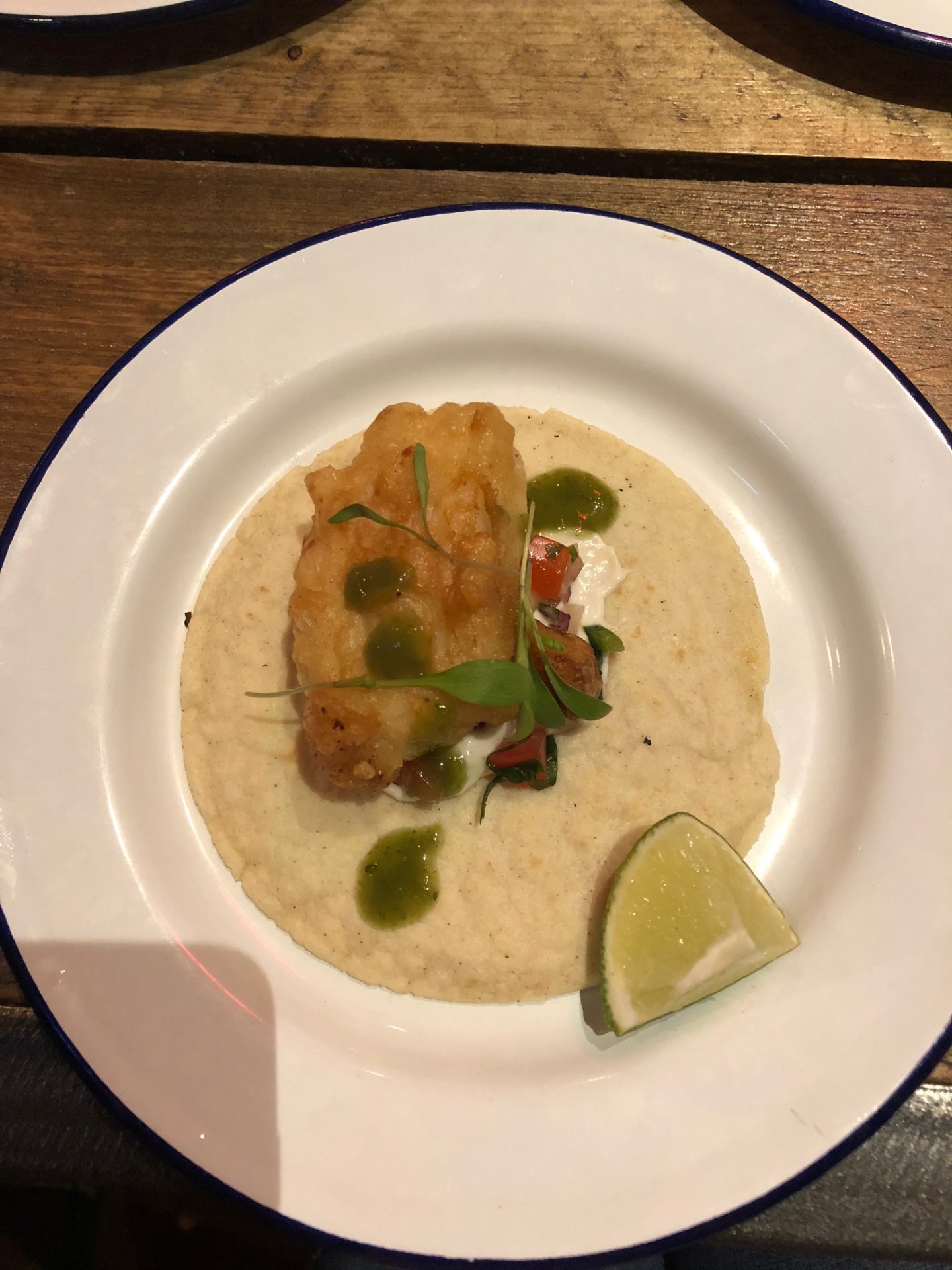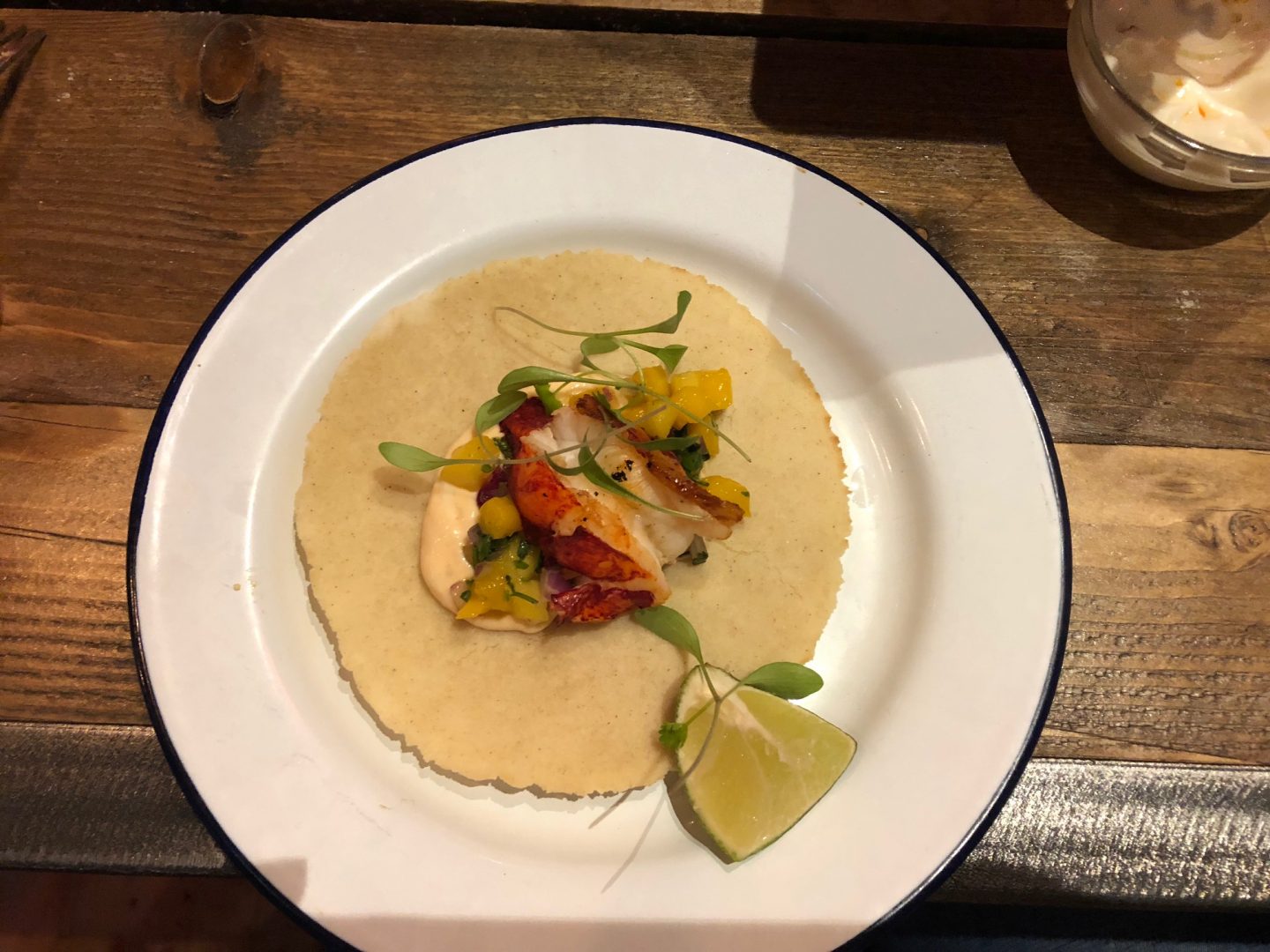 Above left – battered cod and above right – lobster and mango salsa.
Below left – jerk chicken and below right is the Korean belly pork.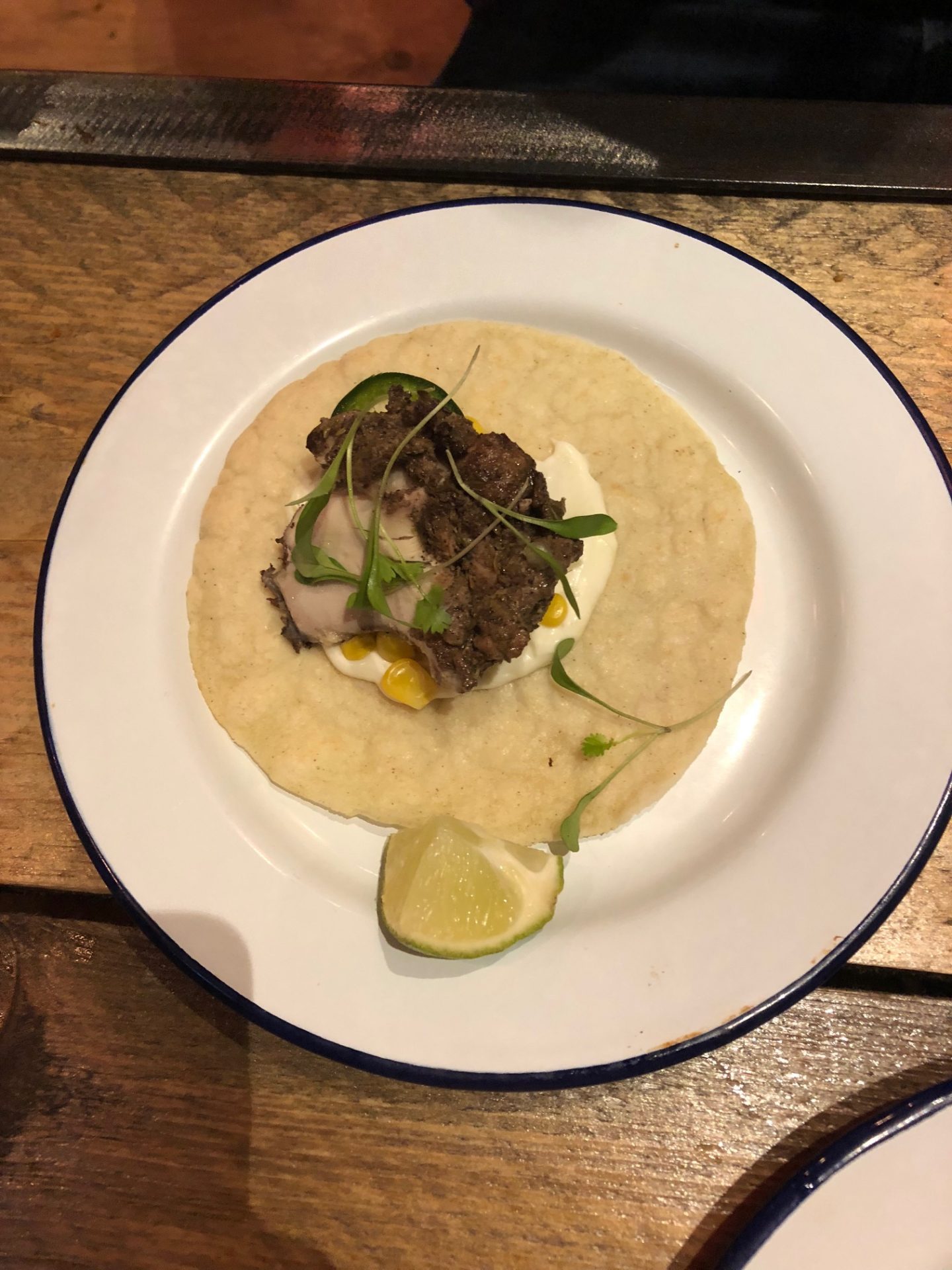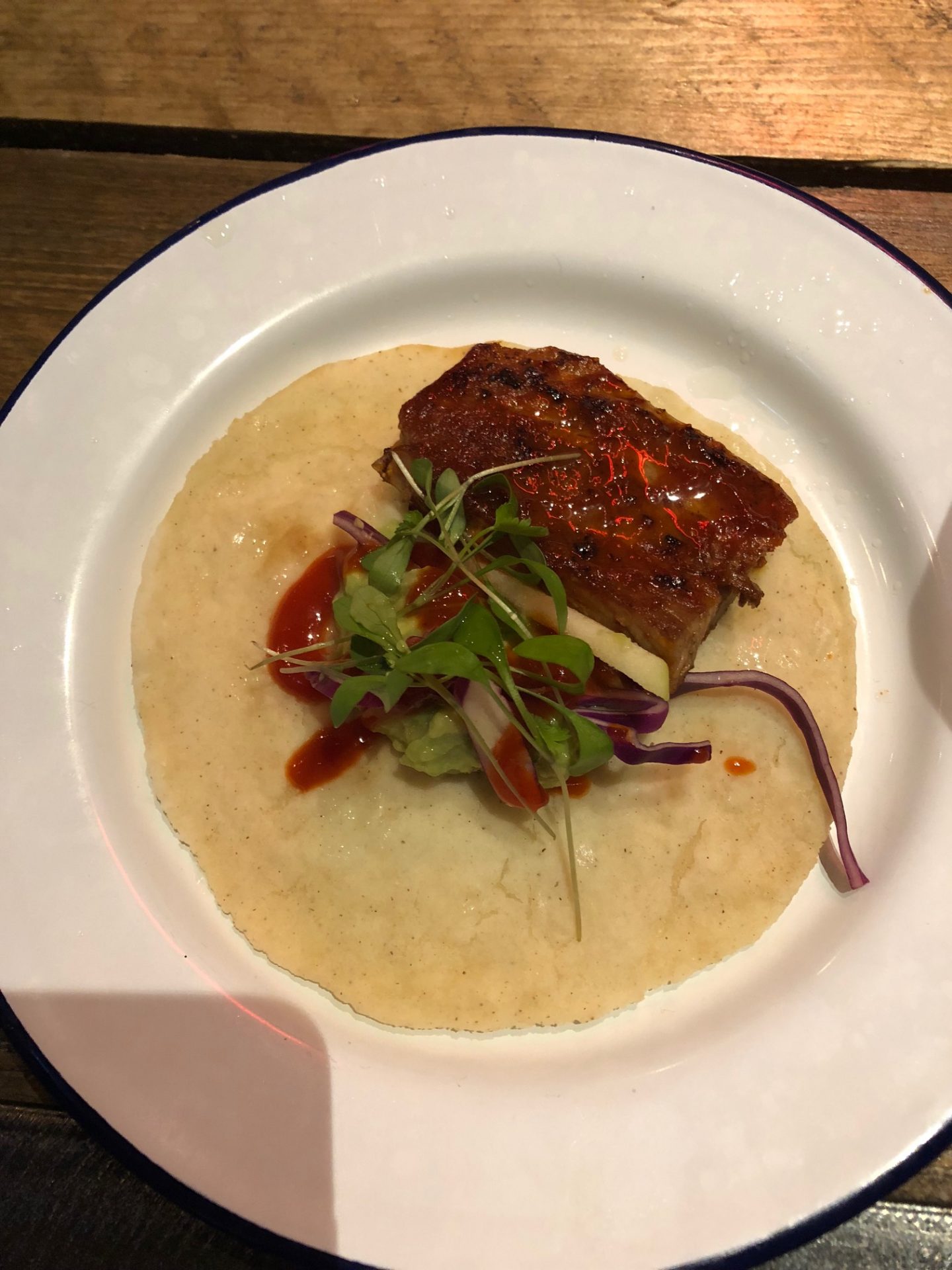 Mike and I chose two of the same tacos, hence only four taco photos.
The tortillas themselves were well made, with no chewiness – and fillings were all fresh and well cooked. I was looking forward to the Korean pork and although it was tasty, I lost a bit of the punch from the spice rub against the floury taco.
Mike and I agreed that we felt that the chef had thought carefully about the fillings and called the tacos little concentrated parcels of tastiness!
Here Mike demos just how to enjoy one!
We finished what we could of our food and Mike and I were fit to burst. Unsure of whether we'd make it through Act 1 of our theatre show without falling asleep, I battled through my incoimng food coma and waddled over to the bar to pay our bill.
We were pleasantly surprised when the absolute feast we'd just pushed in came to £56, which included service, however I would have preferred to just check my bill, decide on my own tip and then pay at the table, but that's just how the place works.
Tip:
Go earlier than you think you might need to go on a weekend, especially if there's a big theatre show on.
There's no website, so you have to look through their Facebook for the menu, however I'm sure if you inboxed them, they'd send you a digital copy of it.
Summary:
We thoroughly enjoyed our experience at Mexico 70 and I would definitely go again. It was great food, great drinks and great service. We wouldn't order as much food the next time, but life's too short for regrets like that!