On Tuesday 4th September I was invited by Sunderland BID to join other bloggers and food writers for the preview of their autumn 2018 Eat Drink Sunderland Restaurant Week.
Held twice a year, Sunderland Business Improvement District works with the city's restaurants, bars and cafes to offer excellent value dining for a week. The price structure is simple, with most restaurants and bars offering either 2 courses for £10 or 3 courses for £15, with cafes and coffee shops offering a cake and coffee combo for £5.
Sunderland keeps upping its game with food and leisure and for a small city, it has a fantastic selection of great food and cool places to hang out on a night.
It was a pleasure to kindly be invited to the event by Sunderland BID and an even bigger pleasure to try all of the tasty treats from the city's three participating eateries who were showcasing at this season's scrumptious Safari Supper!
The Welcome 
We were first all invited to meet for drinks, networking and 'nibzies' at The Albert pub on Fawcett Street.
The pub is a new traditional basement style bar in the city centre, which offers a good selection of lagers and ales on draft; the stuff that keeps my husband happy, and a fine selection of spirits for cocktail lovers like me. Better still, the pub sells £1 grab bags of Space Raiders…WIN.
The Safari Supper
If you don't know what a Safari Supper is, it's actually not a new thing. My friend Bernice (a fellow foodie) explained that it derives from around the 70s and is an event where you have one course in one place, main in the next, dessert in another…. so off we went!
The Starter
I'd heard a few good things about recently launched 808 Bar and Kitchen and was excited to see and try it for myself. In short, this is a game changer for Sunderland. The owners, two lovely local lads, who already work full time, own a fashion store, run Sunderland's now institutional house music and techno night Haze AND produce their own tracks, had the bright idea to open a restaurant and bar as well.
We were introduced to the lads, who were very passionate when taking us through the venue's concept and journey to date – and we were all suitably impressed by that – as well the venue's decor, much of which they refurbished and decorated themselves.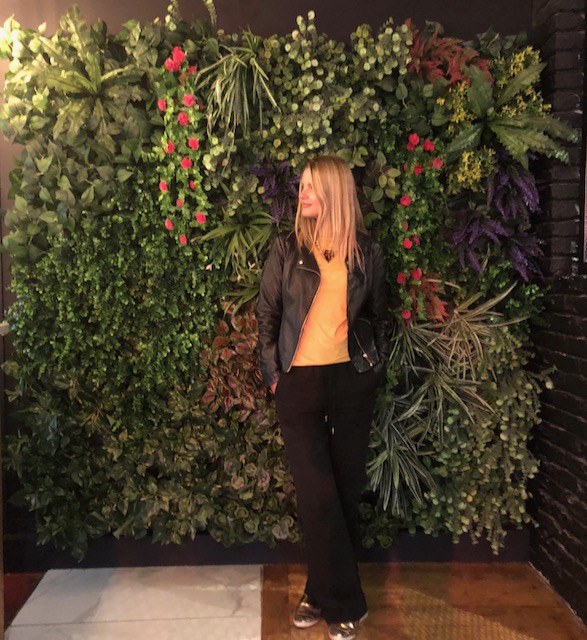 Here I am… in my work clothes..!
Fantastic furnishing and design.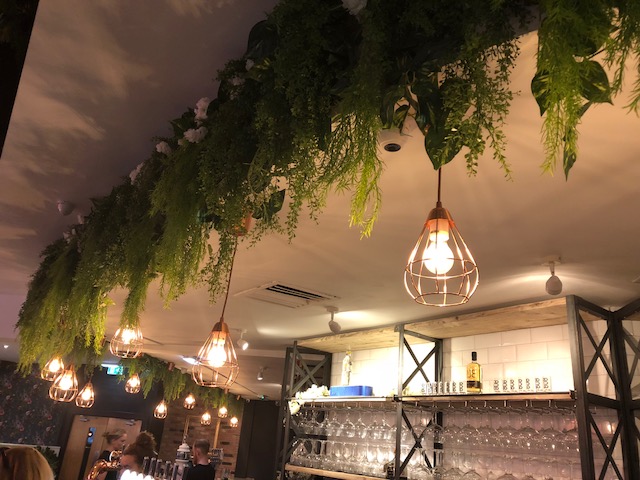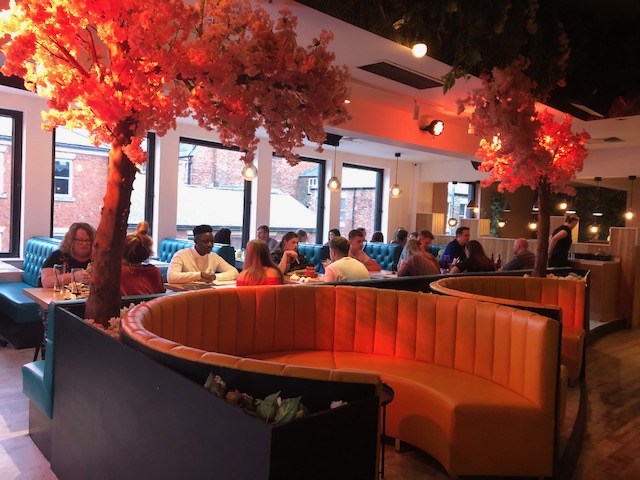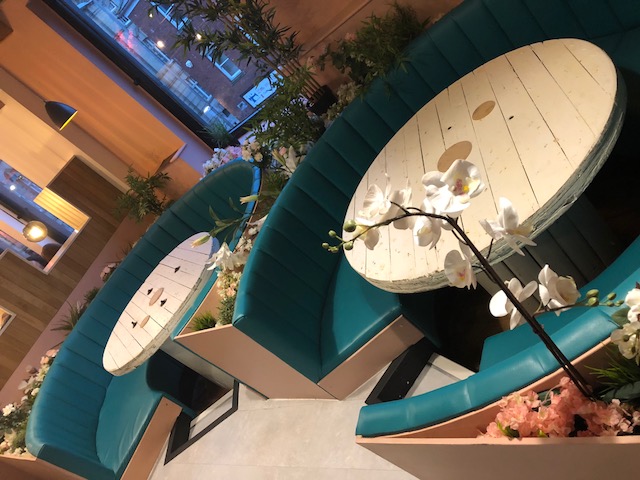 And can we take a moment to appreciate the ladies' loos please!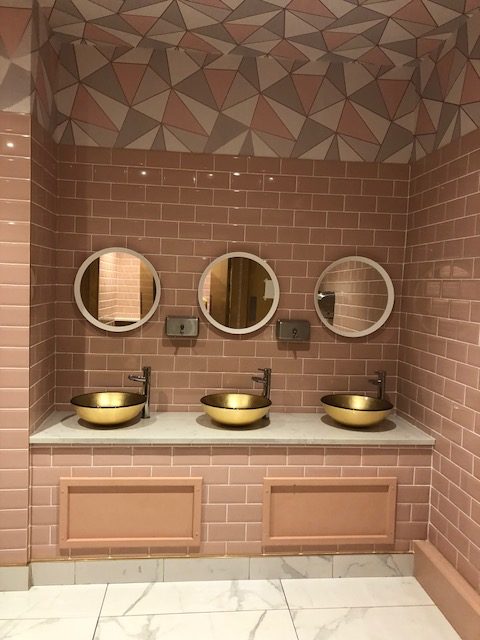 It's clear that they've created a stunning looking venue into the city centre, but did they do the same with the food?
Yes. They really have.
The menu at 808 Bar and Kitchen is a mix of small plates focussing on American fayre like sliders, ribs and wings, nachos et al – and some really tasty asian and eclectic plates like panko crumbed halloumi fries, battered calamari and coconut prawns. Then for the mains, it's wood fired pizzas and globally themed burgers with epic names such as the Kim Jong Bun and Jamaicamecrazy – amazing.
The starters arrived in abundance and after some quick photos, we dug straight in.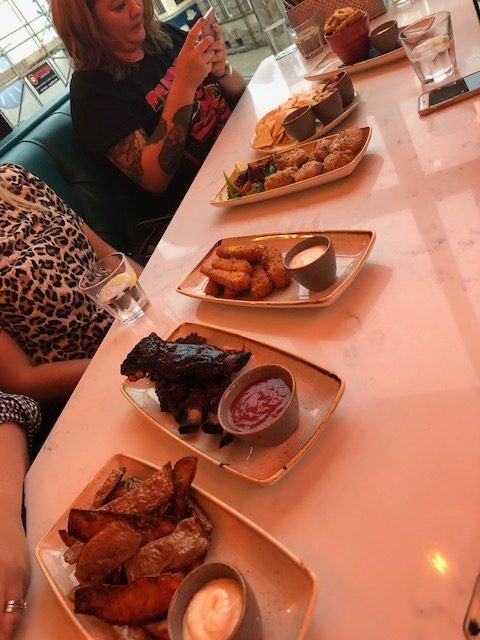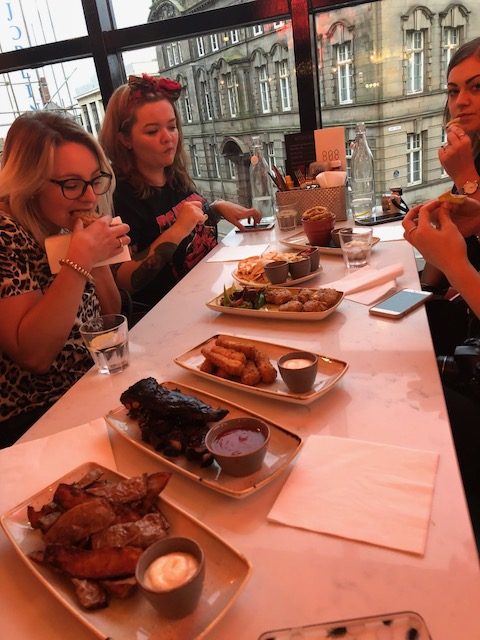 Above: The potato skins, ribs, halloumi fries, breaded prawns, nachos and battered calamari.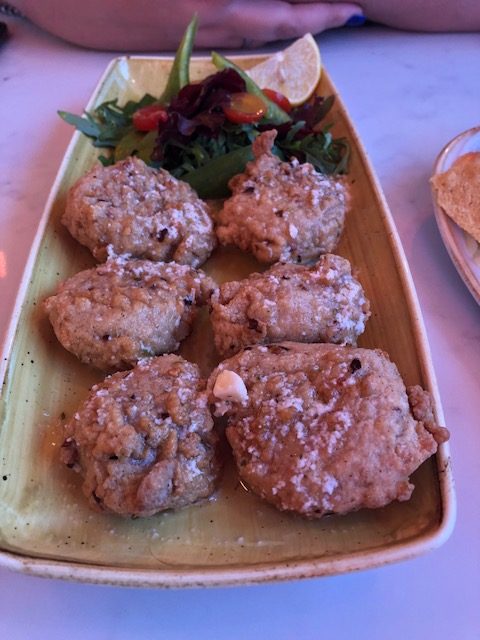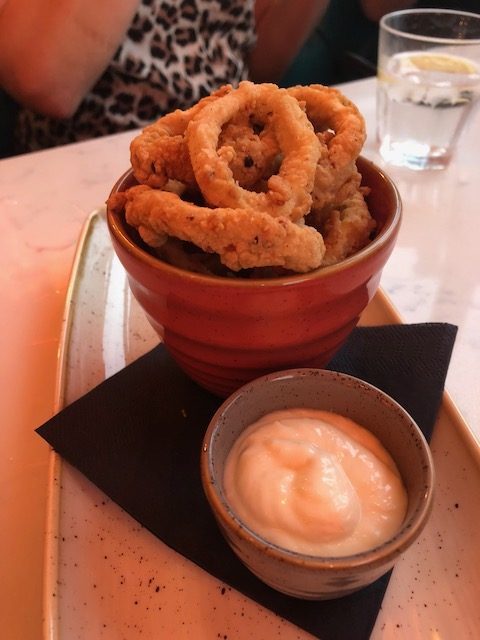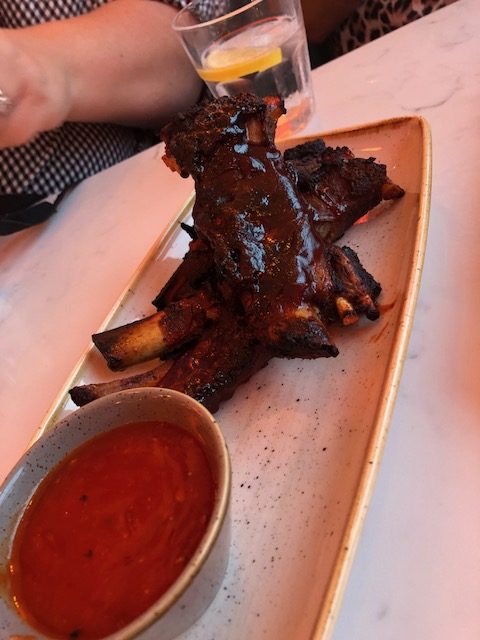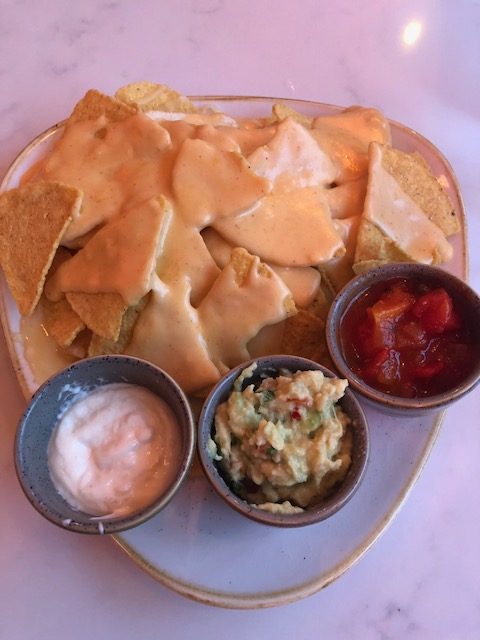 All dishes were tempting and just as delicious as they looked. Everything was well seasoned, well cooked and super tasty. And as someone who has to have something moist with each dish, to my delight dips accompanied every dish – with our collective favourite being the ribs' dipping sauce, which we all ended up dunking most our food in! Our favourite dishes from this starter selection were the panko halloumi fries, the calamari and the breaded prawns, however we really enjoyed every one of our dishes.
Just as we finished the above starters and were fit to burst, we were then presented with two slider trays containing six mini versions of some of the burger menu. Still with mains and desserts to go, we panicked a bit, but quickly got over it and hacked into the sliders.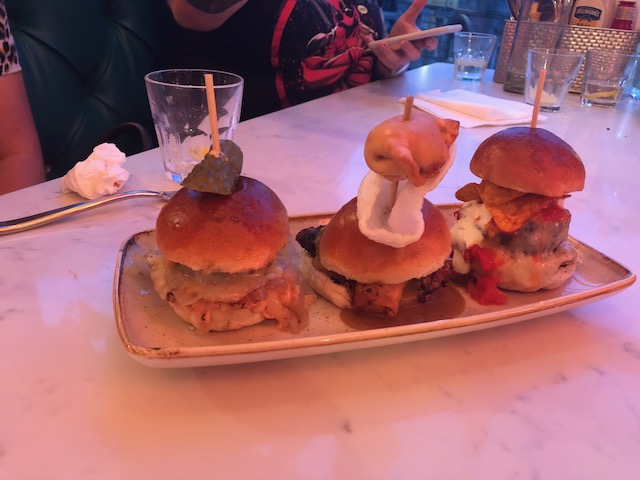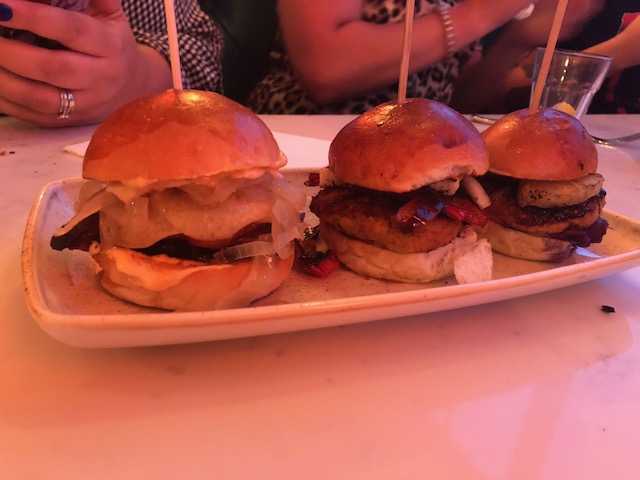 The sliders were all amazing and all had their own special touch, from spring rolls and prawn crackers, to crunchy nachos or tasty charred vegetables. One of my surprise favourites was the 444 made with a tuna steak patty.
With excellent music, unrivalled atmosphere, mouthwatering munchies and a Techno and Tacos night in the pipeline, I can't wait to go back wth friends and hang out in what is currently Sunderland's place to be!
The Mains
I can't lie – we were stuffed by this point and were slightly trepidatious about what was to come, but we powered onto our next venue The Pickle. When I arrived, I was immediately intrigued by the funky east London vibe I got from the signage and hoped the food and atmosphere would be just as cool.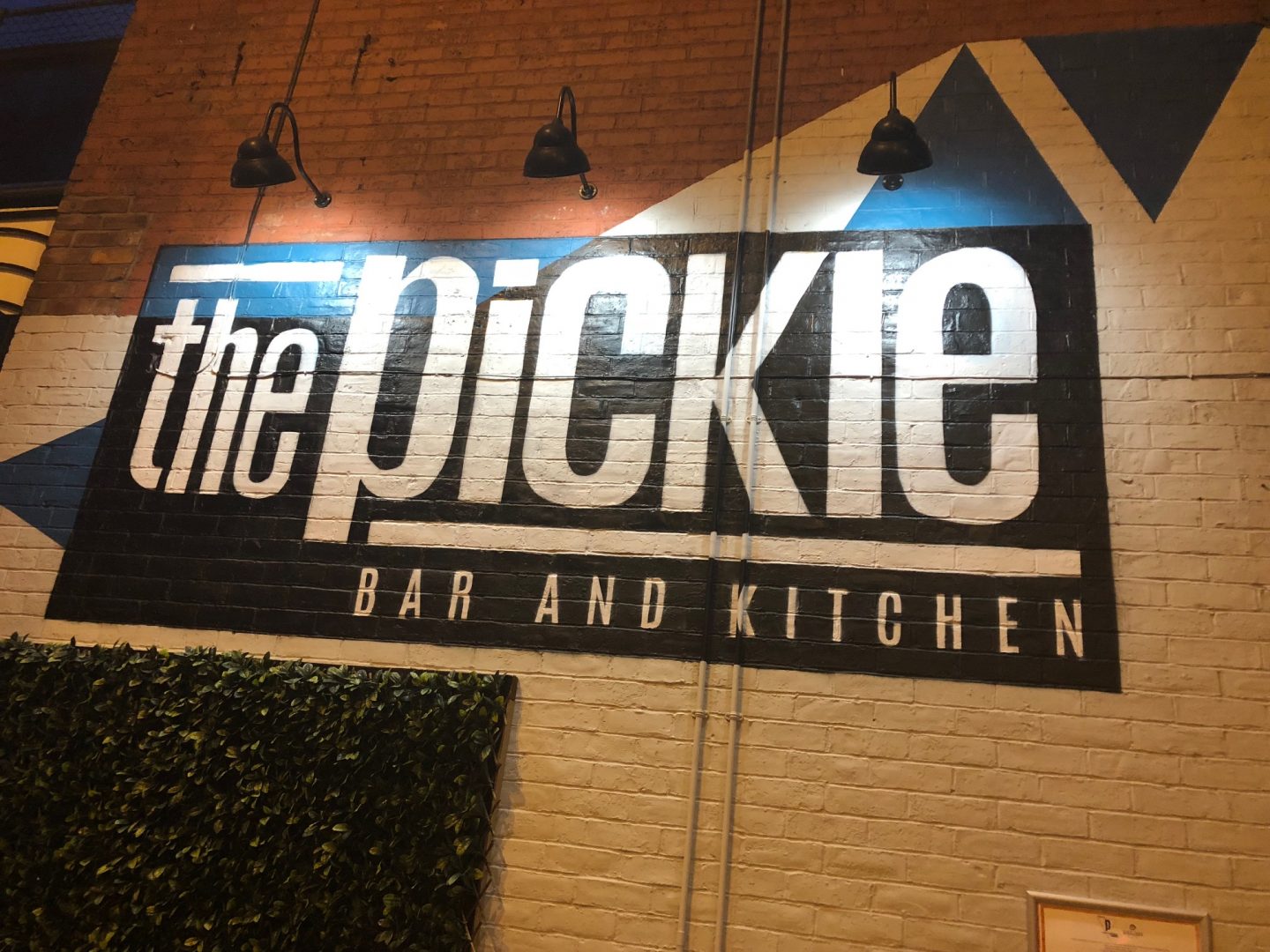 We were shown to our table by the lovely staff and our drinks orders were taken and brought back promptly. I really liked the atmosphere and the decor was cool too, and I was particularly captivated by the awesome lemur wallpaper…aww.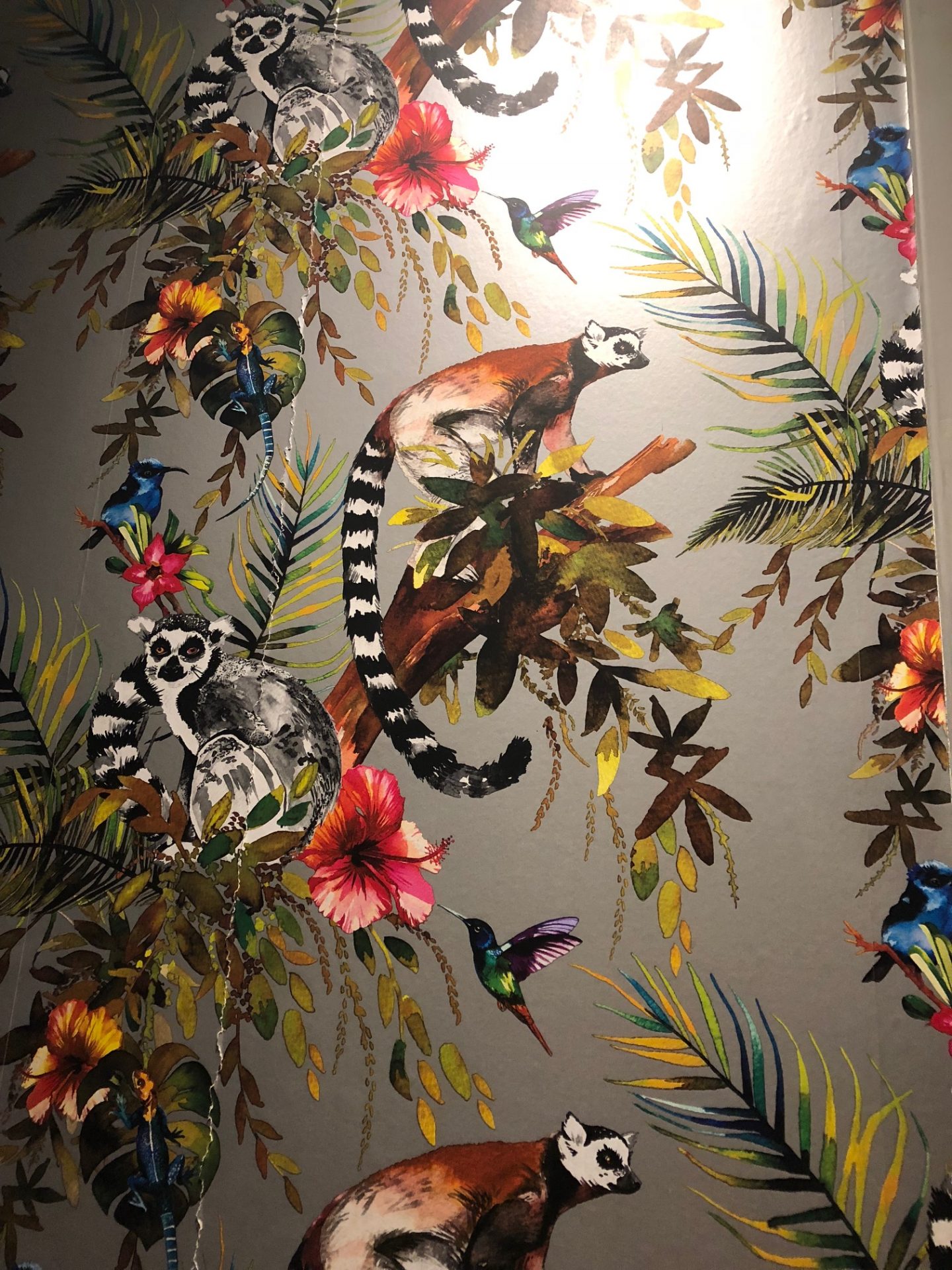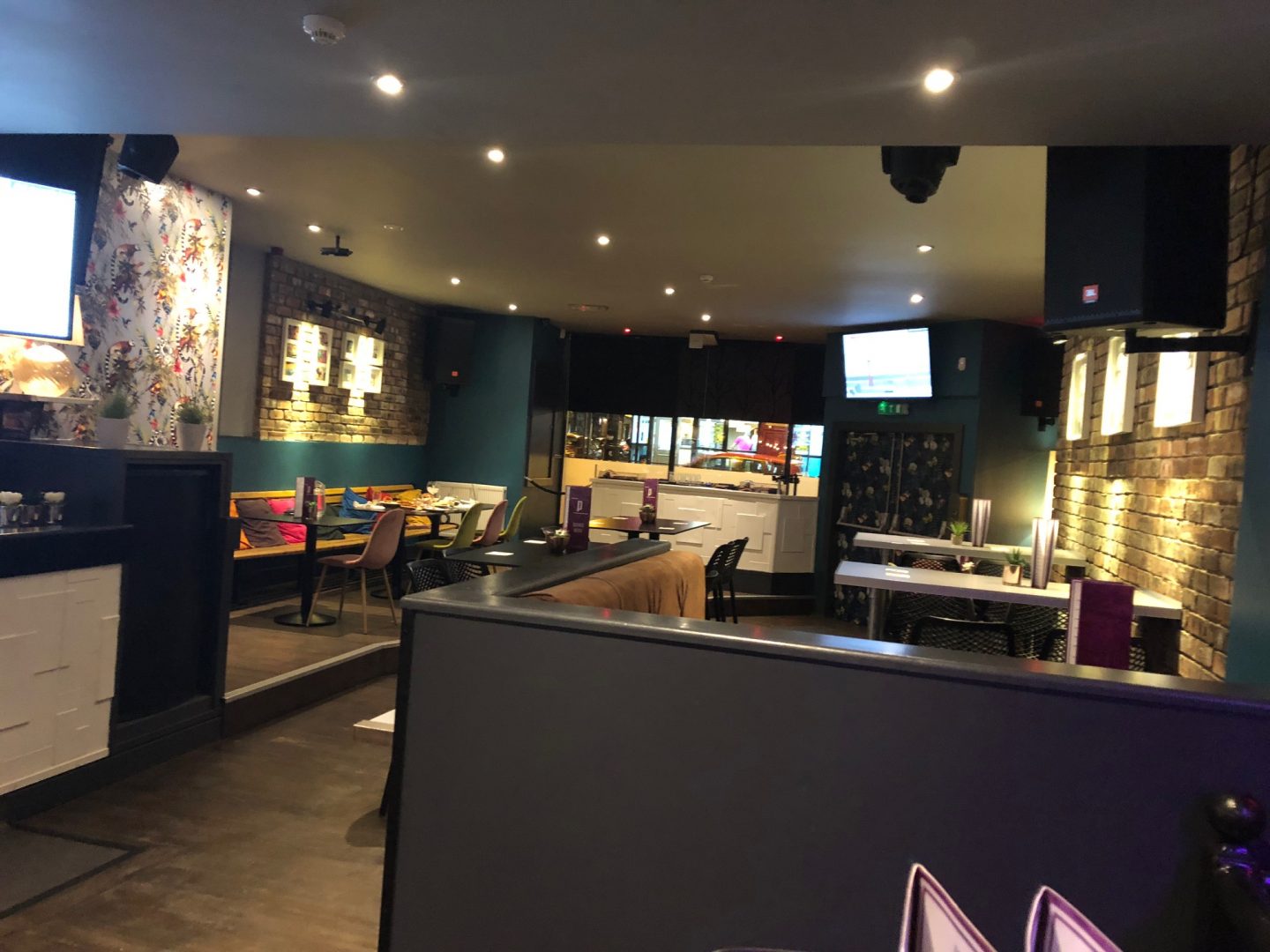 Another fantastic addition to Sunderland – hurrah! I thought.
So the food arrived – and it was a veritable feast to say the least. We tried many of the burgers they have on offer, ranging from the Morning After Burger, filled with breakfast goodies including black pudding and hash browns and the chicken and maple burger, with juicy chicken and truly OMG maple bacon.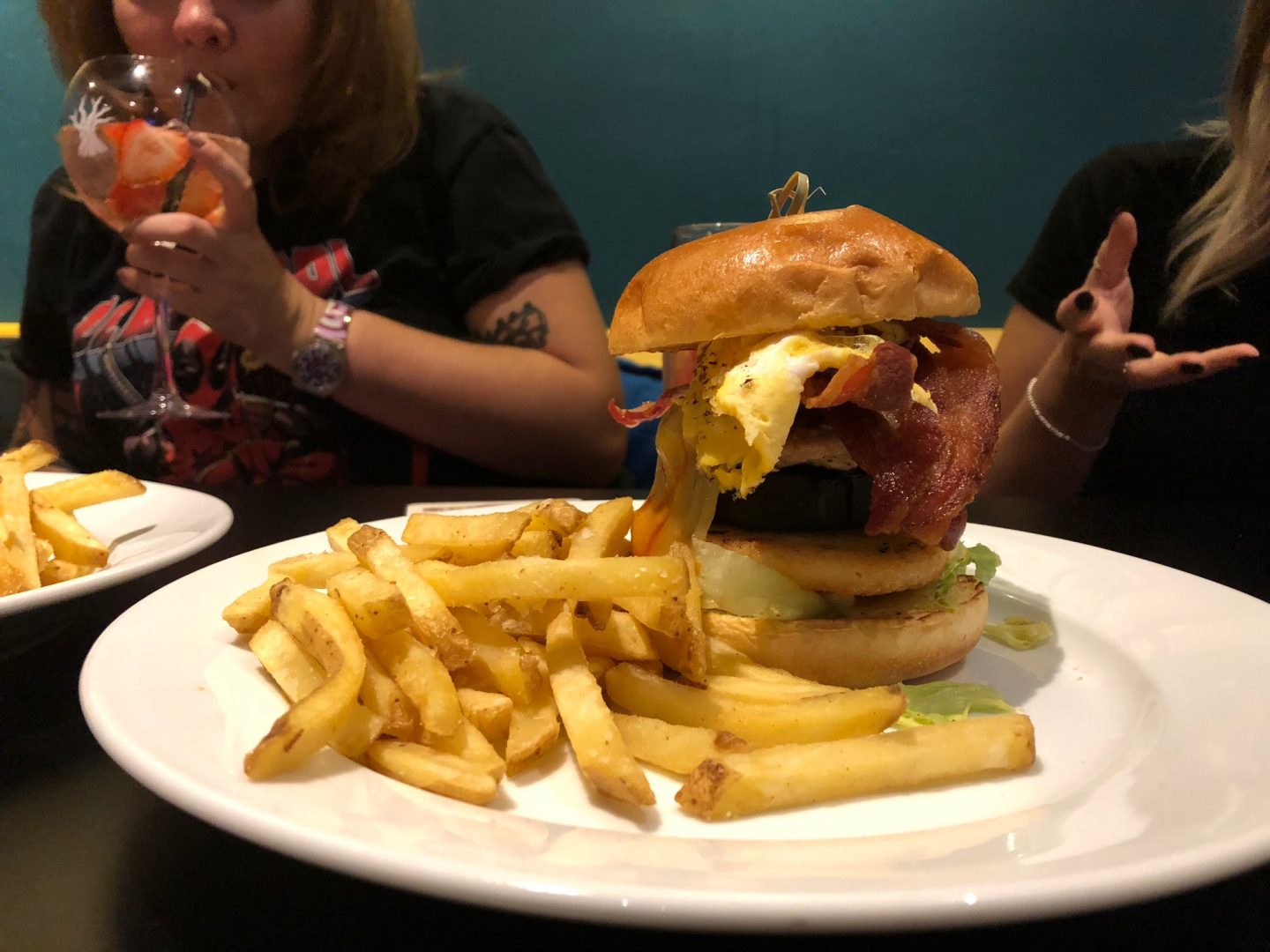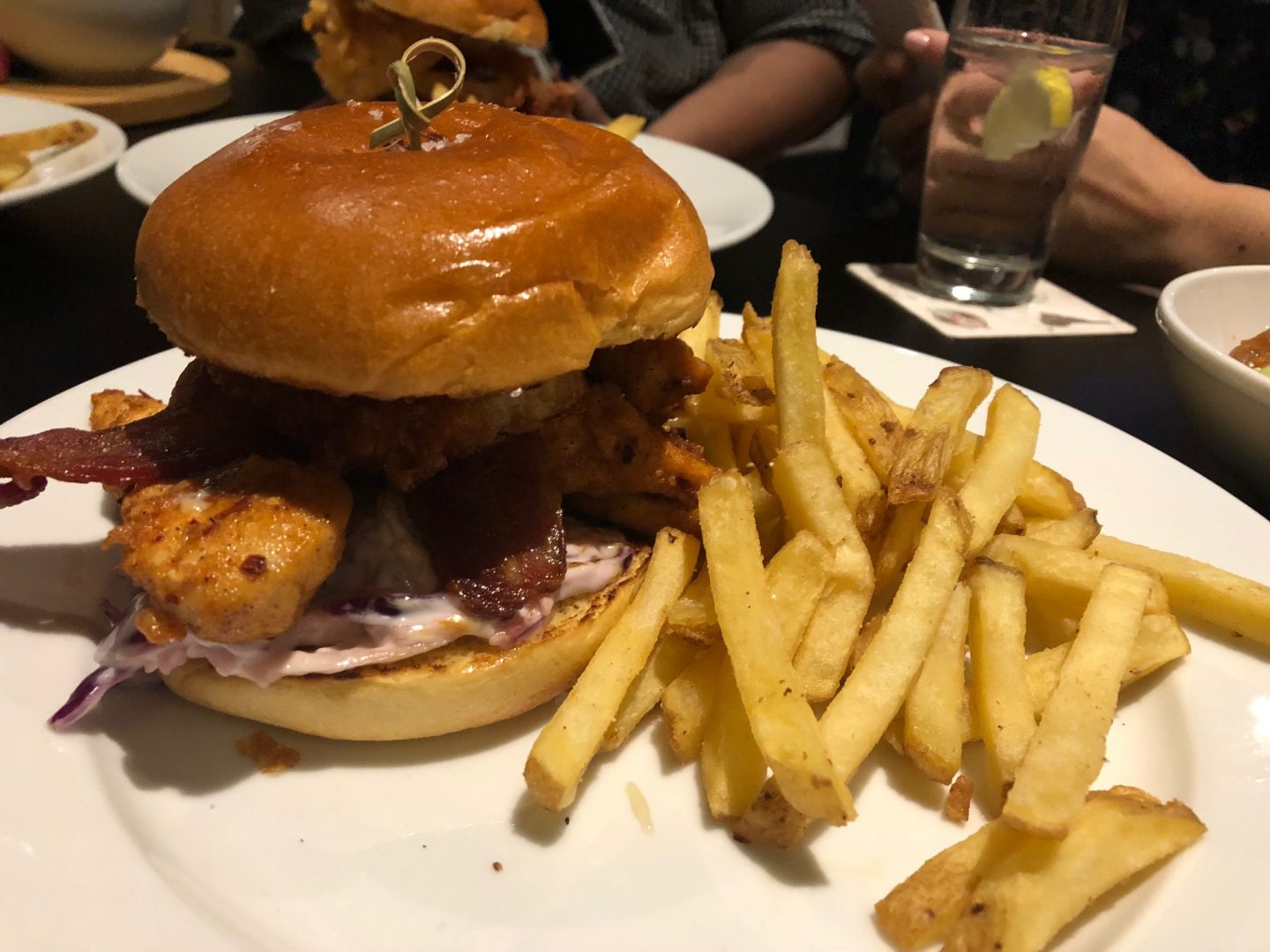 Above left; the all day breakfast burger and above right; the chicken and maple bacon burger.
I'll be honest, I was scared at this amount of food, but ever the martyr to the cause, I battled on and after my first bite of hash brown and bacon, somehow….somehow (!) I got a second wind.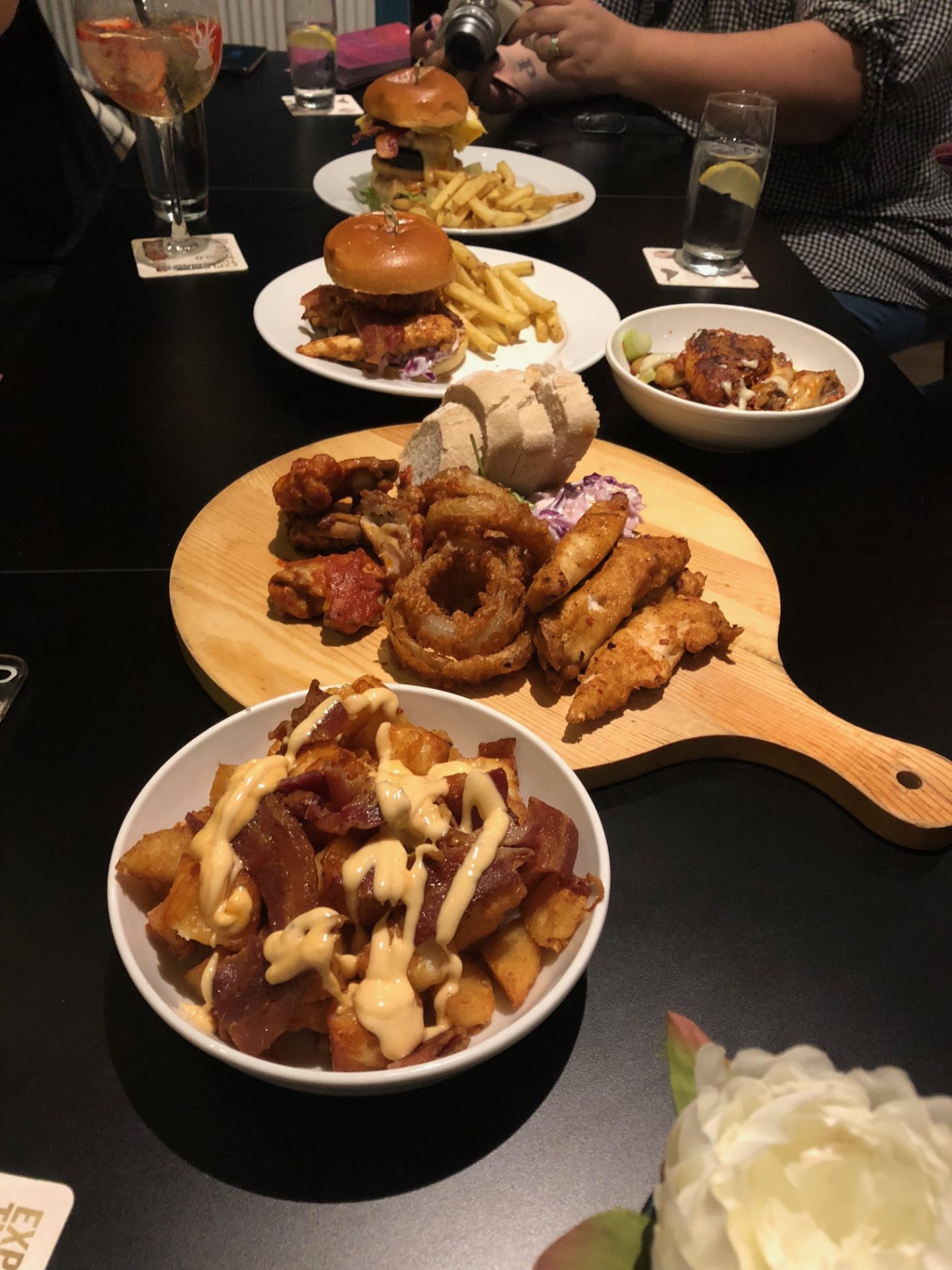 The maple bacon and the halloumi and hash brown bowl (above), we all agreed were the absolute stars of the show.
Although I love good quality meat, I have chosen to eat a lot less of meat and dairy in my weekly diet, for ethical, environmental and dietary reasons and I was really delighted to see they catered well for veggies and vegans. They brought out a vegan platter with houmous, falafel and other nice spicy nibbles, along with a very tasty beetroot and slaw burger, with non beef-dripping fries.
Will I return? Absolutely. The chicken pieces and chicken burger were next level and i'll definitely go for the vegan burger when I go for a lunch time treat, however, I don't think I'll ever be able to visit without ordering the halloumi and hash brown bites and a side plate of that maple bacon.
Dessert 
At this point I think I was dizzy and rapidly falling into a food coma and feared having to shortly push a dessert in and then drive safely back to Gateshead without injuring someone. Yet, alas, we left the lovely team at The Pickle, the fresh air hit me and the thought of a lovely cup of tea and a little sweet morsel was actually quite appealing!
I had the car nearby, so our host Gemma jumped in with me and we and drove round to The Looking Glass. If you live or work in Sunderland, you must try this place. Formerly The Place Cafe, The Looking Glass is a mix of class, quirkiness and excellent quality food.
The restaurant's interior and dishes are elegant, much like owner Nicola who greeted us and sat us straight down with our menus. It's worth bearing in mind that it was clocking on to 9:30pm and they had closed up and reopened for us – yet both Nicola and her husband Harry were full of smiles and warm welcomes.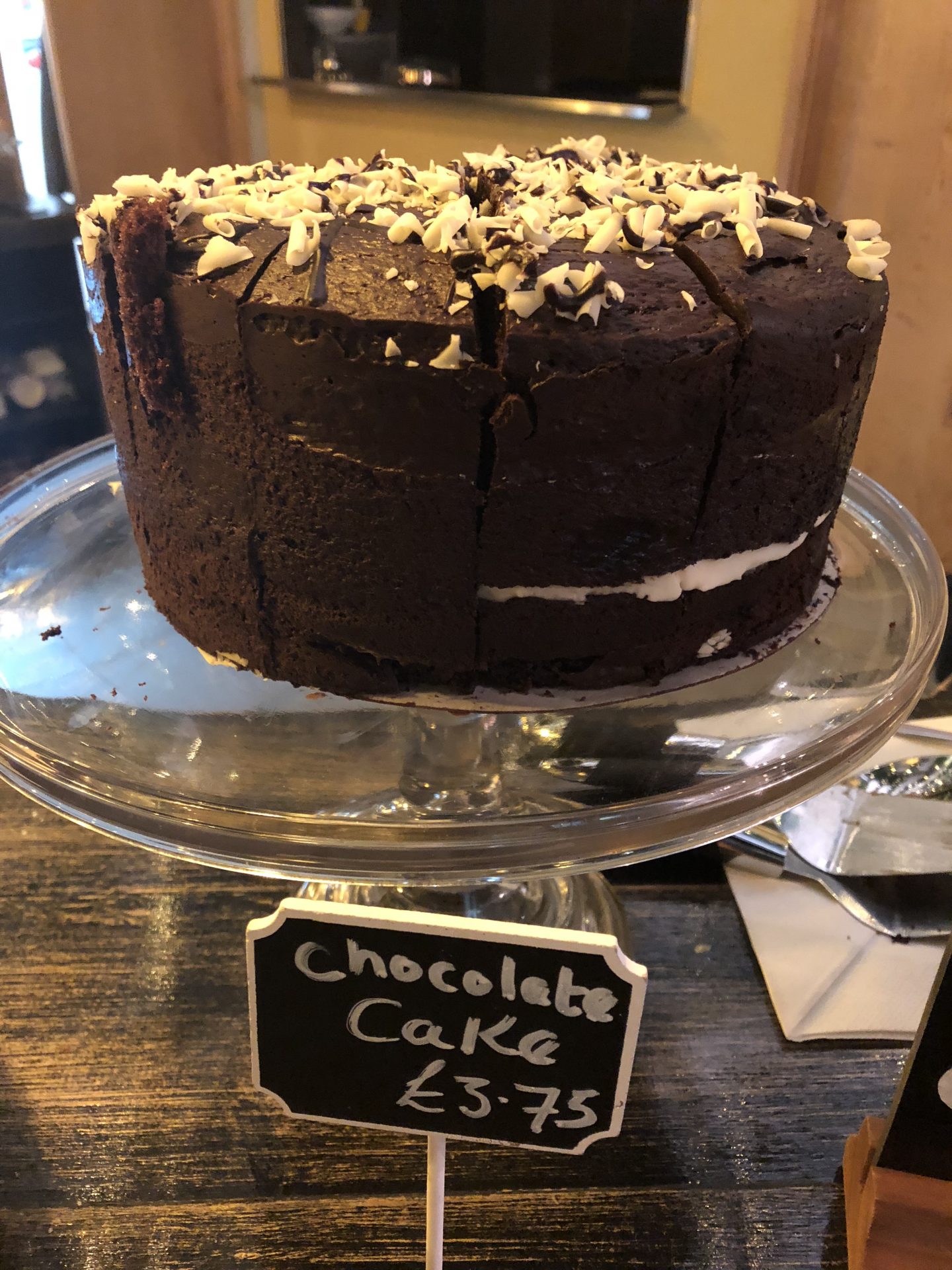 I've eaten in The Looking Glass many times since it opened earlier this year because for me, it's the best place for a working lunch in the city. They've positioned the types of dishes and the service speed just right for city centre workers, the food is faultless and they've hit the jackpot with their chef, who cooks up amazing pasta, flatbreads, typical lunchtime favourites and weekly specials.
I must disclose that I know Harry and Nicola well already and love them both to pieces, however I can quite frankly say that if I didn't rate their restaurant, I wouldn't write about it or post their dishes on my Instagram all the time – or go back! However, you can judge for yourself and once you've been, you won't need me to tell you I told you so. It's so good!
I only eat savoury lunches at The Looking Glass, so a brew and a slice of cake was a welcome change.
On offer for the night, along with their collection of exquisite tea blends were chocolate cake, carrot cake, chocolate torte, cherry pie and rocky road pieces. Since cherries are in season and the last time I had a cherry pie will have probably have been from Morrisons circa 2009, I ordered a slice along with a pot of decaf tea.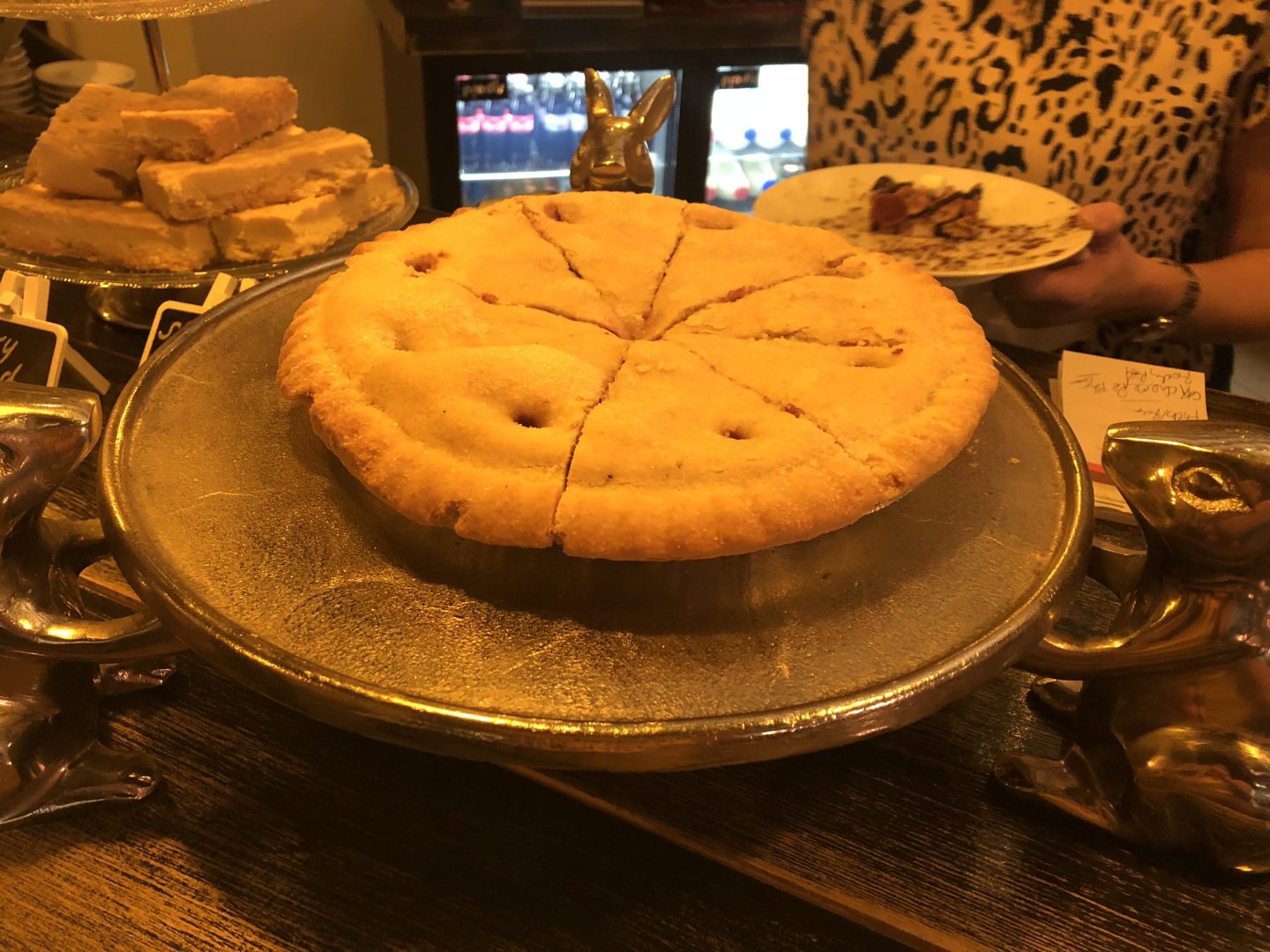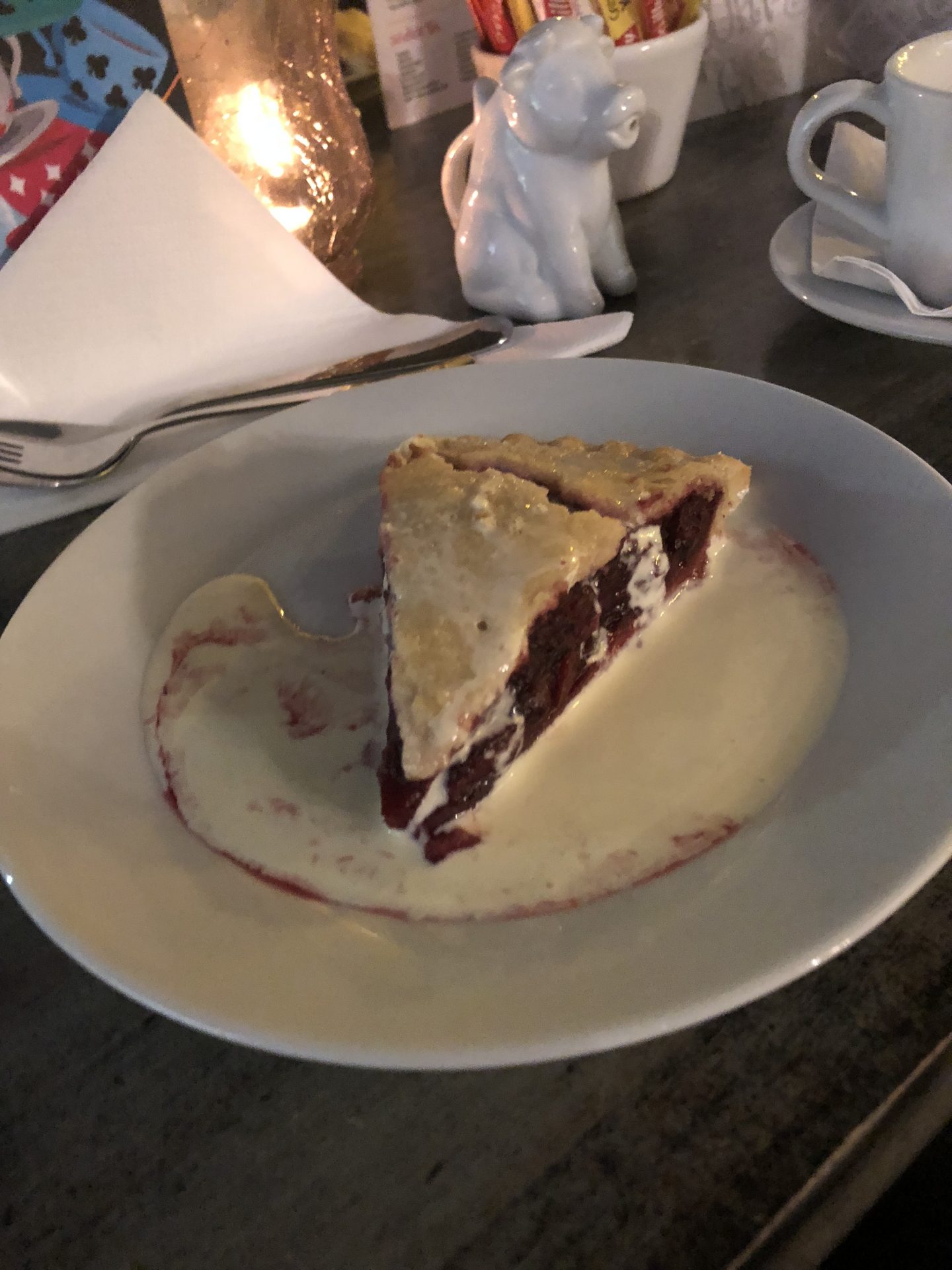 The pie, as you can see was filled deeply with juicy cherries and the pastry, just at the right level of thickness, sweetness and crumbliness. The cherries retained a perfect level tartness and bite – and was well balanced with the addition of what I think may have been amaretto or kirsch. I've never had a cherry pie like it and i'll be back to take a couple of slices home for Mike and I the next time I get my lunch!
The Summary
I had an absolutely amazing night at the Sunderland Restaurant Week preview with the Sunderland BID team and and had great company in the smart, gorgeous and funny bloggers that I spent the evening with.
I thoroughly enjoyed trying the two new restaurants 808 and The Pickle and can't wait to hang out there again – and I loved trying desserts for a change at The Looking Glass.
Sunderland is a great place to eat and you really do get excellent value for fantastic food any time of the year, so heading to Sunderland Restaurant Week is an absolute no brainer and is totally worth the trip if you live outside of the city!