There was absolutely no question that we would go on a food and wine tour when we went to Lisbon.
Mike had kindly paid for a few key parts of this break, so I wanted to treat us to a little pre-booked excursion for our trip. He loves food and he loves wine even more (as do I), so I knew this trip would be a winner.
I had a good google and a scope on TripAdvisor and found that I liked the sound of the Lisbon Food and Wine tour by Inside Lisbon.
It was around £35 each for the tour, which was excellent value for the time we were out for and for the places we visited. It was also a small group tour, with up to twelve people on each booking.
We met our lovely guide and the rest of our group in the main square at 4:30pm and set off on our way.
We didn't have to go far, as we stopped at the bottom of Rosso Square in one of its oldest bars for a glass of famous Vino Verde (green wine) and a more famous cod cake.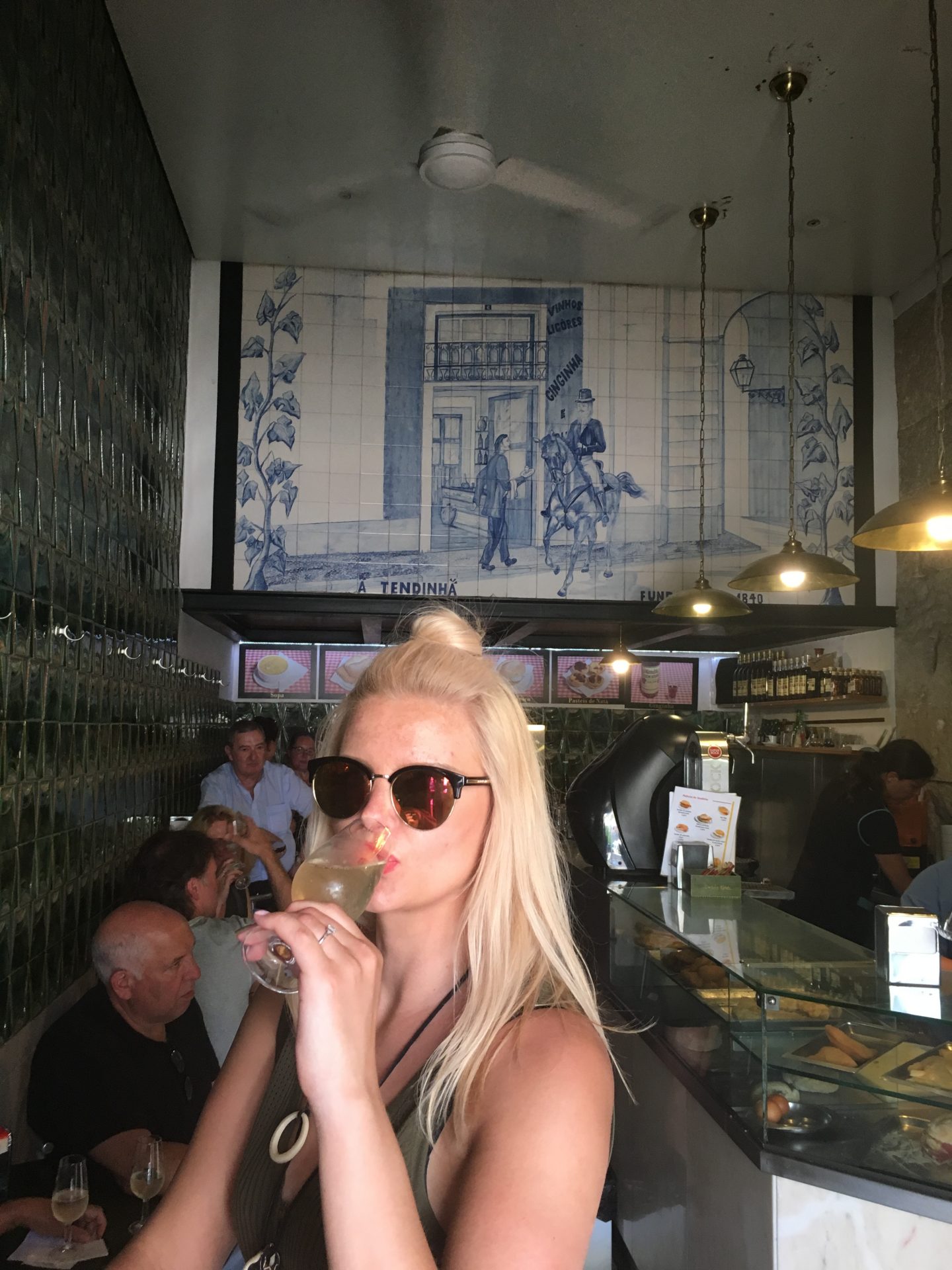 What a backdrop!
We then set away up a hill and to a bar which specialises in sparkling wine. We were served our delicious sparkling vino in a coupe and enjoyed some friend sardines.
Some of the beautiful bubbles on offer! My kind of shelf!
We then had a slow saunter back down into the main area of the city to enjoy a glass of Port with one of their special nutty cheeses, topped with a jellied 'marmalade'.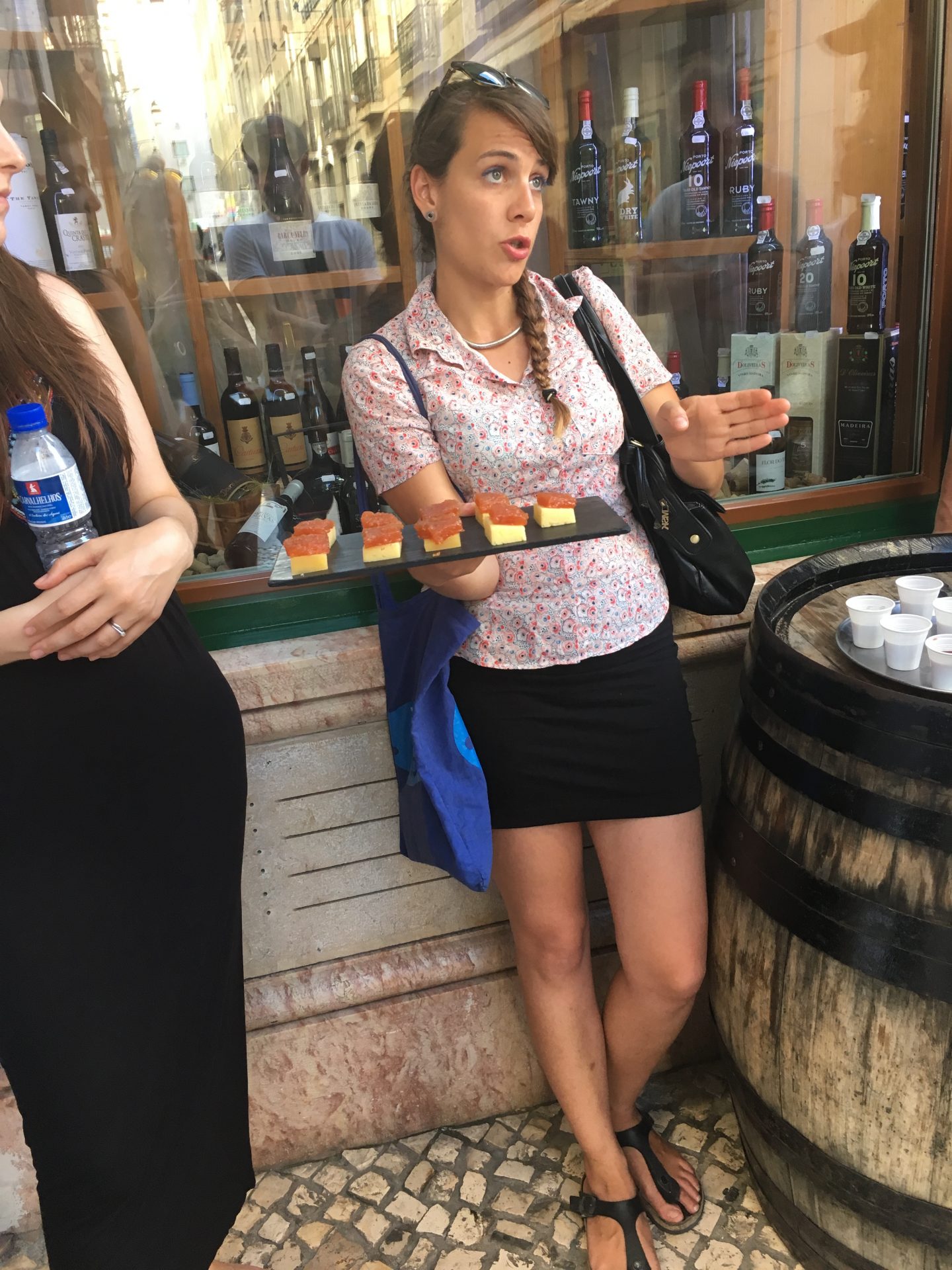 When in Portugal, one drinks Port! This was our lovely guide.
After we necked our sweet port, we walked over to sample the city's favourite local drink Ginjinha, a wonderful cherry brandy, which is served in a small glass, complete with booze soaked cherries from the bottle.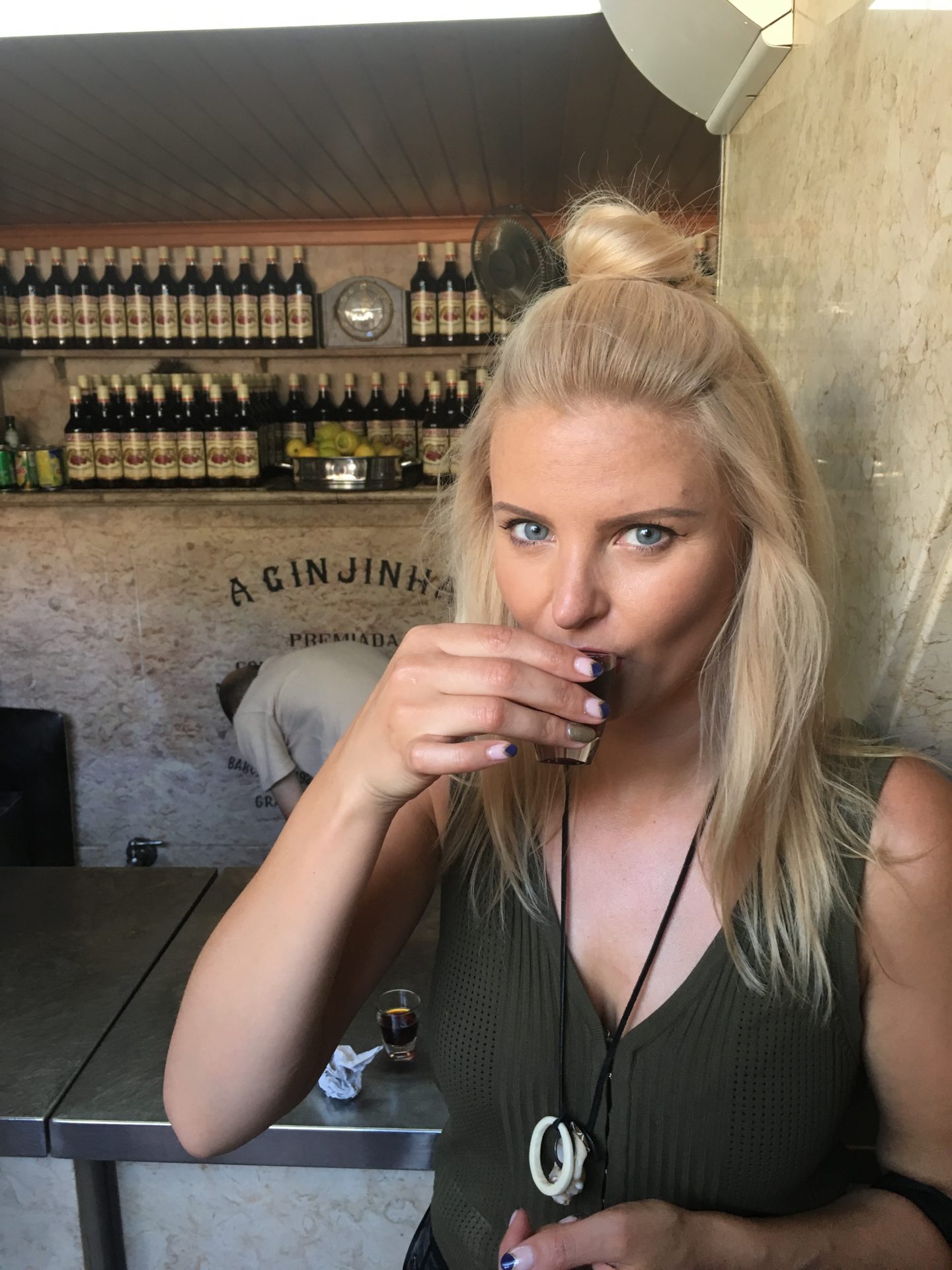 Many locals actually drink a quick glass of this before heading off to work. I would love to bring this particular trend to the UK!
If you don't go on a tour, you absolutely must stop by a Ginjinha bar at least once during your trip. We came to this particular bar A Ginjinha just off Rosso Square on several occasions. They're literally just holes in the wall selling this epic drink!
Our last stop was in an incredible old 17th century palace, where we enjoyed a few carafes of red wine, with traditional breads, cheeses and sausages.
It topped the day off perfectly, leaving us plenty of time to head home for a quick change and back out for a tad more booze.
I loved this walking tour as it gave us change to explore more of the city and it's special buildings, complete with a tour guide. We also got to meet people from Berlin, New York and Italy and 'break bread' with them, which was very special.
Tip: Stay hydrated! While the tour doesn't ply you full of booze, you're still mixing your drinks in the sun, so do consider that if you're a lightweight like me!