I'd seen a couple of my influencer pals' posts about Pizza Punks , Newcastle and tell me how great it was, so I couldn't wait to try the place out.
I scoped out the website and Instagram page, obvs, and got very excited at how awesome the place looked and how it boasted of 'punked up' bases and unlimited toppings. I could take no more, I controlled my salivation for a moment and booked a table for a Friday night.
While I can hear the painful cries of old school punks reeling at the notion of a punk themed pizza restaurant with an anarchic vibe, giving it 'It's punk blasphemy I tell ya!' etc.  Need they just remember that the John Lydon fronted more than one ad campaign for butter in the late naughties… – but i'm sure they all buried him long ago. Decent butter that, though….
Onto one of my favourite foods in the entire world…
The arrival:
We booked for a 7pm table and arrived at 6:50pm. There was a queue in the corridor leading up to the restaurant, which was well sheltered. I was a bit worried at first, but that's because I have been known to head into a full blown panic at a potential delay in my feed – my husband will argue that this occurs on a weekly basis. My worrying was pointless, because the queue was extremely well managed by front of house who came out and quickly spoke with and dealt with each party, sifting out those who had booked and reassuring those who hadn't. All the while (during a mere 5 minute wait) we could see extremely swift floor staff clearing up and setting up tables. It was a joy to witness such efficiency!
We were then promptly shown to our table,  sat down and greeted by our lovely server India, who ran through the menu format, chatted with us about all sorts and took our drinks order.
We were given a great window seat, however I was far too obsessed with the amazing fit out of the restaurant. I felt like I was in Brooklyn or Camden it was that cool, with its mood lighting, purple and pink hues, exposed aluminium and brick and enough neon to give Vegas a run for its money. OK maybe not, but the neon was still abundant!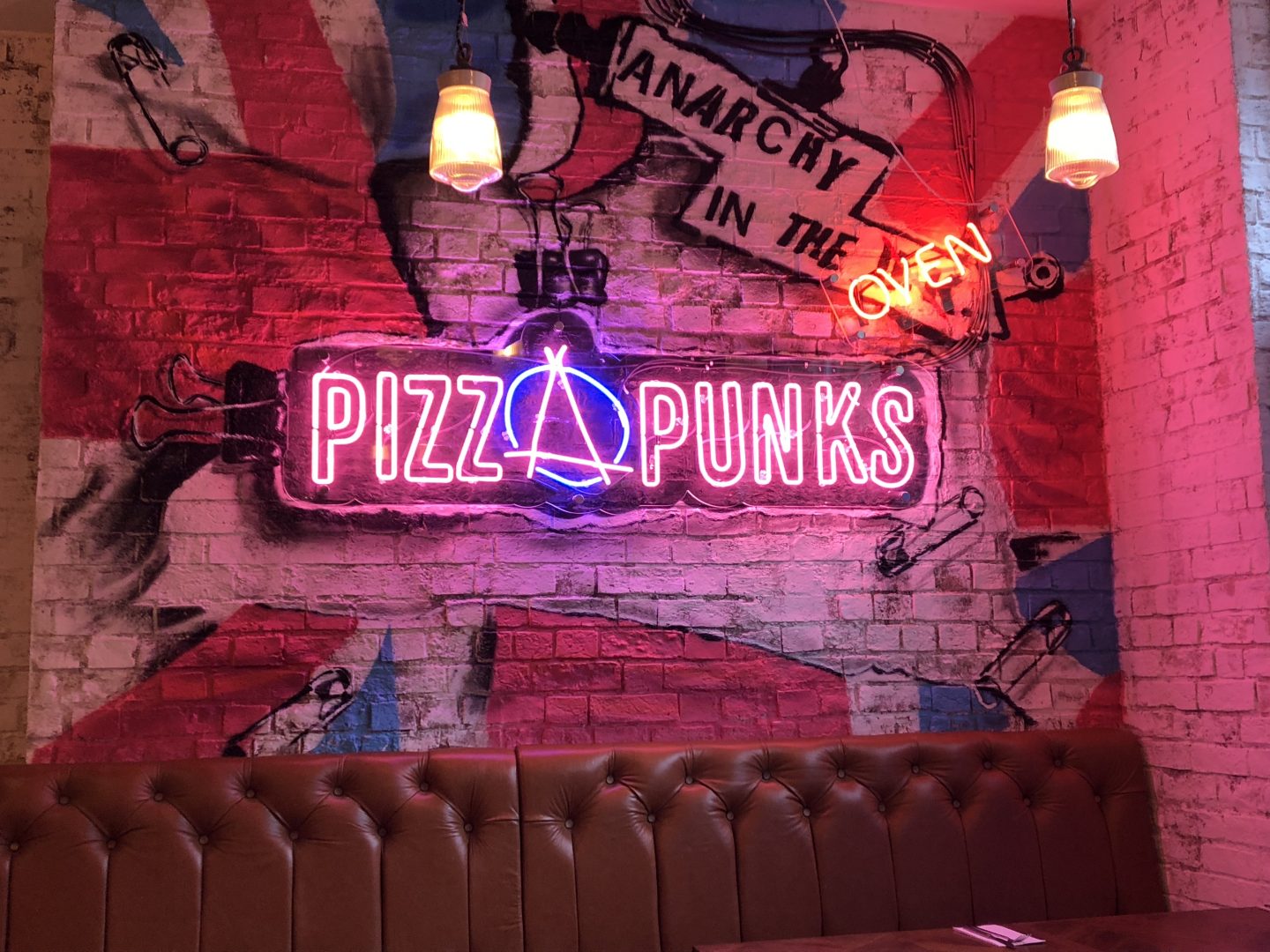 The music also needs a special mention as it was also awesome. Rock, Indie, Grunge, Indie Rave, Alternative, they played the lot. I kept having to stop mid conversation to join in with choruses and sing at (not to) my husband. I was already having a lot of fun before i'd even ordered my meal!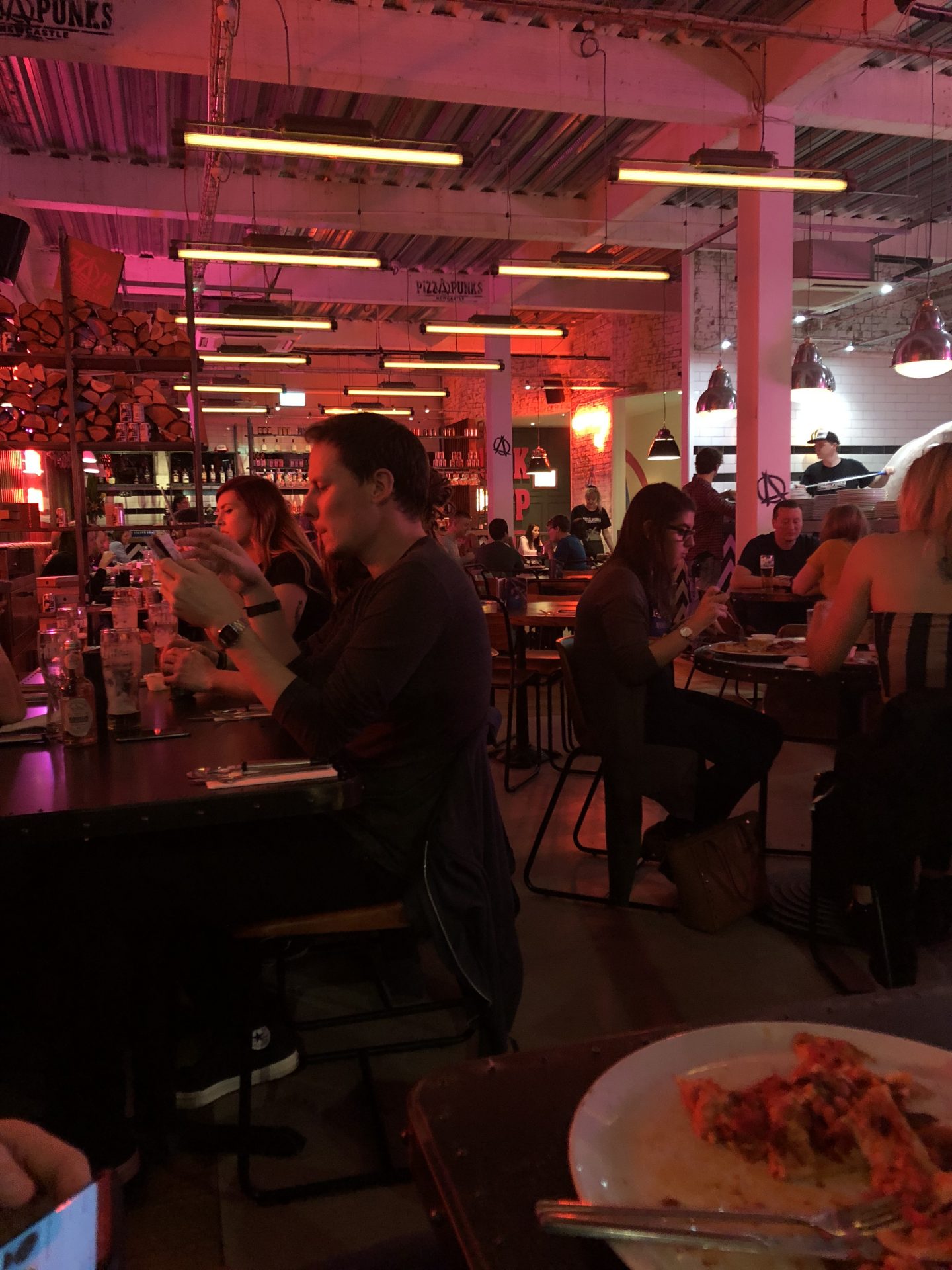 The menu:
Pizza Punks offers some classic pizzas, but also gives you the option to build your own pie, right down to bases and your sauces and cheese, but best of all you get unlimited toppings at no extra cost. That's unlimited-pizza-toppings!
After a week of a strict fish and veg diet for myself and my husband, we quickly agreed that we were to go on a meat mission for the night.
We ordered the Buffalo Chicken Wings and the Sourdough Burger Bites to start. It was Friday after all!
Then for our pizza, we both opted for the sourdough base with the classic red sauce and two cheeses, being mozzarella and scamorza, which India explained was a yummy stringy stretchy cheese. Sold.
Toppings-wise I went double sausage with Ndjua and Tuscan sausages. If you don't know what Ndjua is, it's a spreadable salami style sausage from Italy – and well you can guess where the Tuscan one is from. I then asked for peppers, artichokes and broccoli to accompany my meats as I adore all of those veggies.
Mike a.k.a. Mr Spice and Mr Predictable went for the Hot Punk, which to be fair, sounded smashing – and was asked if he wanted that to arrive 'flaming', meaning it would be drizzled with brandy and set ablaze on its way to our table. Mike, always game for anything, agreed to it.
The food:
We were delighted that our wings were full wings and smothered in buffalo sauce and accompanied with a blue cheese sauce. The looks alone didn't disappoint. The chicken was tender and juicy, but certainly not greasy and the buffalo sauce was utterly delicious. Mike and I could have eaten a dozen each.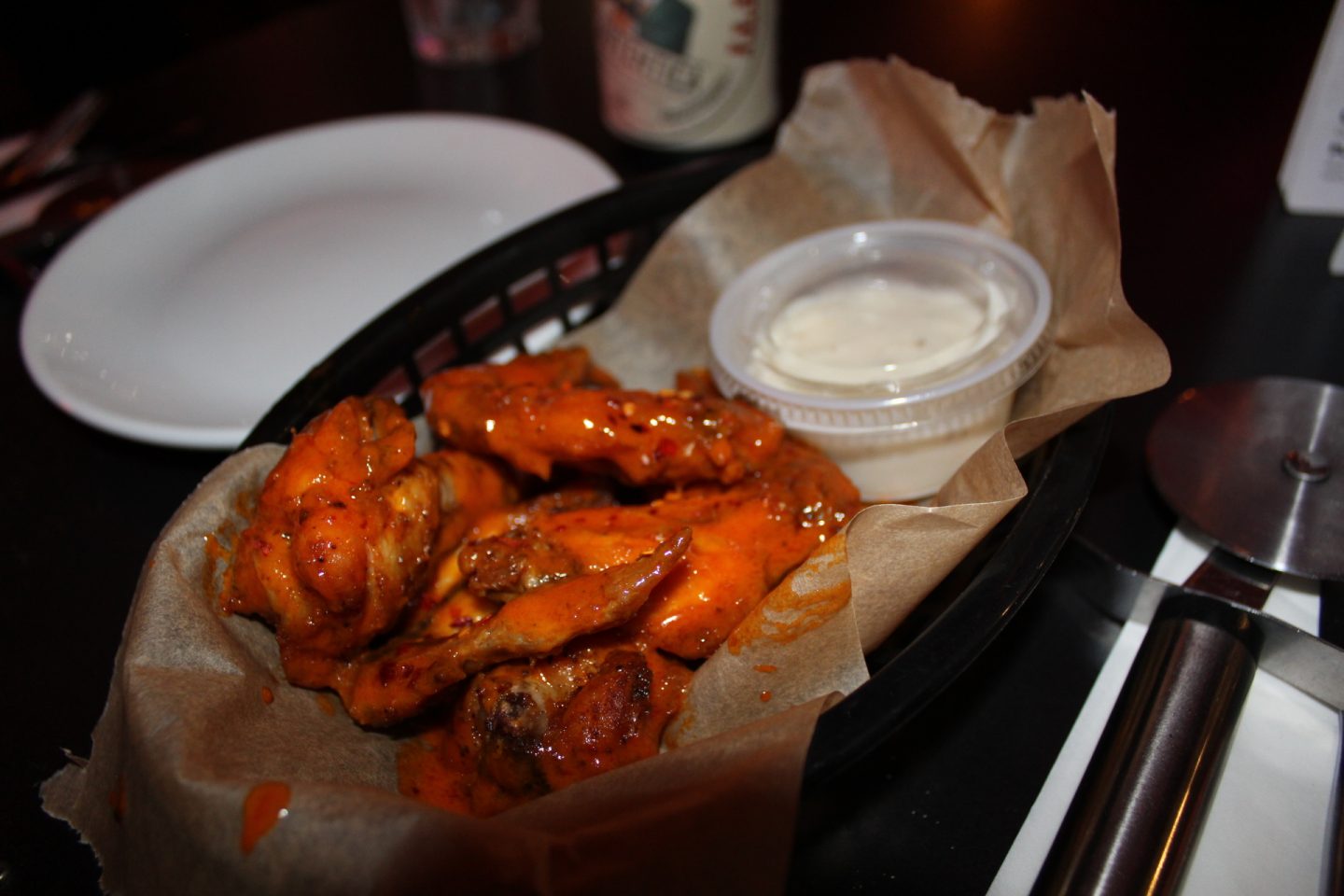 The burger bites were also fantastic, the little patties themselves were well made, with the right ground beef consistency – and the dough golden and just the right thickness – or should I say thinness, meaning they didn't overdo it on the bread.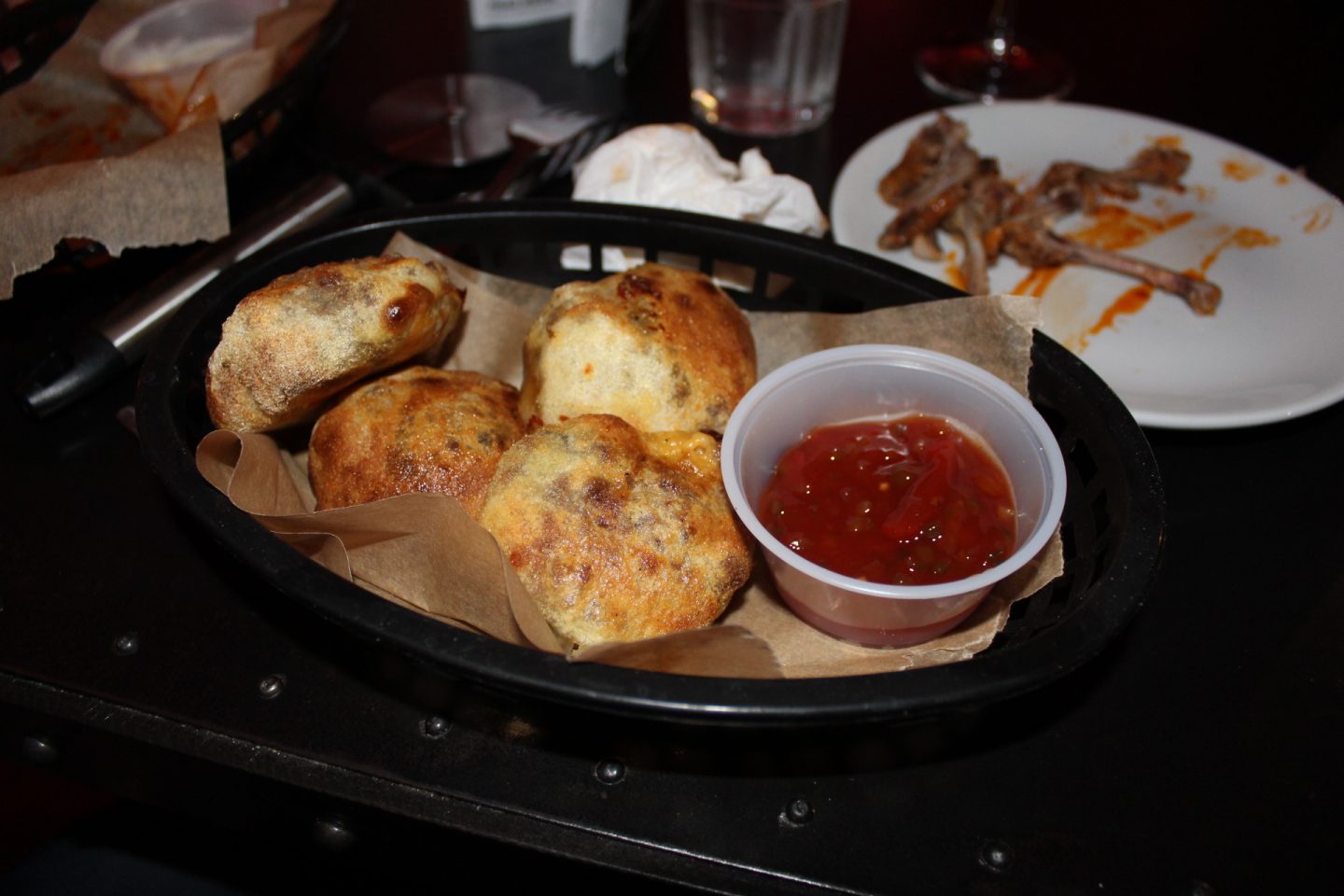 The pizzas came shortly after and were piping hot from the huge oven, visible form our table.
My pizza base was at the perfect consistency and had risen well around the crust. The sausage elements were very tasty and the cheese was buttery and stringy as promised. There was a minor let down with my pizza, however I entirely blame myself as it was due to the amount and types of veggie toppings I chose (I can never just stop!). The pepper, artichoke and broccoli, given their natural water content, had made the base go a little soft and soggy in the middle and took away from the flavour of the lovely sausages, but alas, I was the workman and I was given my own tools.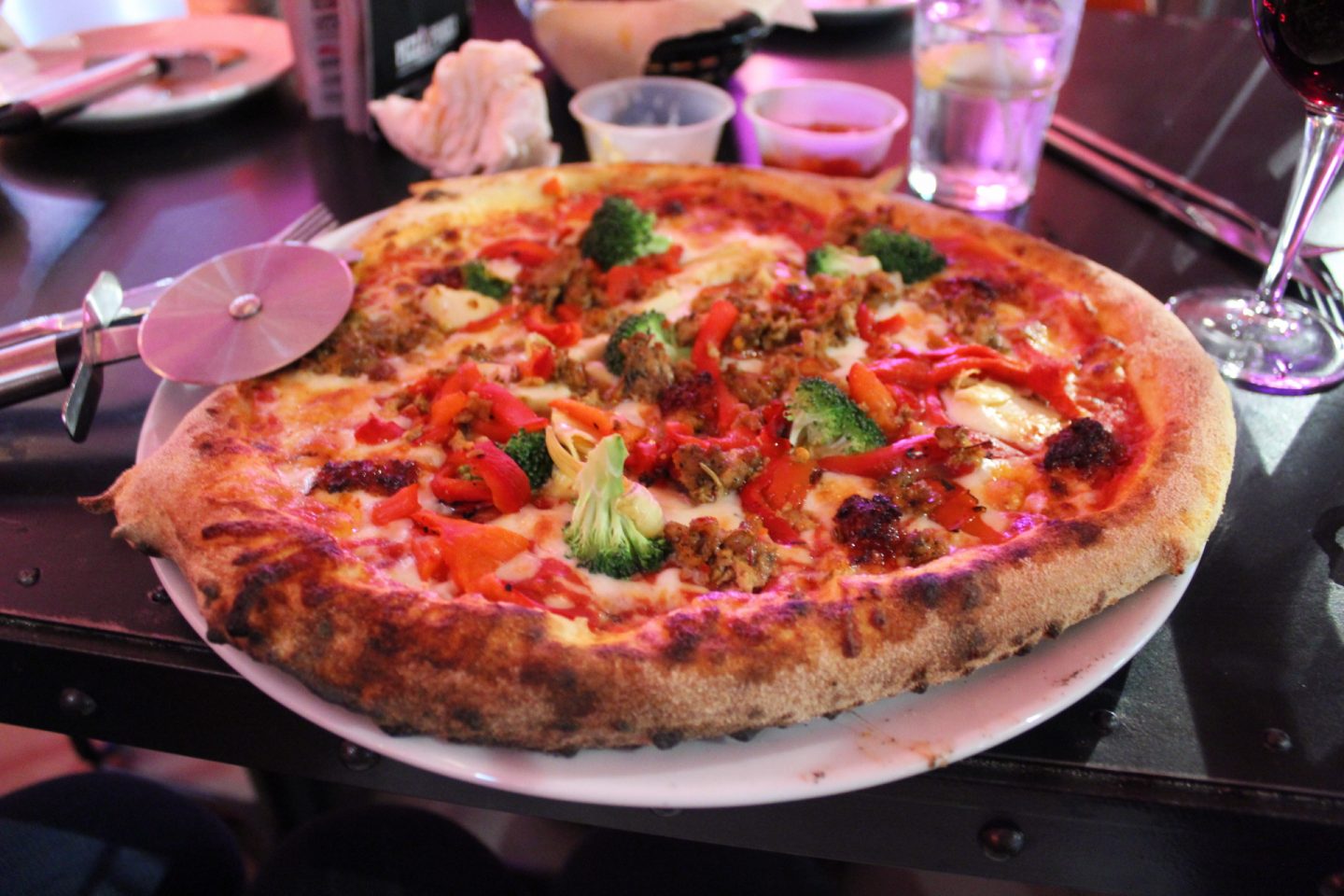 Mike's flaming pizza arrived with drama as promised, and once the fire subsided, it looked delicious and bubbled and oozed with molten cheese. Mike worked his way form the outside in and was certainly enjoying the outer regions of his pie. However, sadly, as he made his way in, the taste of brandy and alcohol was overwhelming. I laughed it off initially, but after a taste, I had to agree – it was n't great. The rest of the pizza was lovely, though. My husband's and my advice is to not get sucked in with that novelty element! The pizzas here are far too good to be drenched in brandy!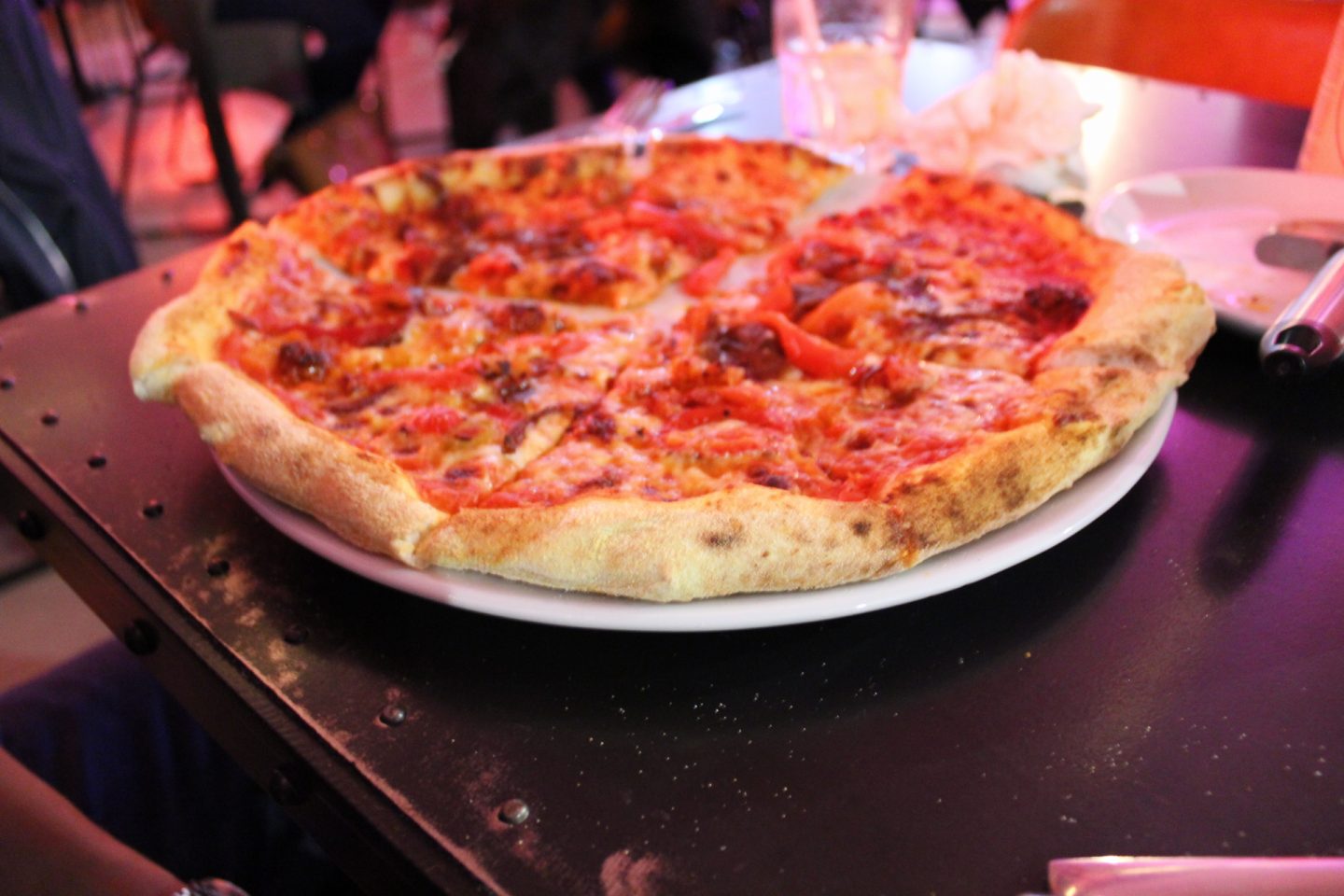 Nicely satisfied, I took a few photos and asked to have the rest of my pizza to take home, to which India was happy to oblige.
The service:
Not only was the service at Pizza Punks faultless, it was over and beyond excellent. From the initial, yet short, queue at the start of the night, to the departure, the staff were all warm, welcoming and super down to earth. Everyone was very efficient, but friendly and fun and we never felt rushed – showing that it was a well managed restaurant with happy staff.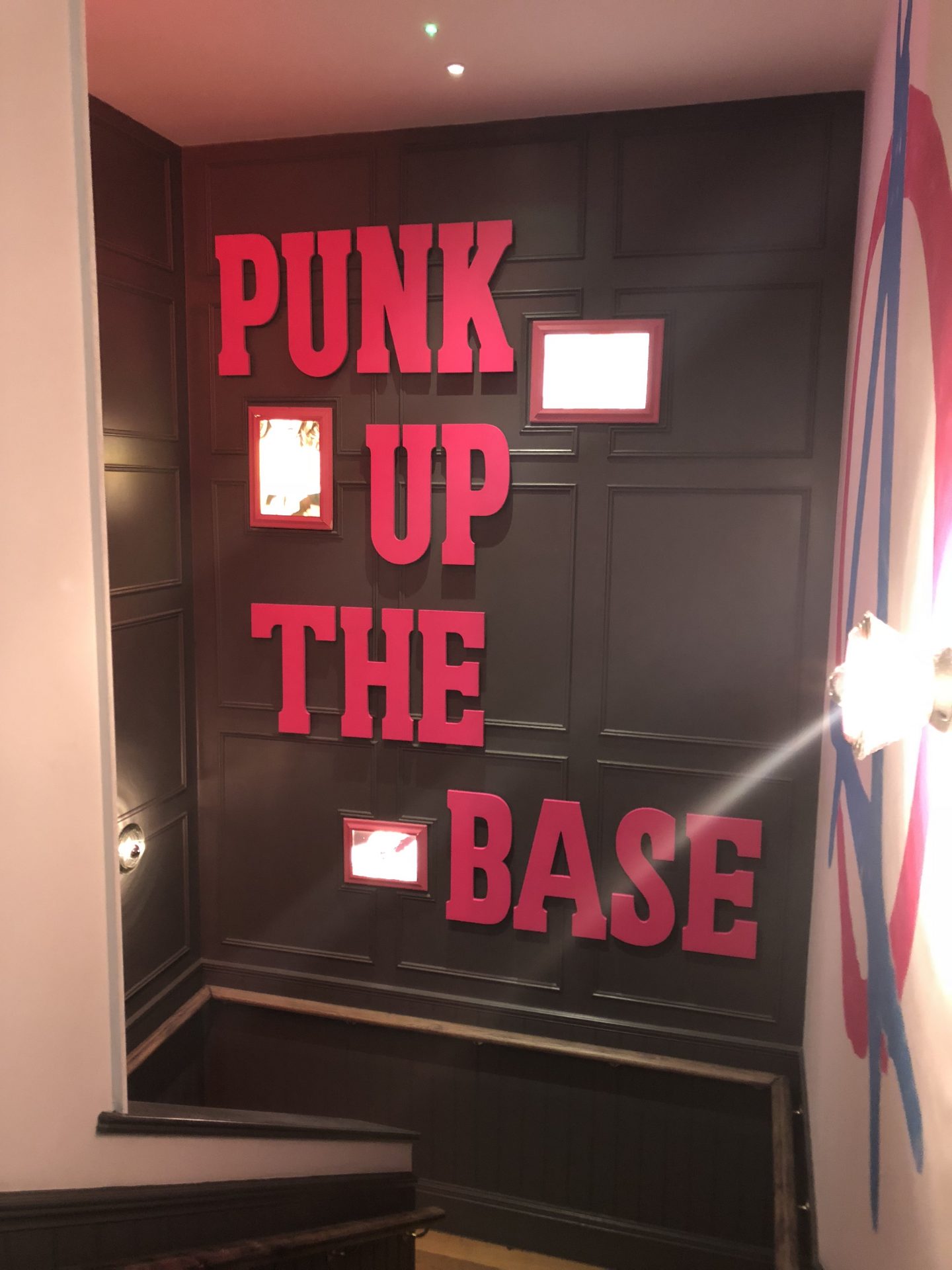 The experience:
Overall, bar the brandy element, the experience was excellent. Great place, lovely, passionate people and pukka pizza! I went with Mike, but would really like to head there again soon with a group of our friends for some gorgeous grub, great music and a good laugh.
I would absolutely recommend Pizza Punks, Newcastle. 
My tips:
Do…
forgive me for the it's-my-first-DLSR-camera shots on this post, but hey can only get better from here!
be adventurous and design your own pizza
go with friends for a fun night
Instagram the heck out of this place
try the Calzone – I saw a few go past and they looked epic
order the succulent wings
say no to plastic straws – sadly my water arrived with a placca straw in it 🙁
keep the brandy where it belongs, in a warm glass on Christmas Eve
Don't…
order too many water based veggies on your pizza!
expect to hear Bieber or Ellie Goulding in this place – and shame on you if you do.
Thanks so much for reading. I'd love to hear about your experience at Pizza Punks!
Sam x