It was September, but still nice and warm out – and desperate to hold on to what was left of our wonderful summer, my friend Kirsty and I planned a night on the Toon, kicking off with a nice dinner.
We wanted something casual and fun atmosphere, but with good quality food and racked our brains for the perfect combination. Cue the newly opened Revolucion De Cuba in Newcastle situated at the bottom of the Cloth Market where the old Pig and Whistle was (NB: I never went to the P&W…). We'd seen a few blogger posts for RDC and loved the place's whole offer of tasty food, great cocktails and lively atmosphere.
I'd come here in the summer with my mam and cousin for pre-lunch drinks on the rooftop terrace, see that post here, and needed the opportunity to to come here for food asap!
We booked our table online and a couple of weeks later, Kirsty and I got our glad rags on and headed to the restaurant.
The arrival
The venue itself is large, spacious and buzzing with Latin beats, a lovey mix of people and busy staff. We were greeted by the front of house and seated quickly. We were then introduced to our server for the night who asked if we'd like water for the table and any chips with salsa. Both hungry (from saving ourselves for the night's eating), we quickly nodded in agreement.
The Menu
We looked through the exciting drinks menu, eyed up the cocktail list and decided on a carafe of Sangria to share as Kirsty had had the pleasure of me talking it up from my previous visit here. Well, that and the fact it arrived in a carafe meaning we wouldn't have to keep ordering drinks! And in the interest of efficiency and the fear of incoming hanger, we moved straight onto the food menu, which offered tapas and main plates including burritos, burgers, fish and colourful looking salads. We agreed that we would go for tapas and set away at choosing our wee plates.
Our water, chips and dips then arrived and we gave our drinks and food order at the same time – I did mention we were hungry!
Both Kirsty and I are seasoned tapas eaters, so we ordered a decent mix of meat, fish and veg dishes. We going went for  traditional favourites Gambas Pil Pil and Aubergine Gratin and a larger ratio of contemporary tapas, going for the Pork Belly Skewers, Chorizo Croquetas, Mojito Prawns and Halloumi and Butternut Squash Tacos.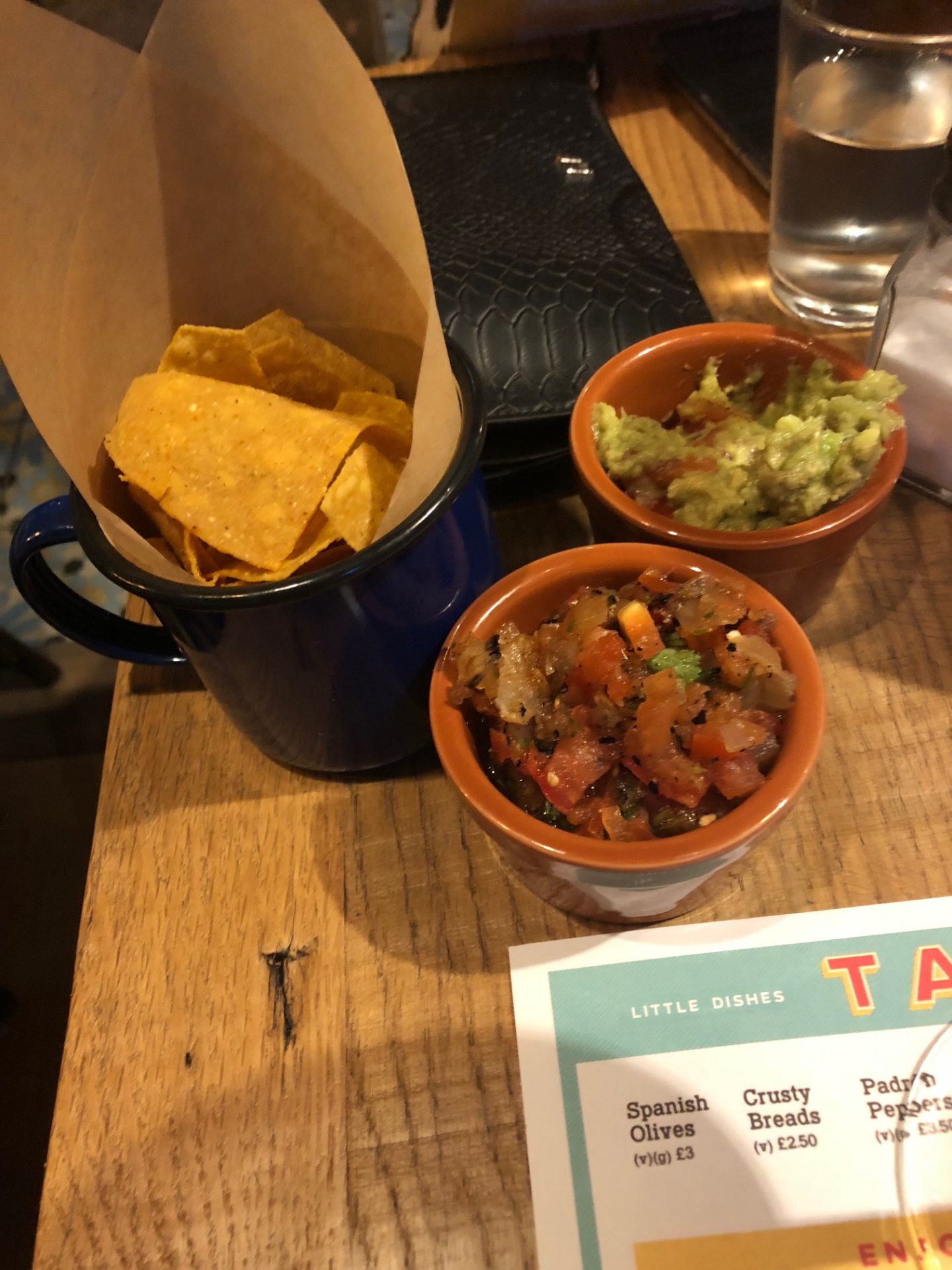 The Food
After about 20 minutes of munching away on crunchy tortilla chips and fresh dips, gulping gorgeous sangria, head bopping to live Cuban beats and nattering about nowt, our huge tray of colourful dishes arrived.
Everything looked exciting and smelled amazing as it was laid in front of us and we quickly worked out our eating strategy.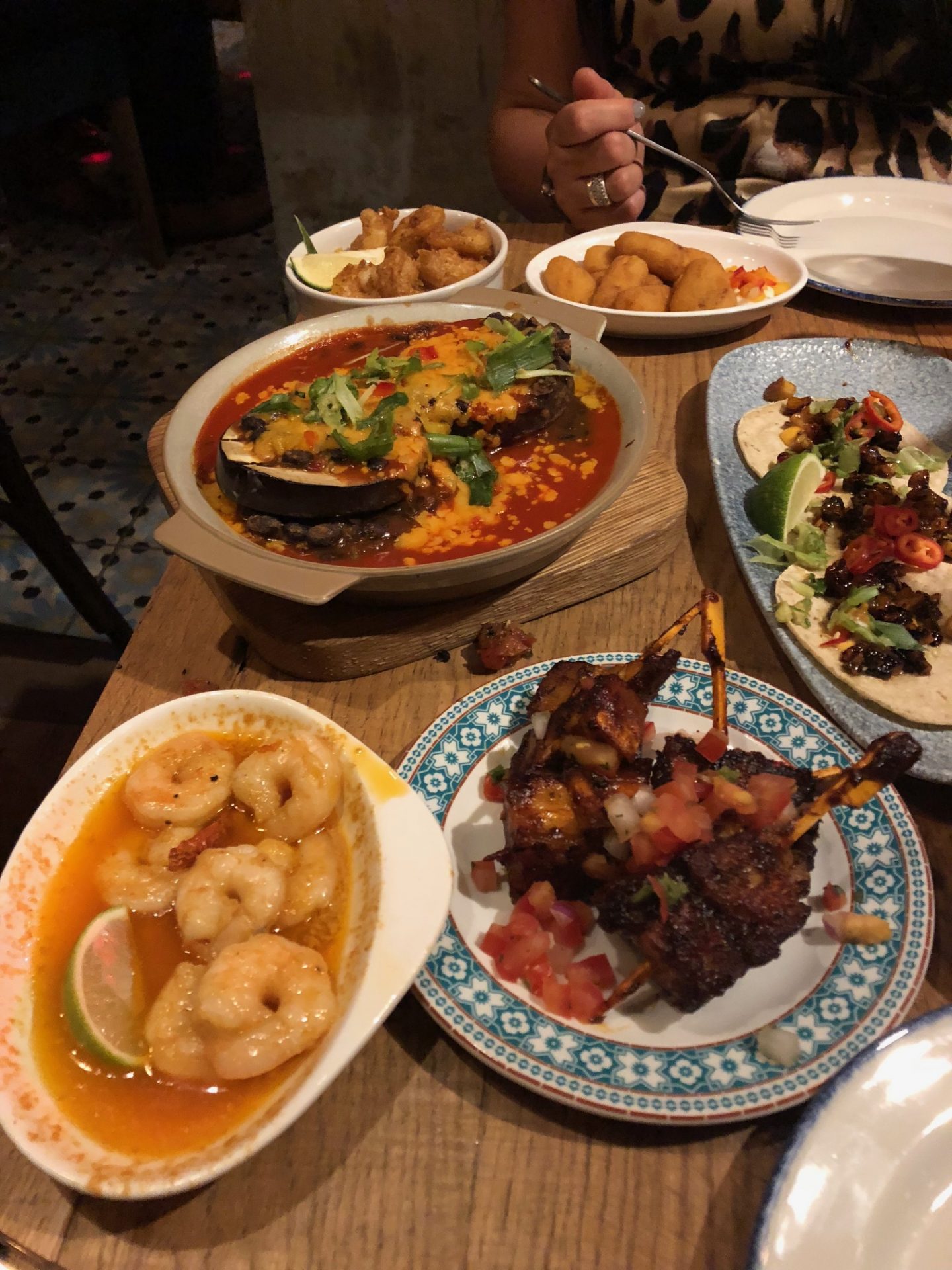 I started with the fish and dove into the Gambas Pil Pil, which were very tasty. The prawns were juicy and well cooked, and smothered in a buttery and sauce, which contained the right amount of chilli, garlic and seasoning.
The Mojito Prawns were also well cooked and I enjoyed the golden, crunchy crumb. The mojito dip was certainly nice and I got the lime for sure, but it didn't scream mojito to me, however that's actually probably a good thing.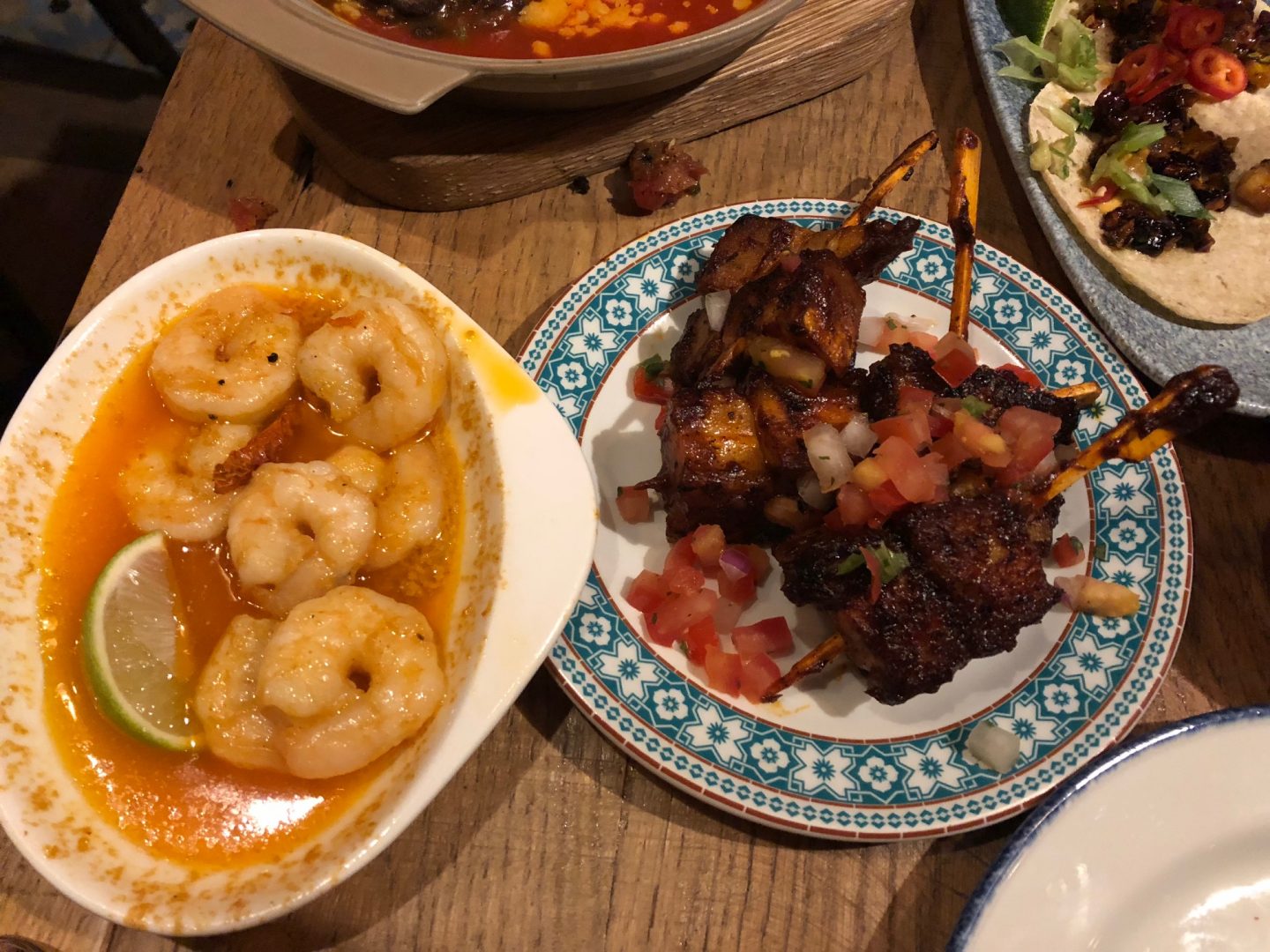 The pork belly skewers were charred with an earthy, sticky spice rub which had a nice subtle sweetness and were wonderfully soft inside – a real joy to eat.
The halloumi tacos were stunning. The cheese, butternut and courgette were all finely diced so that they caramelised on the outside, while remaining fresh on the inside. Enveloping the chewy filling in the soft corn tortillas was very enjoyable!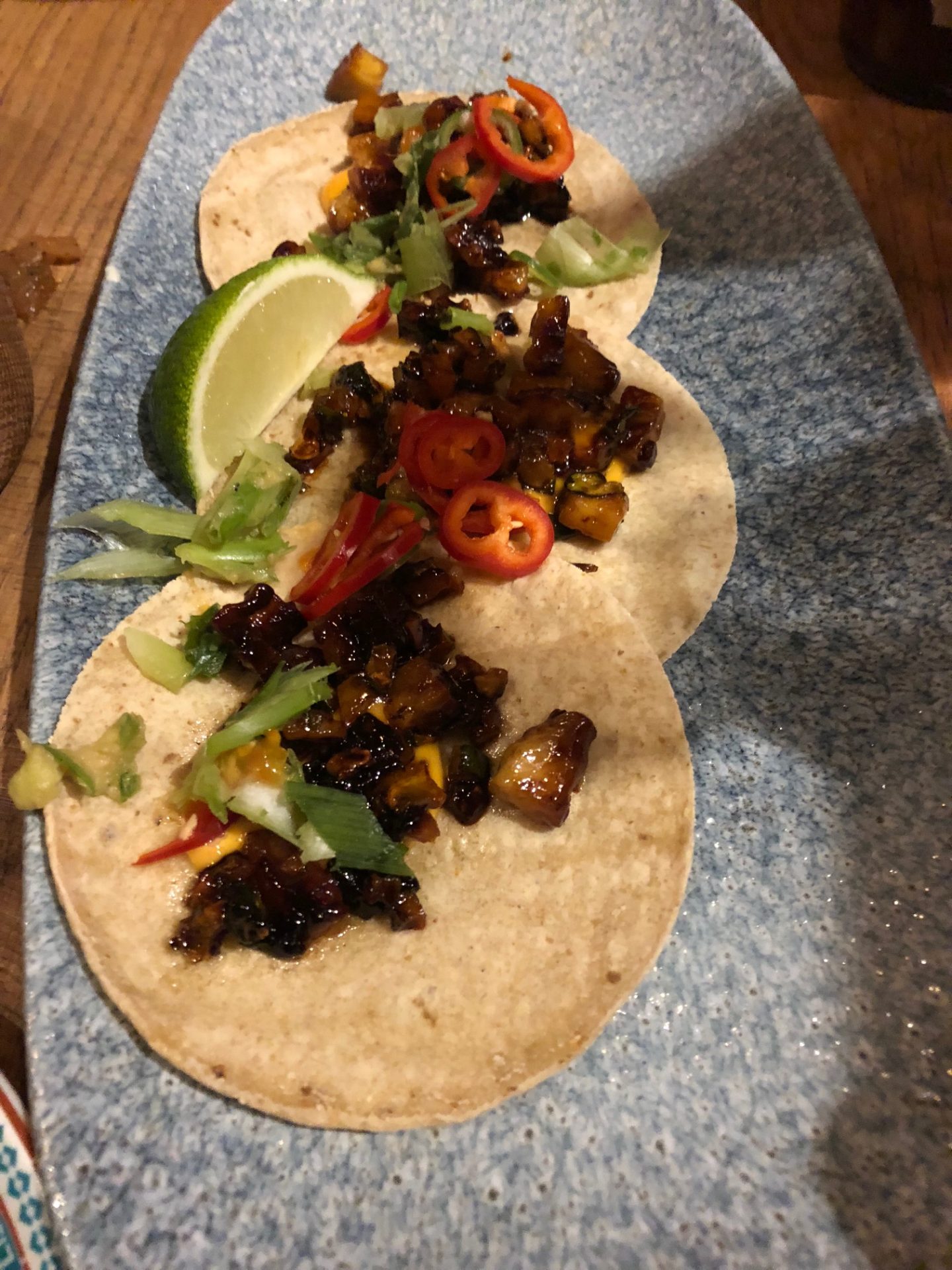 I gave my palette a potato cleanse in between each meat and fish dish with the croquetas which were just so delicious. The consistency of the well-whipped potato with its smoky chorizo notes and thin, yet crispy coating was simple, but because it was done so well, was just the best. I could have eaten a pile of them.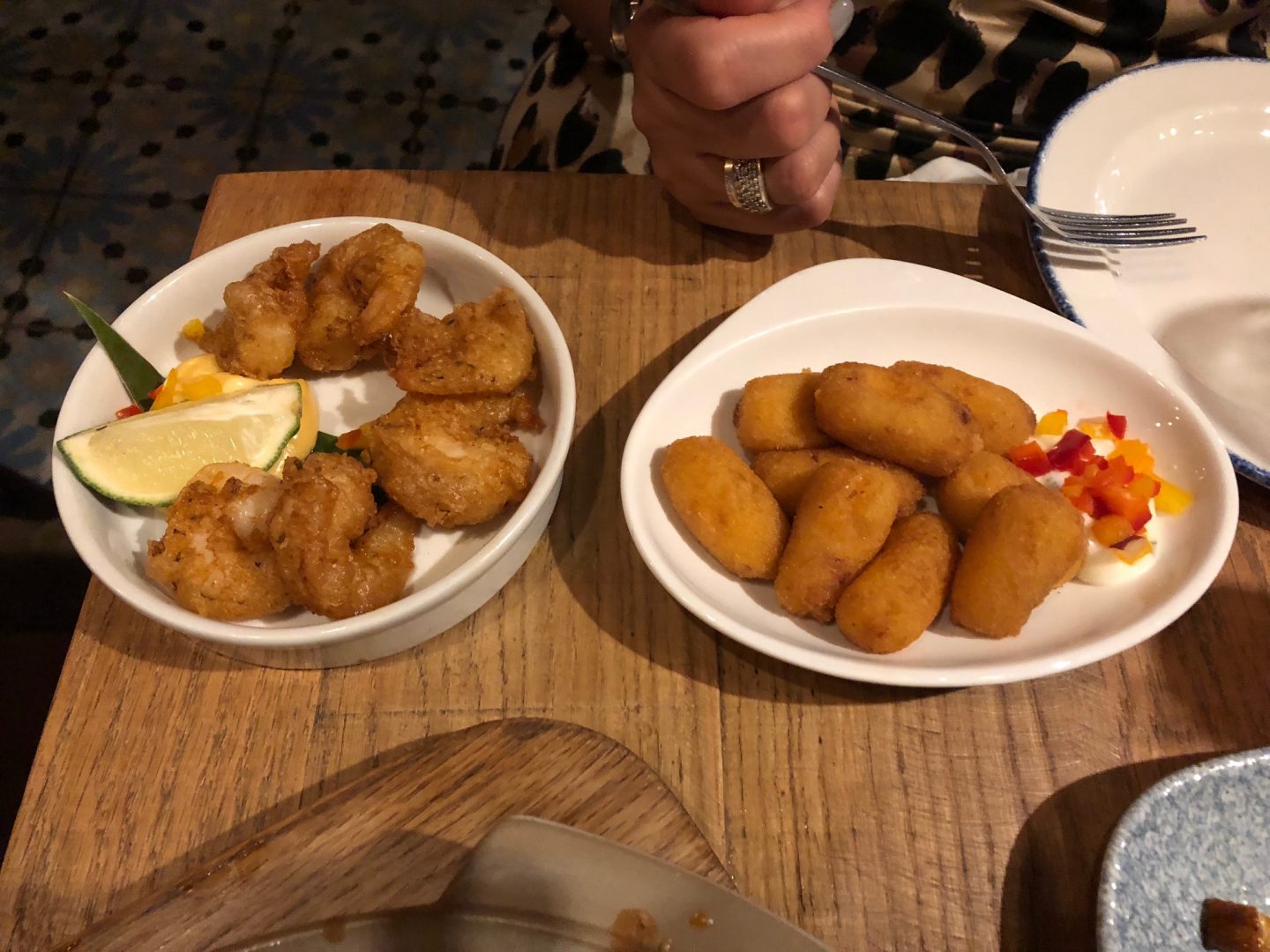 Both Kirsty and I love aubergine and the dish looked delicious when it arrived, however sadly it was undercooked, which was a shame because aubergines improve with cooking time. The tomato sauce and black beans however were very tasty and the addition of salty melted cheese was naturally welcome.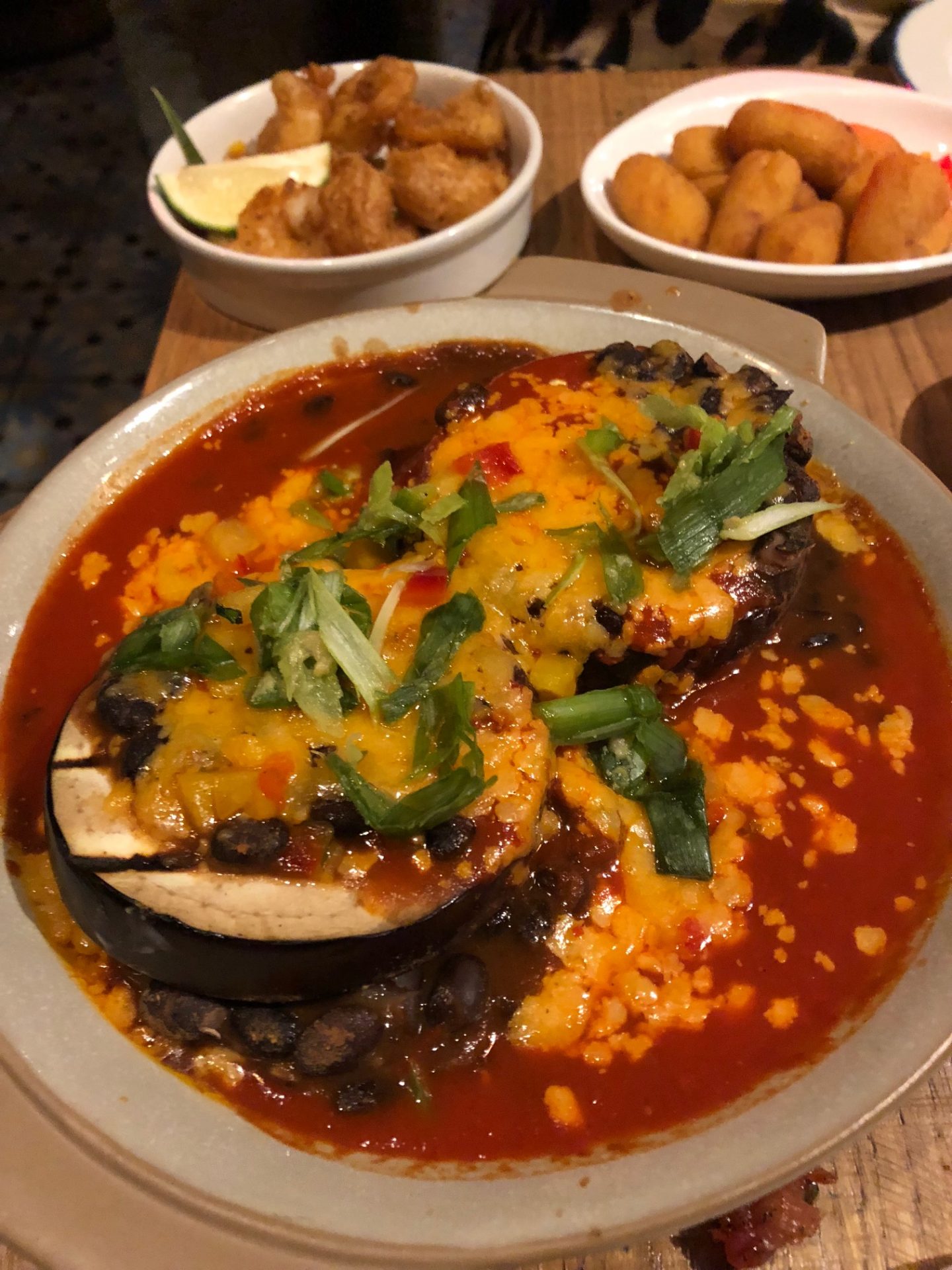 This didn't dishearten us, because the meal had been so enjoyable – and when we mentioned it to our server as she collected our plates and asked us about our meal, whilst telling her that everything else we ordered was so lovely, she quickly apologised and knocked it off our bill.
The Verdict
I loved this place. It both fulfilled and exceeded our brief. We had so much fun eating, drinking, head bopping and shoulder shuffling – and above all, the food was delicious. We ordered enough tasty tapas to satisfy us, but left enough room the evening's drinking which followed. Luckily we didn't have to go far for our next drink, because we just trotted upstairs to the Roof Terrace for more cocktails and bar beats!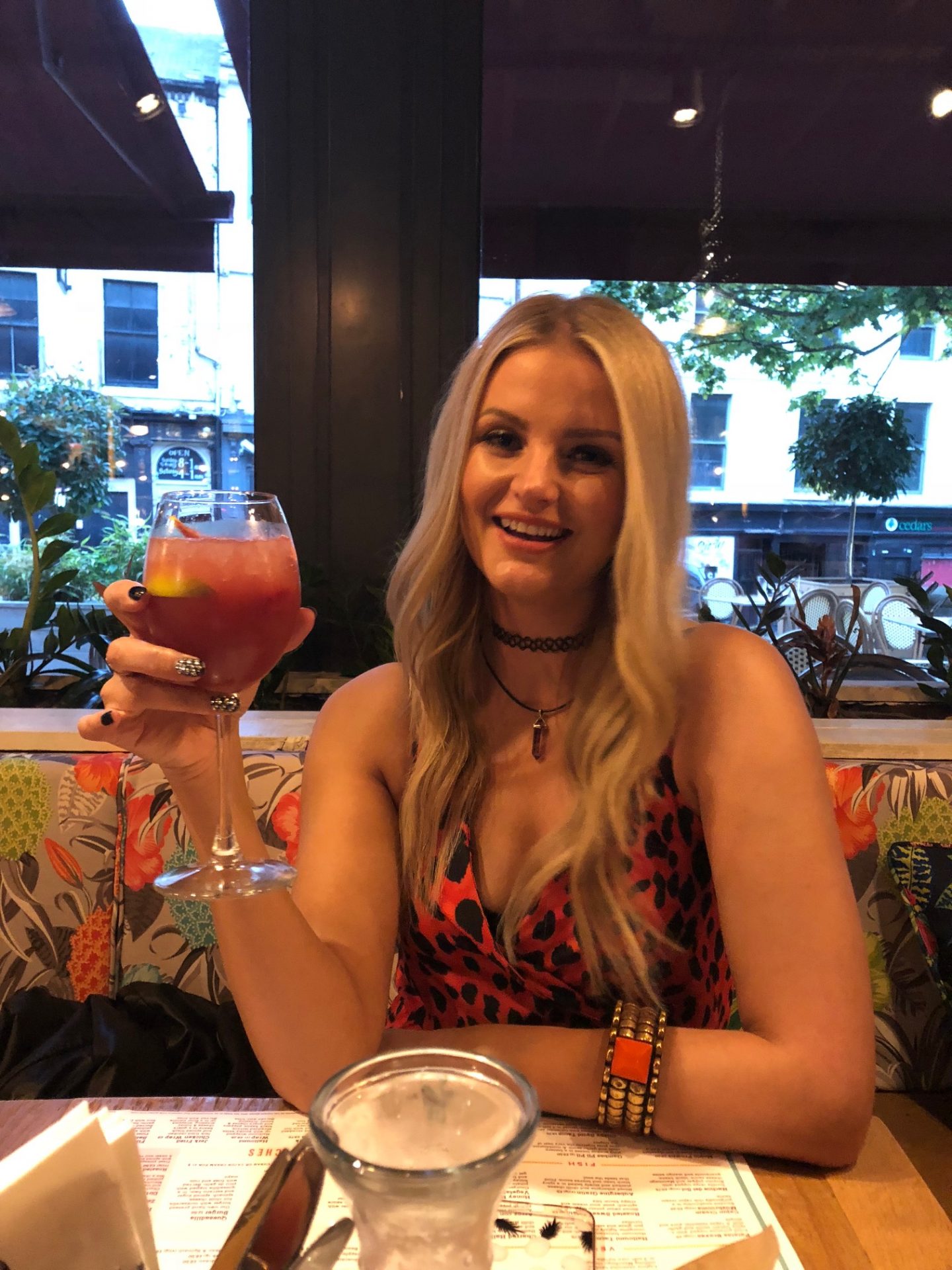 I highly recommend Revolucion De Cuba for a casual date night or a get together with friends and family – and I can definitely recommend the Sangria!
Hasta Luego (See ya later!)
S x